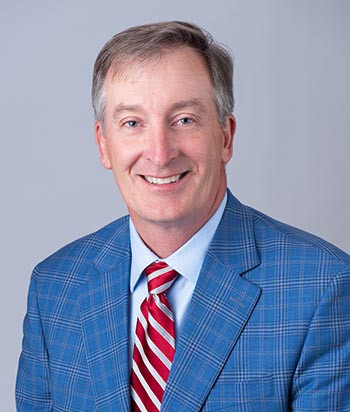 Request an Appointment
Refer a Friend
Enter an email address below to share the provider's page with someone you know.
Biography
Dr. John Blumer is board-certified in comprehensive Otolaryngology and has been practicing in Charlotte, NC since 1992. He has particular expertise in pediatric otolaryngology and the pediatric airway. He was the first to perform pediatric laryngotracheal reconstruction in Charlotte, NC. In addition to treating children with ENT disorders, Dr. Blumer also treats adult patients with sleep and sinonasal disorders including sinusitis, nasal obstruction and allergies. He performs office-based balloon sinuplasty for patients with chronic sinusitis. He also performs thyroid and salivary gland surgery.
Dr. Blumer has been an active participant on many humanitarian medical missions in Honduras and Cuba. He spends his free time traveling with his family, coaching sports, fishing, and playing golf.

Dr. Blumer practices in our SouthPark (6035 Fairview Road, Charlotte, NC) office. To make an appointment with him, call 704-295-3000. You can also request an appointment online or through myCEENTAchart.

Virtual visits can now be requested by calling 704.295.3003. Most ENT conditions qualify for virtual visits.

---
Education & Fellowship
Undergraduate
Augustana College, 1983
Medical Degree
University of Minnesota School of Medicine, 1987
Internship
General surgery, St. Luke's Hospital in Kansas City, Missouri, 1988
Residency
University of Iowa, Otolaryngology-Head and Neck surgery program
During his residency training, Dr. Blumer received extensive training in pediatric otolaryngology and airway reconstruction. He learned and helped develop state-of-the-art techniques for reconstructing the airway in children and has presented and published his work in major journals.
---
Associations & Memberships
Board Certified by:
- American Board of Otolaryngology-Head and Neck Surgery
Member of:
- American Academy of Otolaryngology-Head and Neck Surgery
- North Carolina Medical Society
- Mecklenburg County Medical Society
---
Awards
America's Best Physicians, 2020
Charlotte Business Journal Best Doctors List, 2015-2016
Charlotte Magazine Top Doctors, 2017-2020

Best Doctors in America, 2017-2018
---
Community Involvement
Dr. Blumer discusses what to do if a child sticks an object in their ears or nose at Charlotte Smarty Pants.
---
Testimonials
---