Providers

Our skin's firmness and elasticity are maintained primarily with proteins called collagen and elastin. As we age our body begins producing less of both, decreasing this suppleness. Also, fat deep in the skin diminishes, which can make the skin looser and sag more, which causes wrinkles.
Request a Consultation Appointment with a Facial Plastic Surgery Specialist

How do cosmetic fillers work?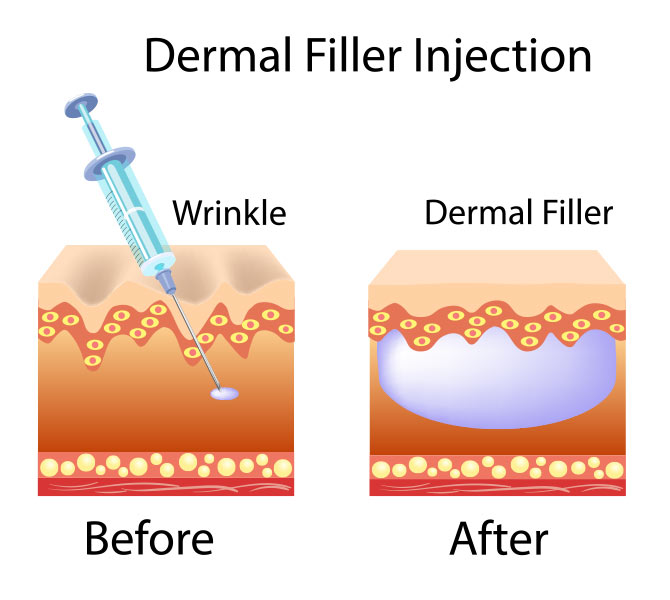 Cosmetic fillers are substances like hyaluronic acid, found naturally in the tissues of the body, which are injected into skin areas to restore volume and suppleness. They eliminate fine lines, wrinkles, and creases.
Several cosmetic injections are available through CEENTA's facial plastic surgery specialists. They include:
---
BELOTERO®
A dermal filler designed to integrate into your skin and mold to your distinct facial contours. By adapting to the individuality of your skin, it softens lines and wrinkles around the nose and mouth.
---
JUVEDERM®
Juvederm fillers are used to lift cheeks, smooth lines and wrinkles, or plump the lips.
---
RADIESSE® VOLUMIZING FILLER
A volumizing filler designed to erase lines and folds by replacing lost structure within your face due to the natural aging process. Radiesse adds volume and lift needed to diminish the signs of aging, and provides the structure and stimulation so your own collagen can grow.
---
RESTYLANE®
The Restylane family of fillers are injected into the skin to restore volume and suppleness. They also make the lips more full and lush. CEENTA offers Restylane, Restylane-L, Restylane Lyft with Lidocaine, Restylane Silk, Restylane Refyne, Restylane Defyne, and Restylane Kysse. Kysse, the newest product, is targeted specifically for lips.
---
What is the cosmetic injection procedure like?

Cosmetic injections are a fast, in-office procedure. You may experience swelling, numbness, or redness for a few hours after the procedure. You can discuss using topical or local anesthetic with your doctor. In many cases you can return to your normal activities right away.
Cosmetic fillers typically last six to nine months, although the duration of the effect can vary depending on the substance used. Talk with your physician about which injectable best serves your needs. You can get follow-up treatments once your initial injections start to wear off.
Who isn't a good candidate for cosmetic fillers?
Cosmetic fillers are not effective for all patients with marked sun damage or skin texture issues. A consultation with a physician will be necessary to discuss other potential remedies.
They are also not intended for patients with facial soft tissue laxity that would normally be addressed with facelifts, eyebrow lifts, or other skin tightening procedures.
Cosmetic injections in the Charlotte area with CEENTA
While they are safe and natural, cosmetic injections are a medical procedure, and it is strongly advised that you get them from a healthcare provider. CEENTA has eye and ENT doctors who specialize in cosmetic fillers in North and South Carolina.
Request a Consultation Appointment with a Facial Plastic Surgery Specialist