If you're looking for hearing aids in and around Charlotte, NC, look no further than Charlotte Eye Ear Nose & Throat Associates, P.A. (CEENTA). Since 1984, our audiology department has helped hearing-impaired patients regain their hearing. Whether it's a conventional, programmable, or digital hearing aid, our audiologists and hearing instrument specialists will work with you to find what best suits your lifestyle. To make an appointment with an audiologist, please call 704-295-3300.
In addition to being a source for Charlotte hearing aids, our audiology departments also offer a variety of bone-anchored hearing systems, implantable and non-implantable, cochlear implants, a range of accessories and assistive listening devices and hearing aid batteries.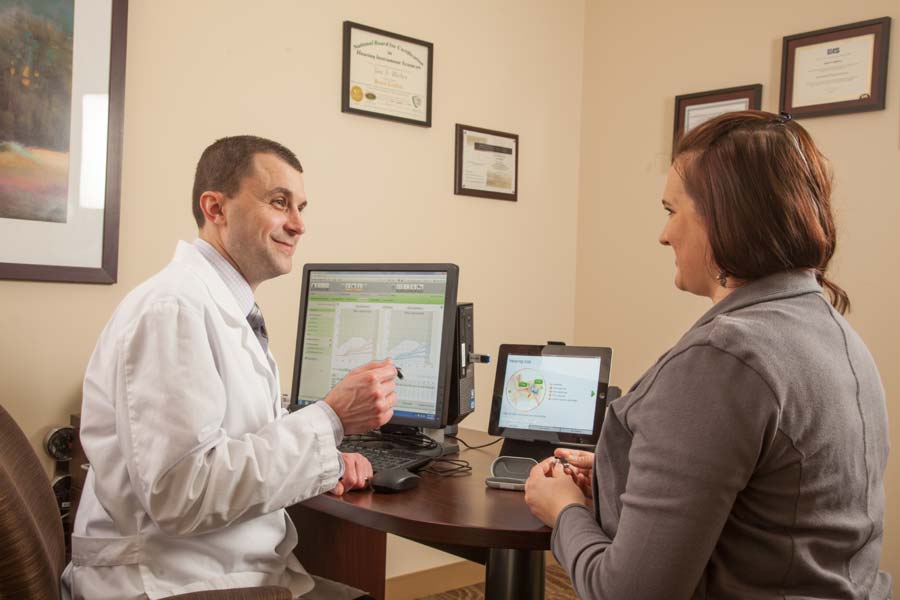 Audiologists have a minimum of a masters degree (M.A., M.S., or M.Ed.) and many have earned either a clinical doctorate (Au.D) or academic doctorate (Ph.D) status. The minimum entrance degree for Audiology has become the Au.D. degree. Our hearing instrument specialists are licensed by the North Carolina Hearing Aid Dealers and Fitters Board and fully credentialed through CEENTA's hearing aid competencies program. This means that your services are being provided by a professional team who have between six and eight years of college education and/or two to four years spent exclusively in the areas of ear and hearing disorders. There are no other professionals better trained or able to serve your hearing needs.
---
How much do hearing aids cost?
Prices vary greatly depending upon circuit technology and hearing aid size. Prices range $1,000-3,250 per hearing aid.
---
What types do you sell?
We only use the highest quality products available in the hearing aid industry. Our experience has helped us select the best and most reliable hearing aids in the market. Among the major manufacturers, we use MicroTech, Oticon, Phonak, Resound, and Widex. All the major hearing aid brands we carry offer alternative streaming, including Bluetooth and Mifi. These devices stream sound from places you need it from most in your life, including your TV Smartphones, and tablets, allowing you to personalize your hearing aid experience.
---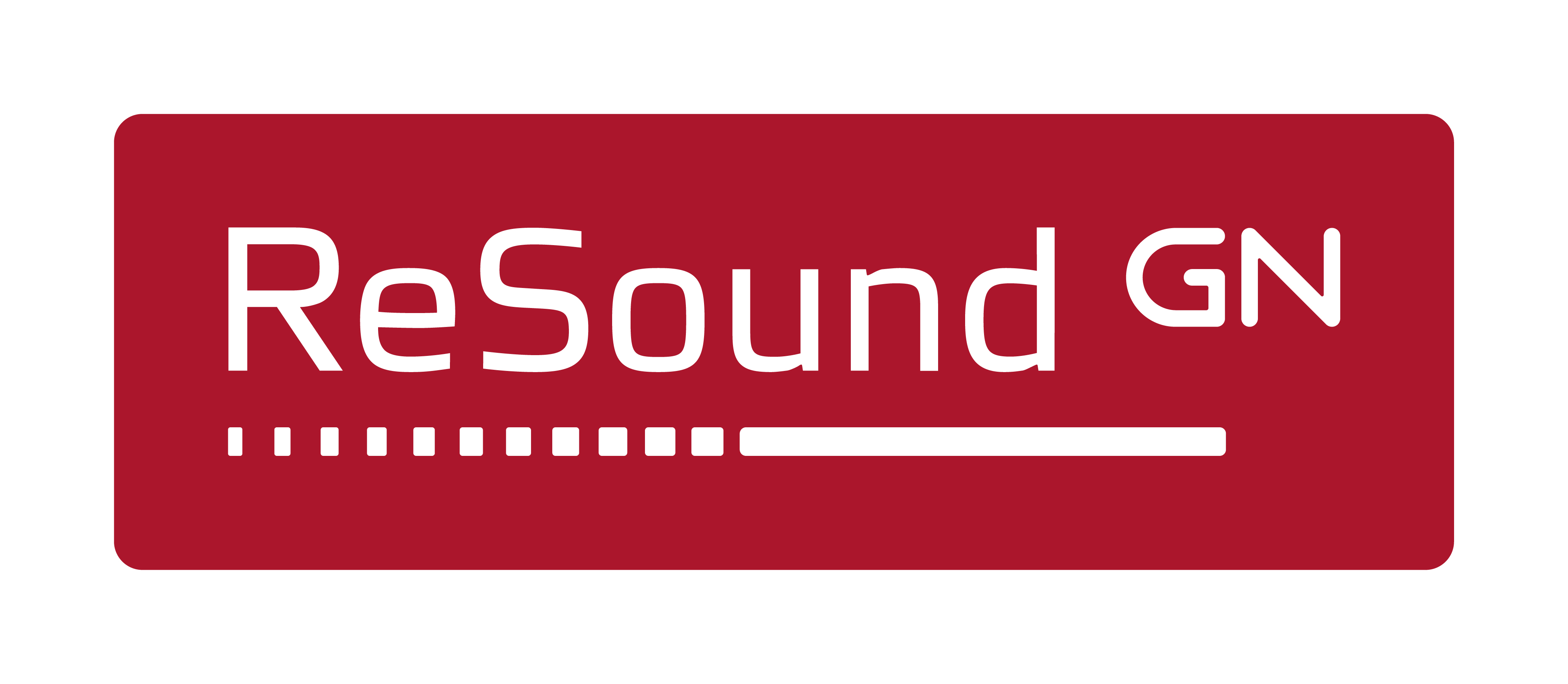 The ReSound Linx2 uses Binaural Directionality™ II with Spatial Sense™ technology to support your brain's natural ability to process sounds, enabling you to hear with less effort. Spatial Sense gives you a natural sense of where sounds are coming from and gives you a detailed understanding of your surroundings. In a noisy listening situation, this technology helps make sure you can still understand every word of the conversation.
The ReSound Enzo2 is the smallest and most powerful super-power hearing aid available and gives you easy access to sound from all sources. They allow you to stream sound directly from an iPhone, iPad, or iPod Touch, letting you personalize your hearing experience.
The ReSound Linx 3D is up to 50 percent better at identifying speech in various environments, allowing people to hear up to 80 percent more of the sounds around them. They also allow streaming to smart devices, and the ReSound Smart 3D app allows you to make adjustments to your hearing aid settings from your apple devices.
---


Widex offers a number of models, including the Dream and the Unique. They are available as completely-in-canal, in-the-ear, and behind-the-ear models.

The Dream:
Features a sound input range of up to 113 dB SPL
Allows users to experience up to 21% better speech perception in loud noise
Has 20% more battery lifetime, even when streaming
Has easy-to-use access features, such as a new, improved grip and easy-to-open battery drawer
The Unique:
Offers a wider sound picture, so you can hear both soft and loud sounds in comfort
Has best wind noise reduction system available
Detects your listening situation automatically and makes sure you hear the right sound at the right time in the right place
---
MICROTECH
Microtech's models are a fusion of today's leading research, advanced science, innovative technology and cutting-edge design. Their different styles include:
Receiver-In-Canal (RIC)

Small, discreet and quick to fit. Perfect for many first-time hearing aid wearers.
Features:
Discreet design
Variety of color options available
Easy to adjust
For mild to severe hearing loss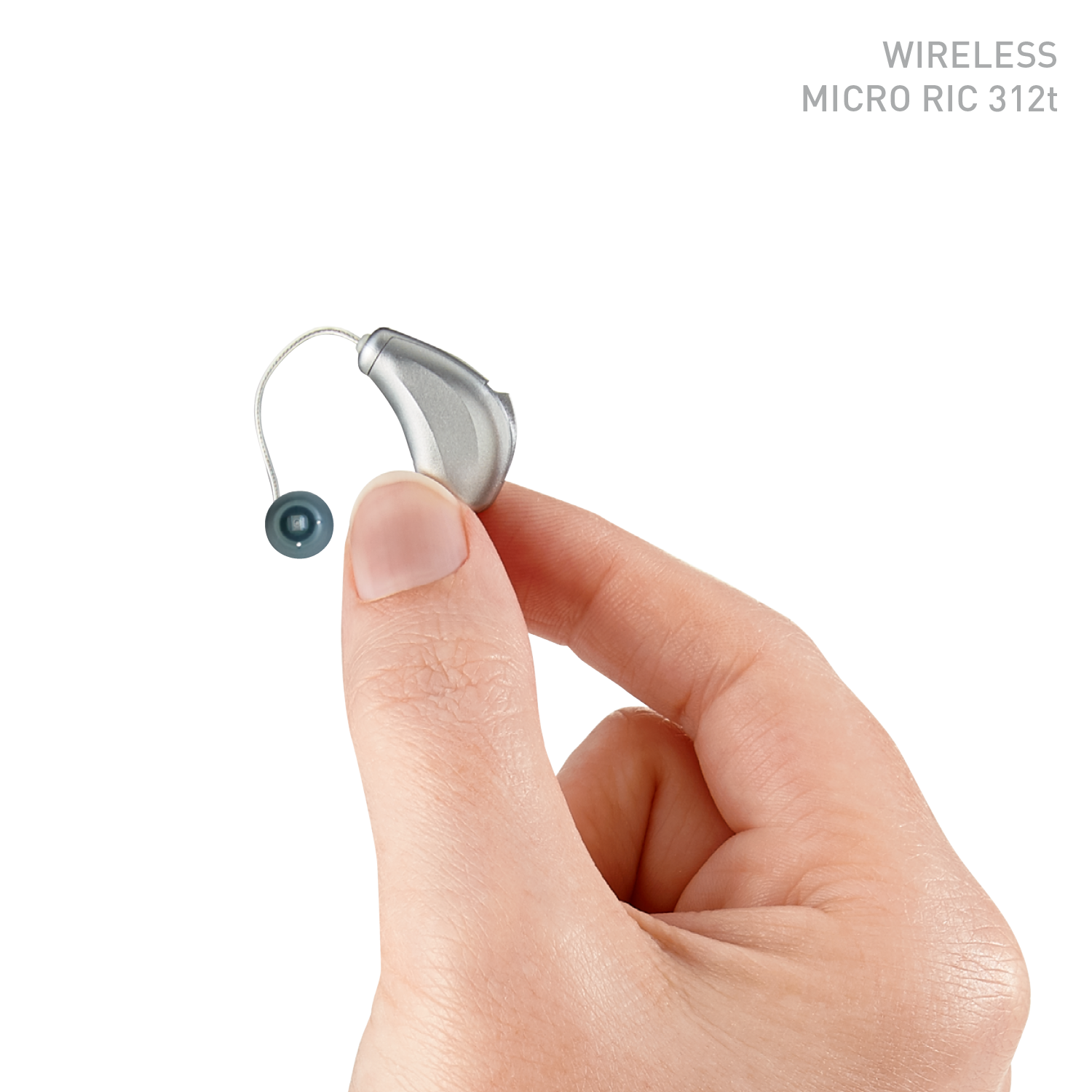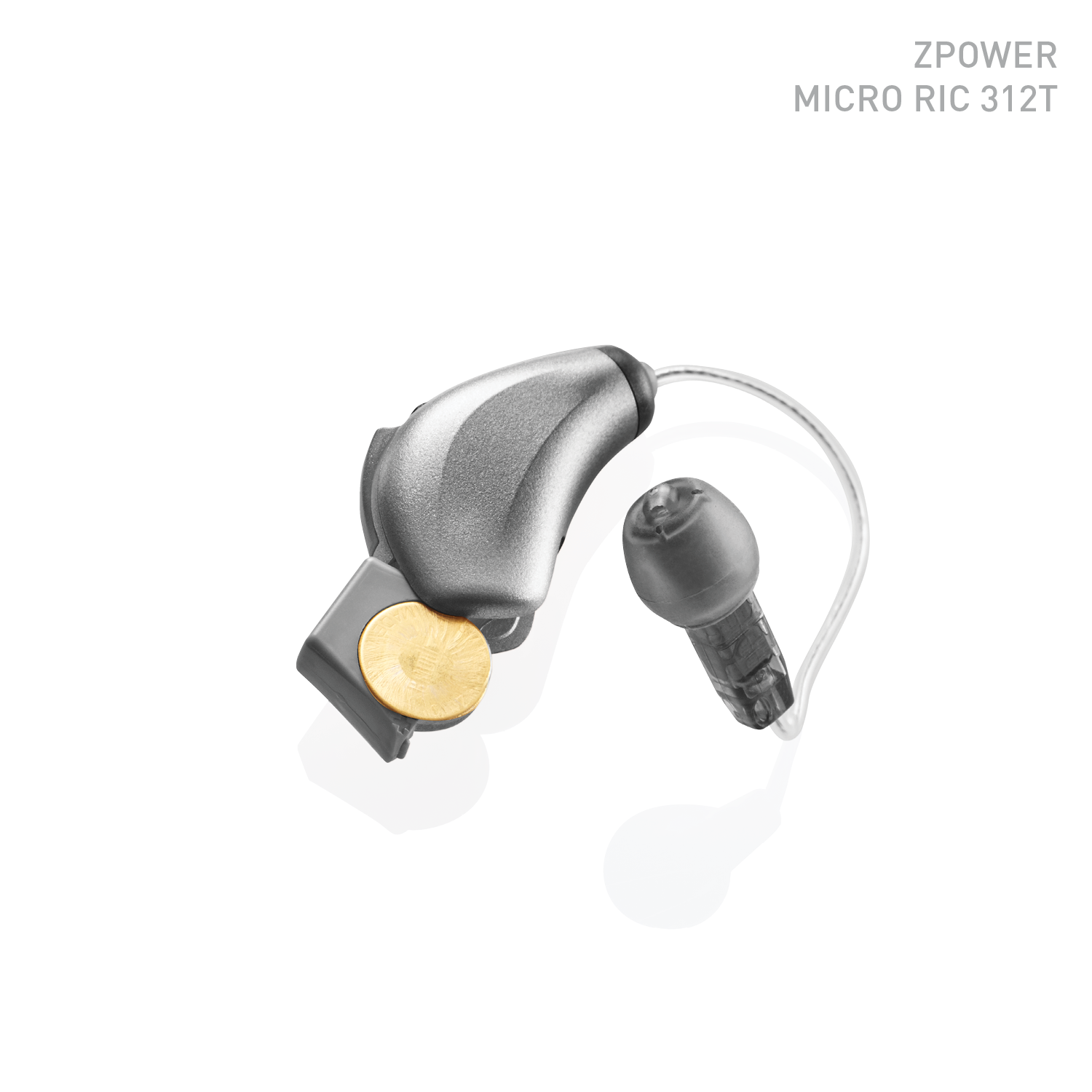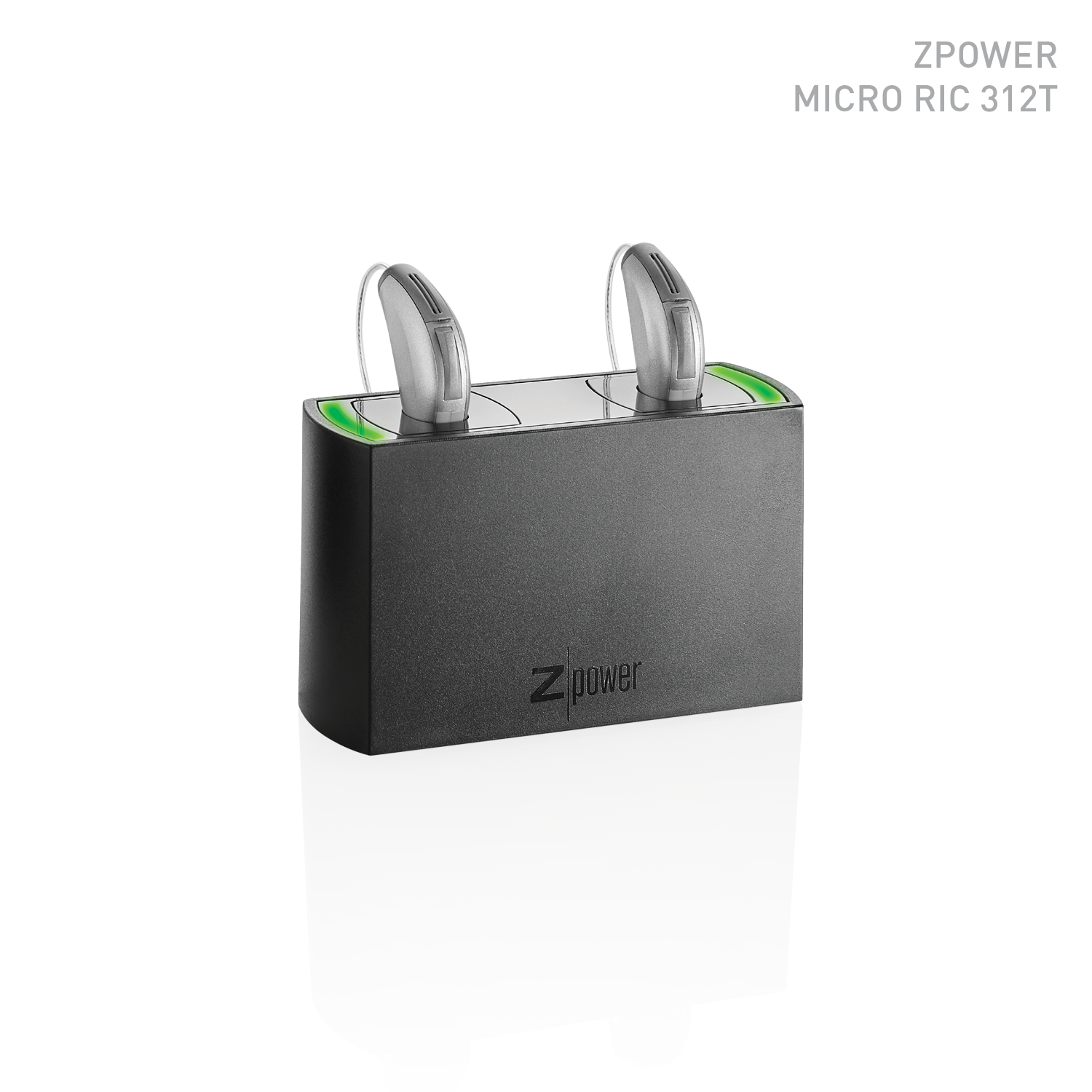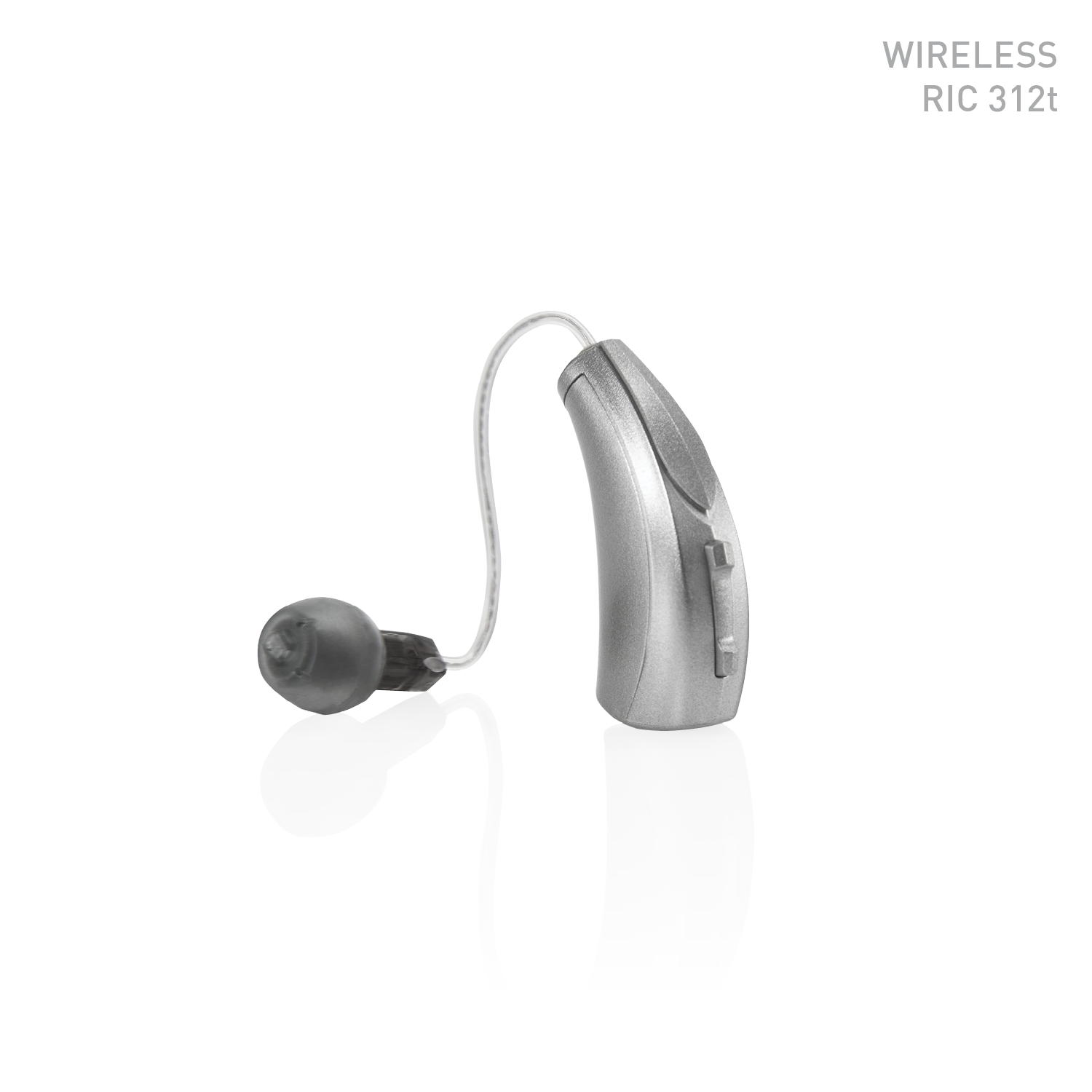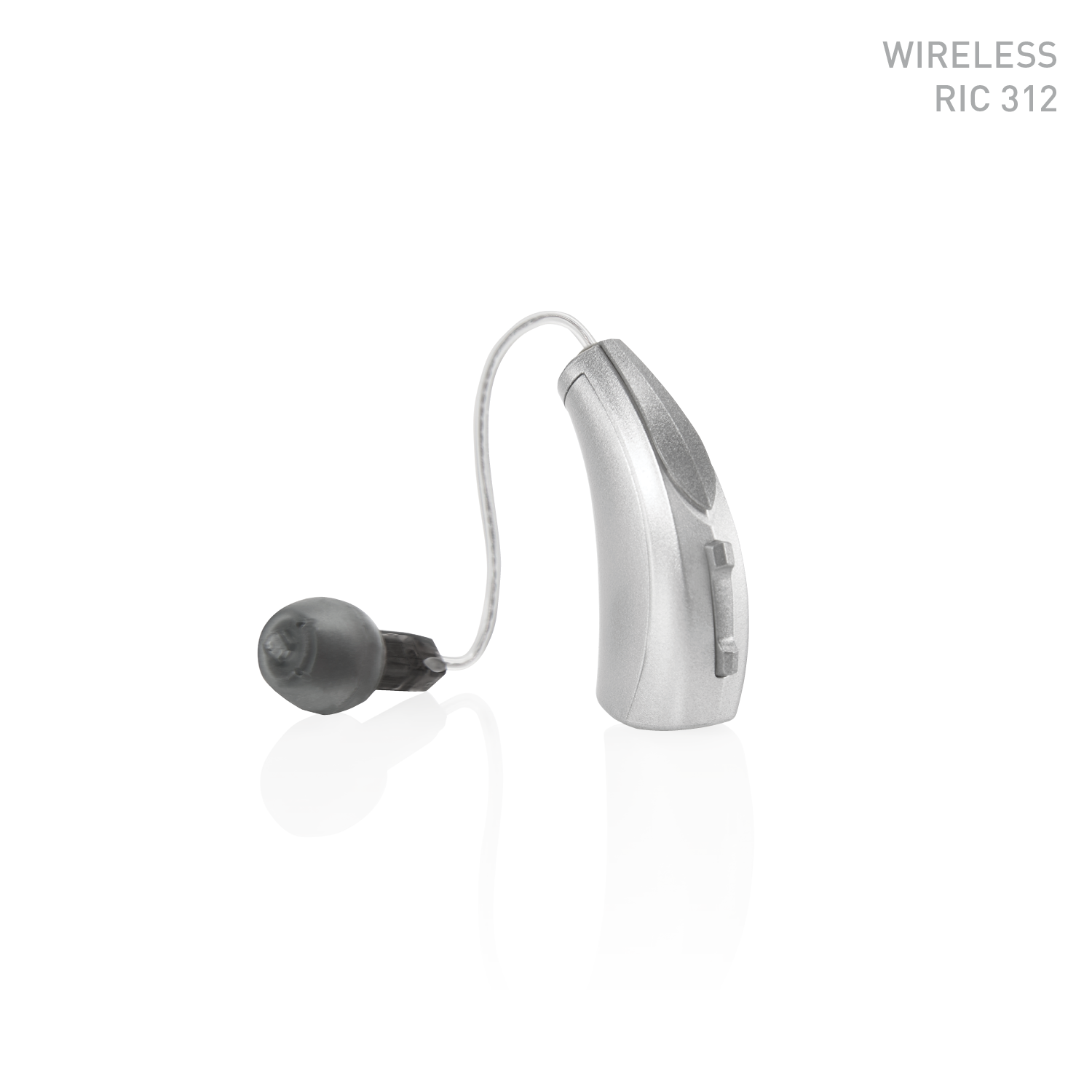 ---
Behind-The-Ear (BTE)

The world's most common hearing aid style. Available in standard, mini or power.
Features:
Variety of color options available
For moderate to severe hearing loss
Easy-to-use buttons or dials
Discreet design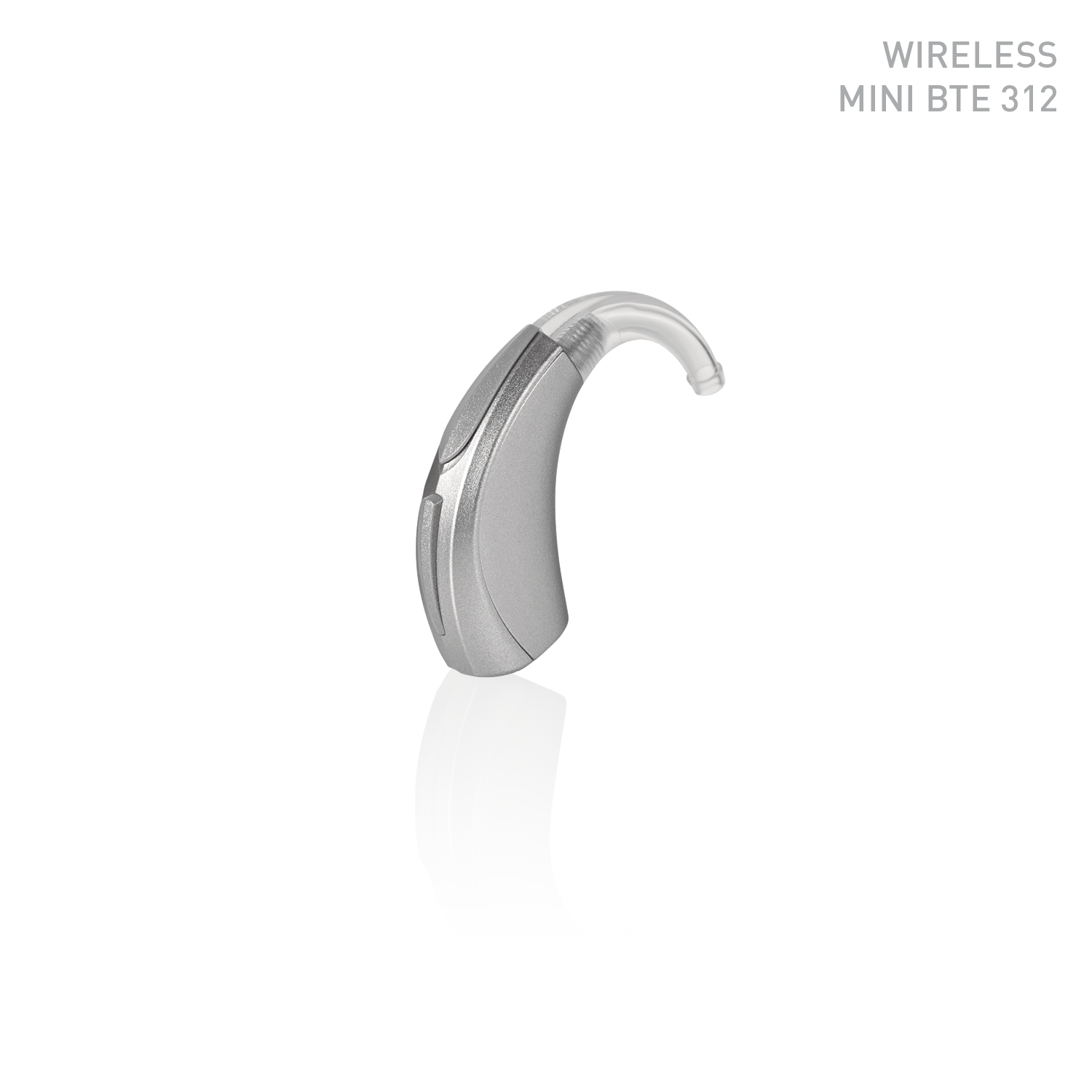 ---
Completely-In-Canal (CIC)
Only the tiny removal handle of the hearing aid shows outside of the ear canal.
Features:
Virtually undetectable
For mild to moderately severe hearing loss
Custom-made for you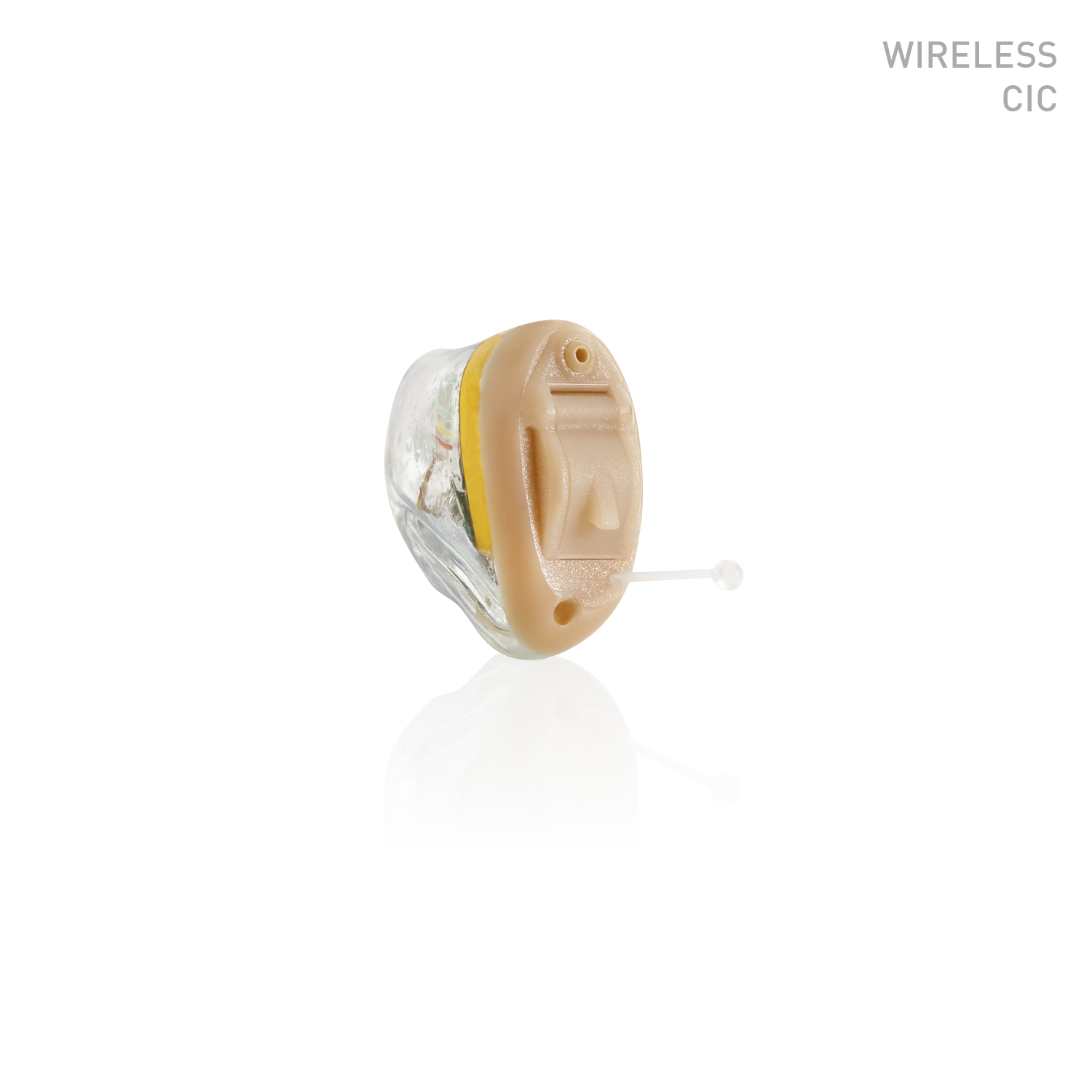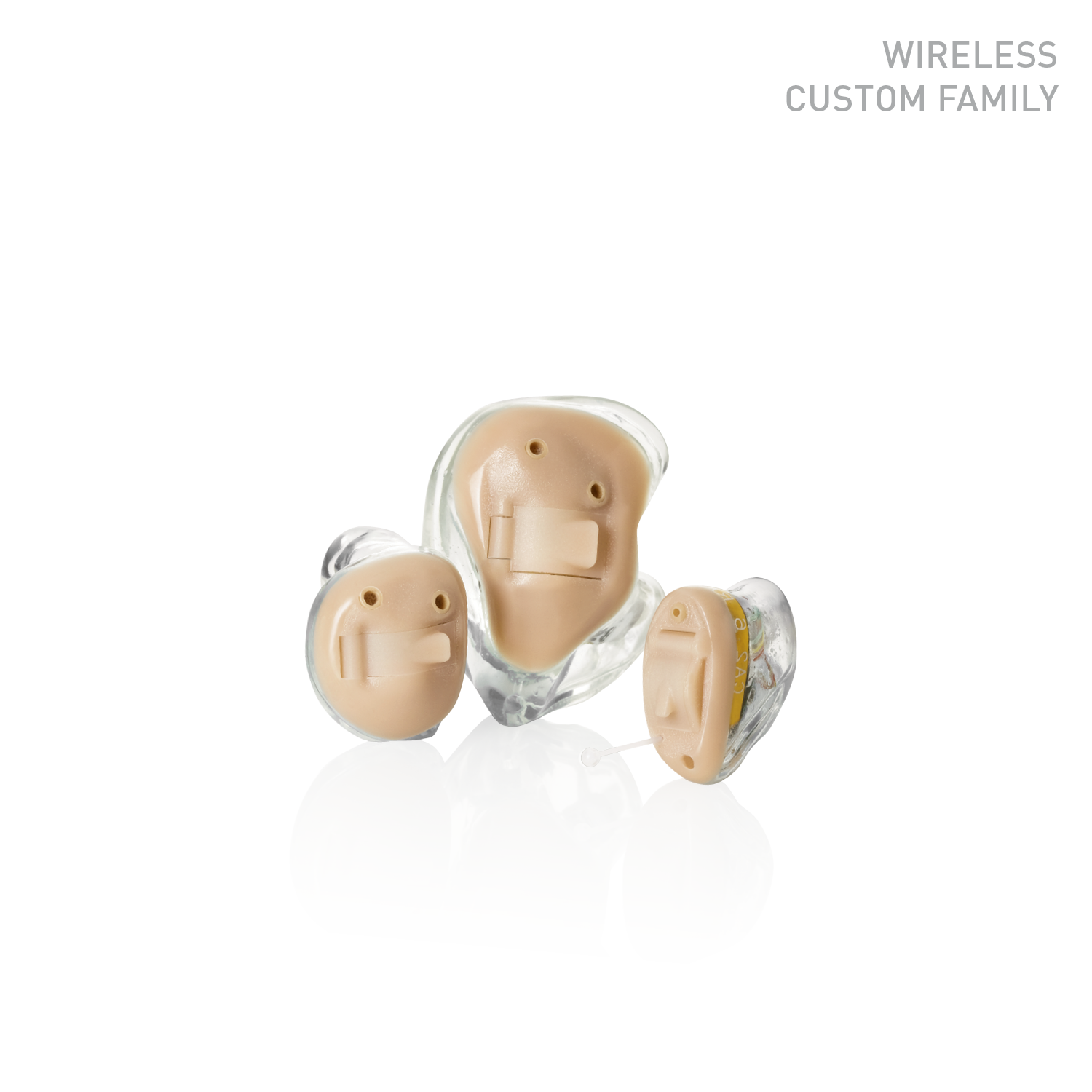 ---
Invisible (IIC)

Hearing aids so tiny, no one will notice you're wearing them.
Features:
Custom-made for you
For mild to moderately severe hearing loss
Completely invisible in most ears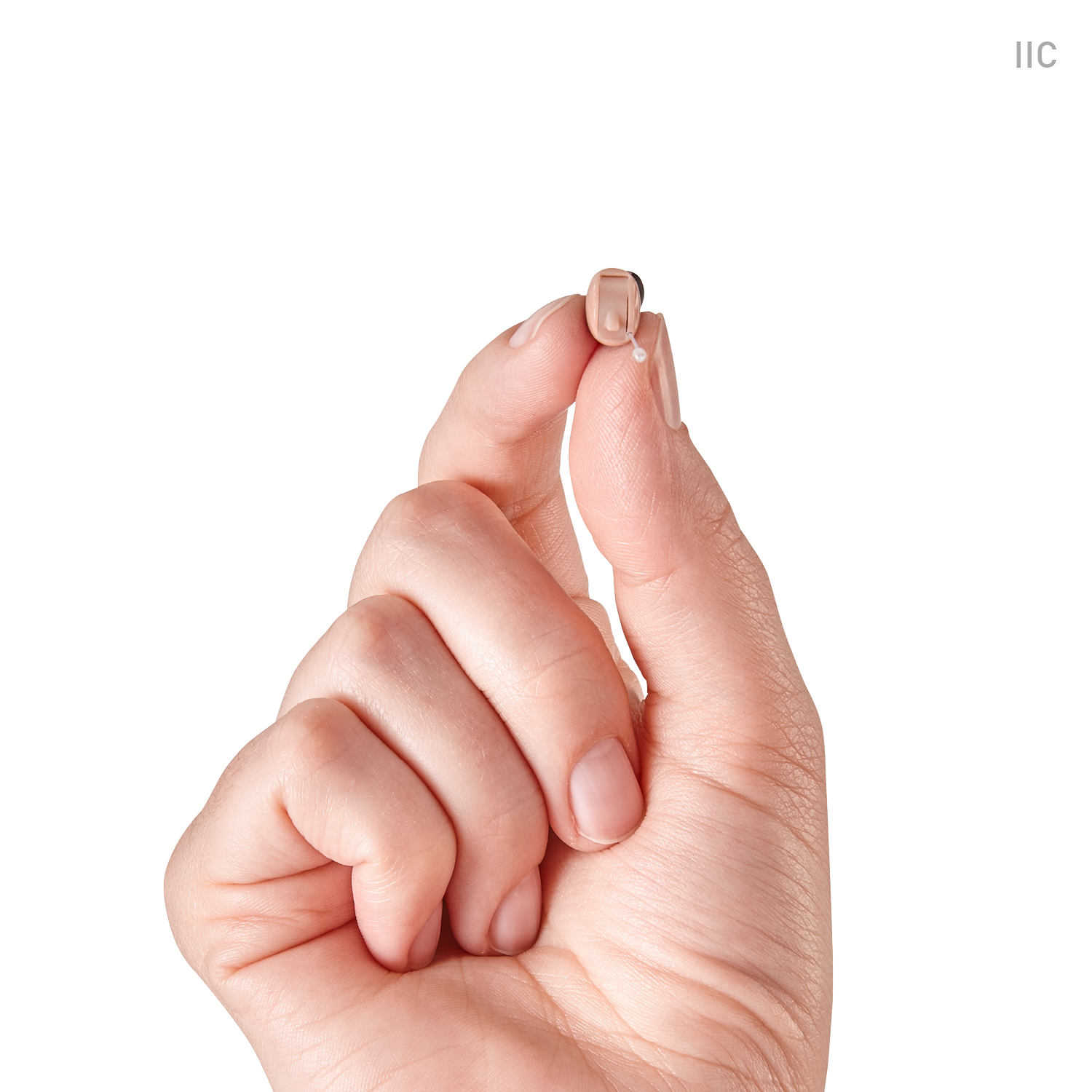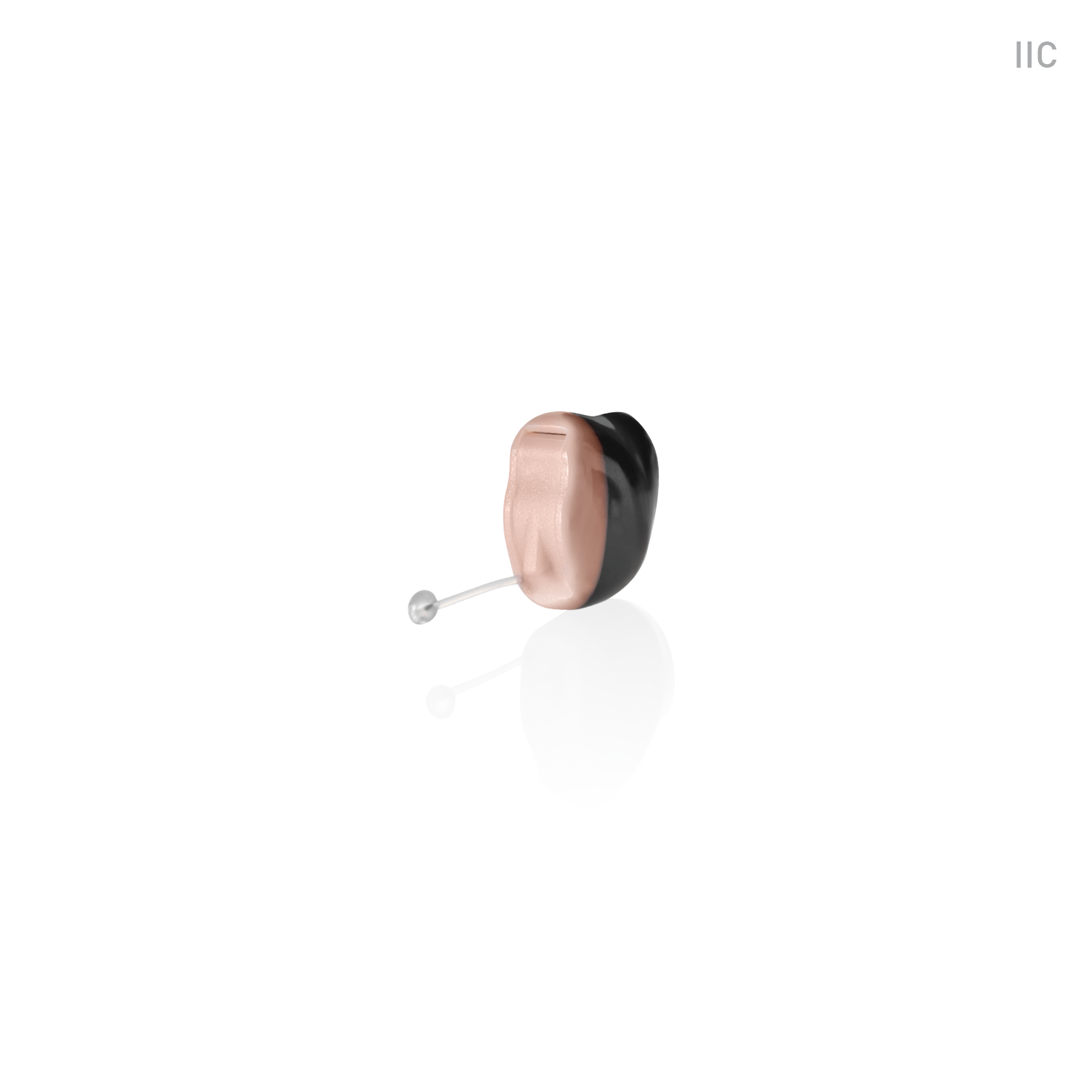 ---
In-The-Canal (ITC)
Custom hearing aid that fits in the ear canal. Smaller portion of hearing aid shows in outer ear.
Features:
For mild to mildly severe hearing loss
Custom-made for you
Variety of color options available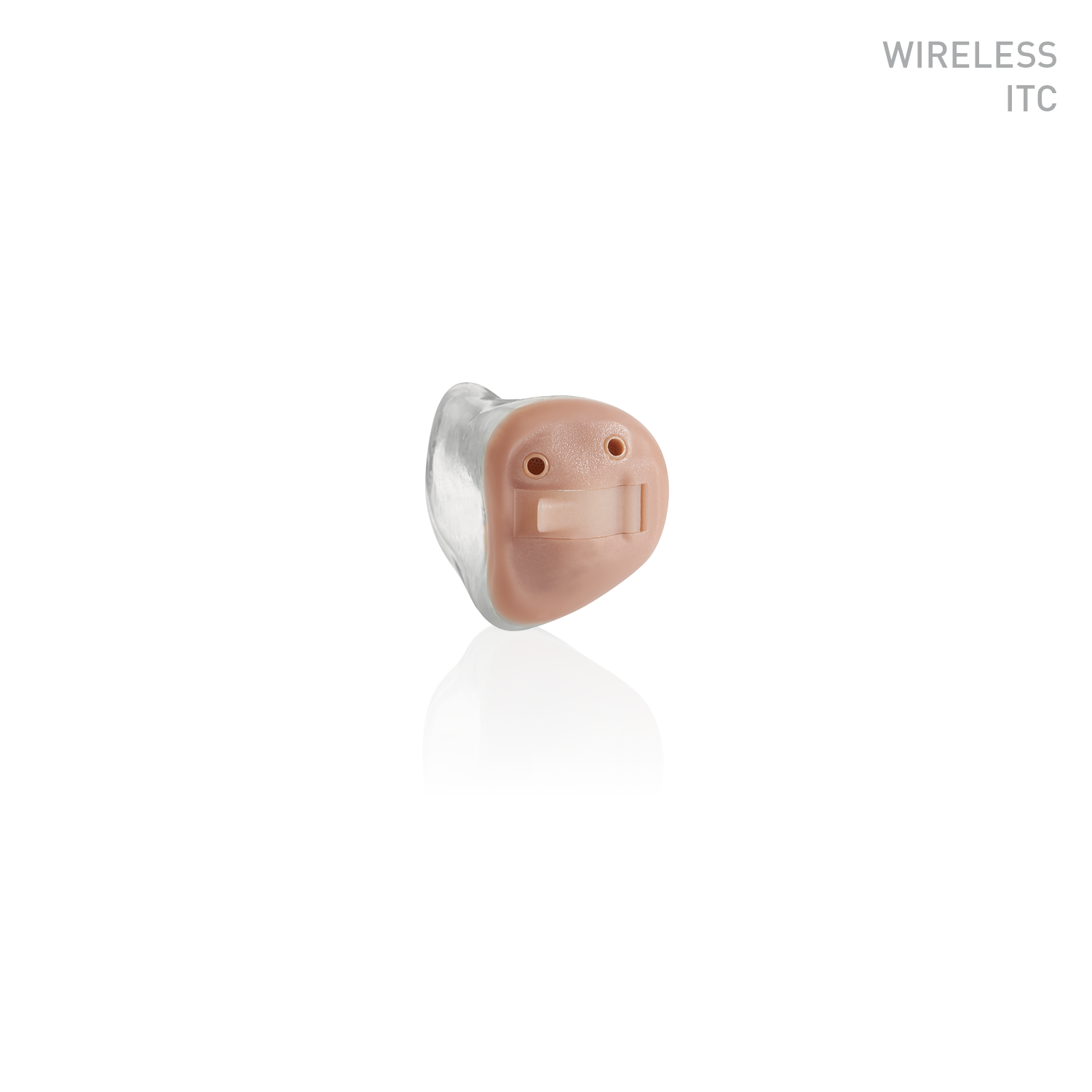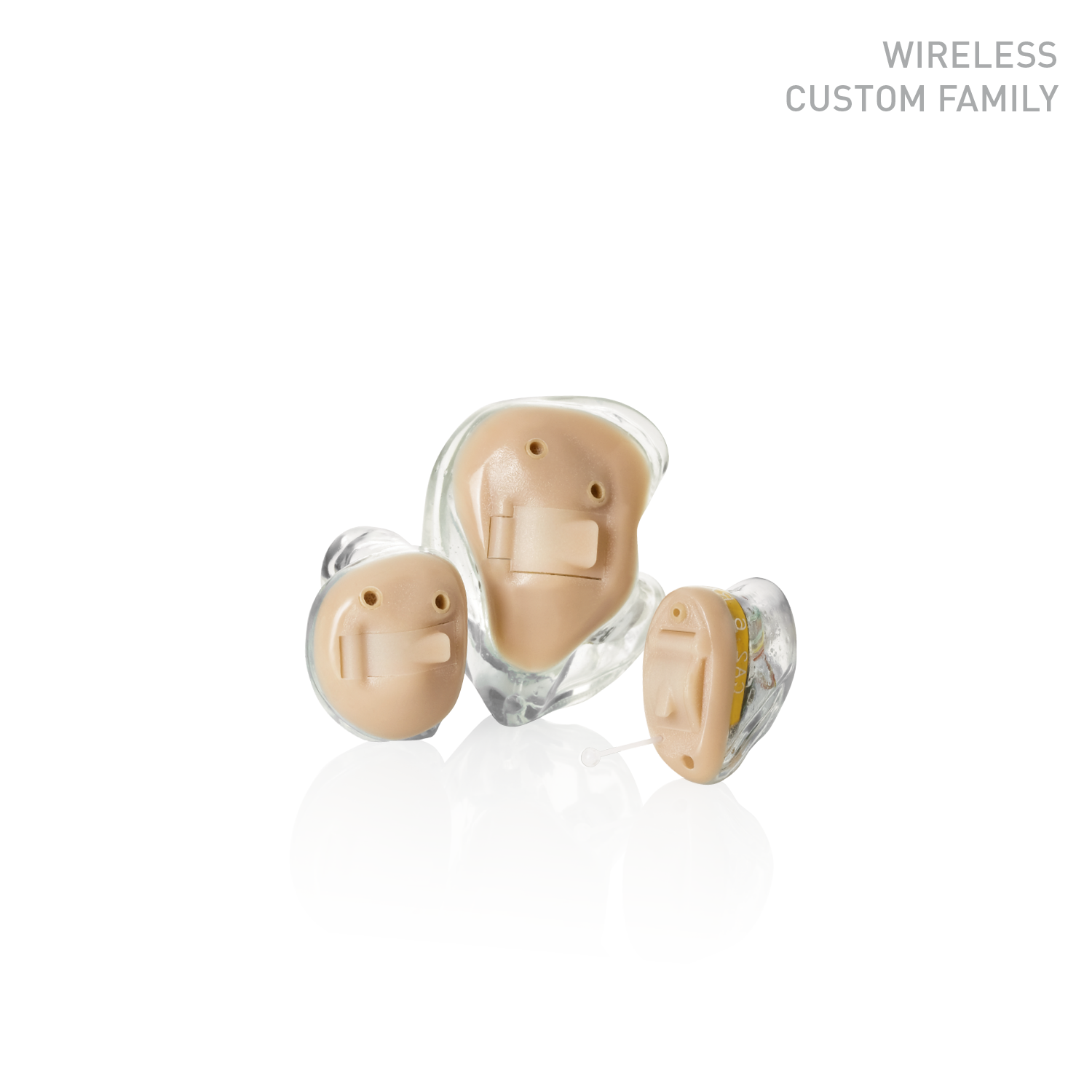 ---
In-The-Ear (ITE)

Custom hearing aid that fits within the outer portion of the ear.
Features:
Easy to adjust
For mild to severe hearing loss
Custom-made for you
Variety of color options available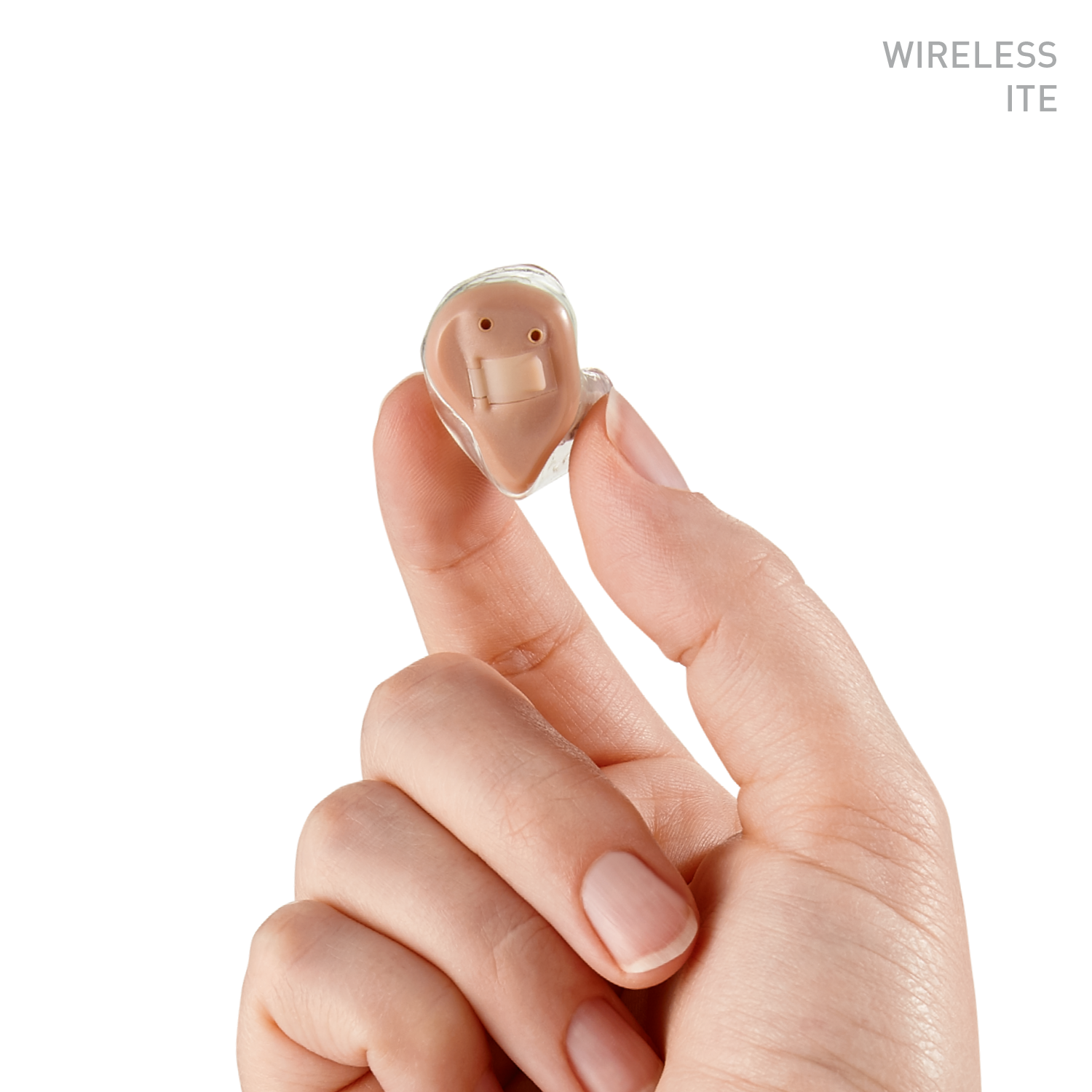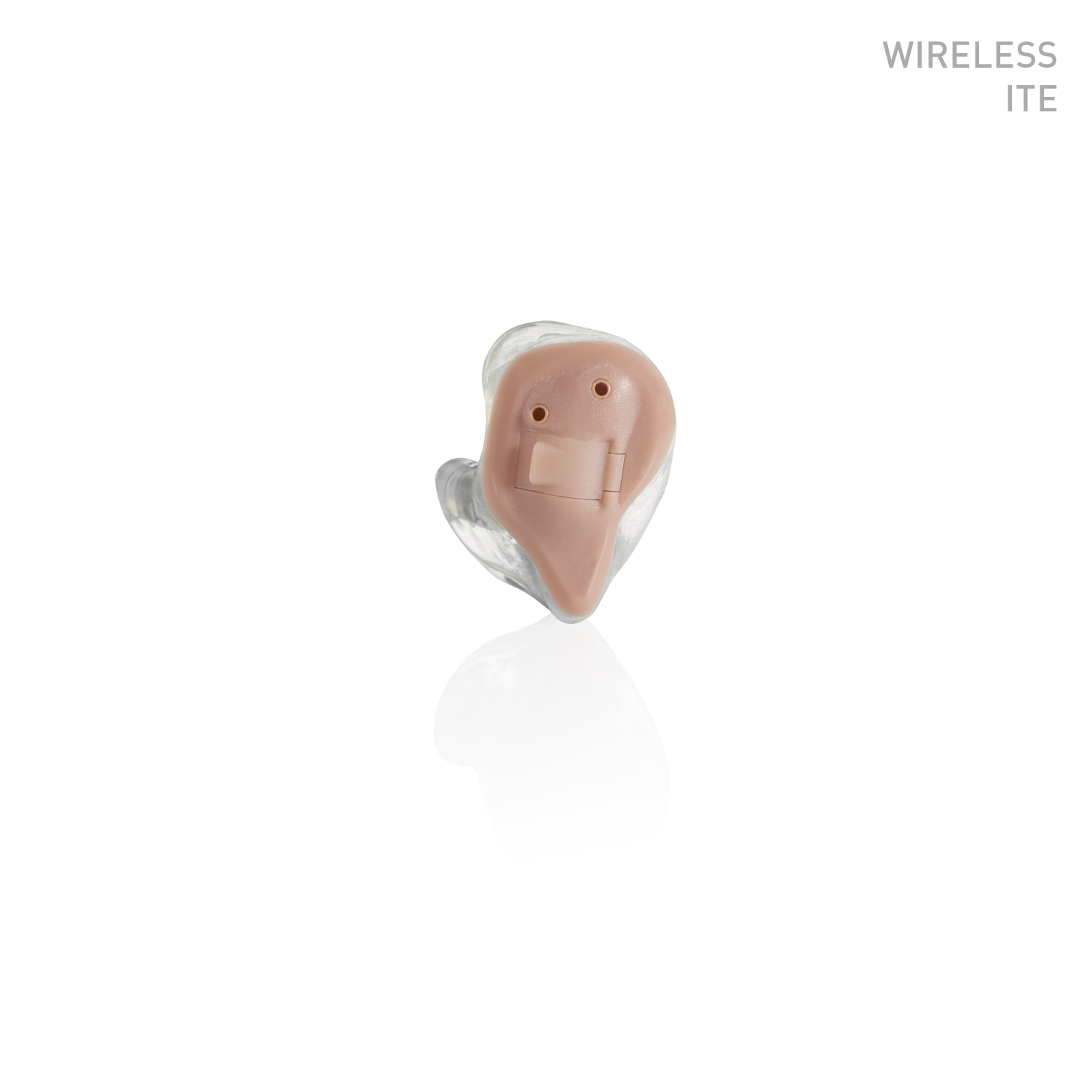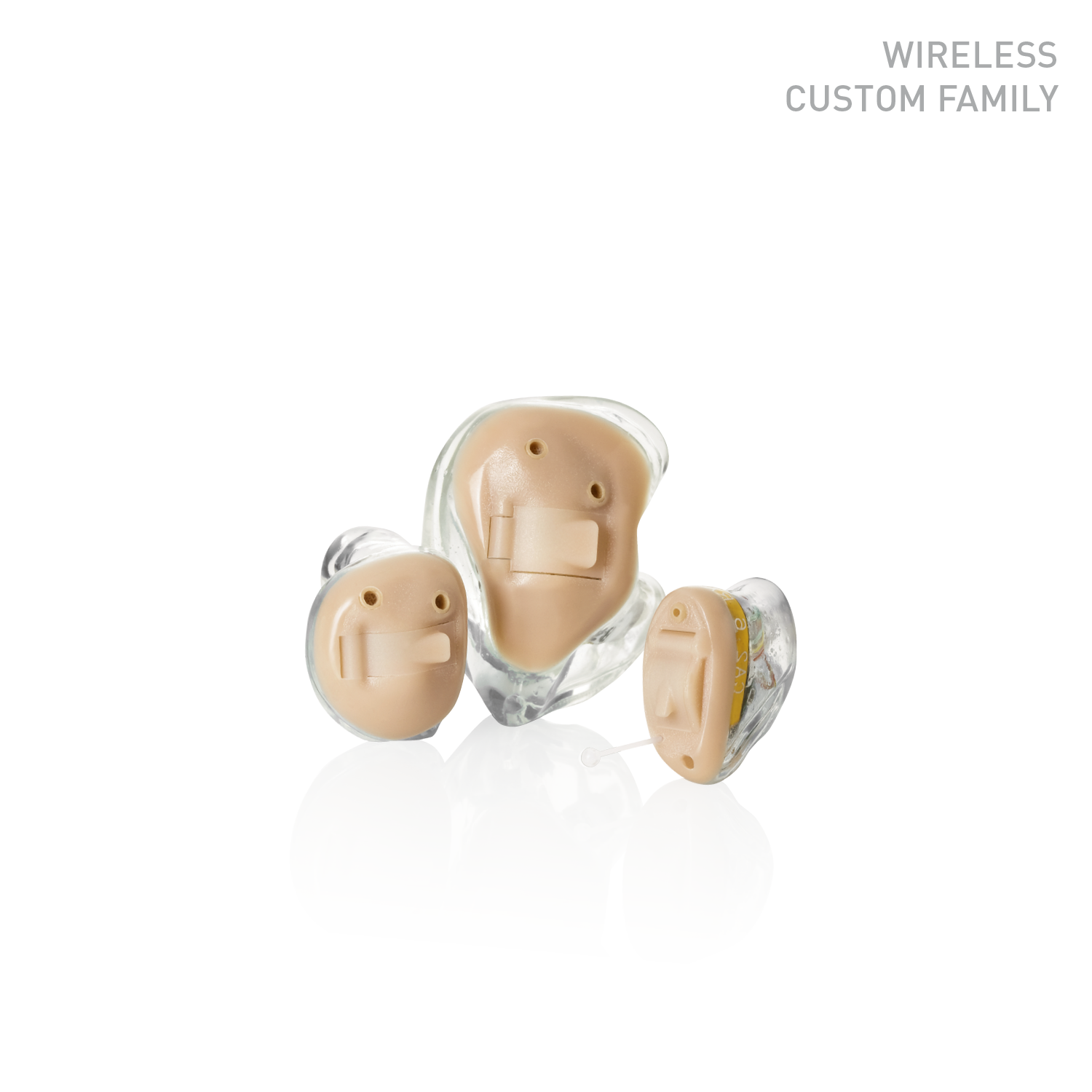 ---
Made for iPhone (available as an RIC or BTE)

Connect directly to your iPhone, iPad, iPod touch and Apple Watch via the TruLink app.
Features:
Stream phone calls, music and more, directly from your iPhone to your hearing aids
Deliver pristine sound and exceptional listening clarity
Eliminate buzzing and whistling
Help you better understand conversations and hear comfortably in any noise environment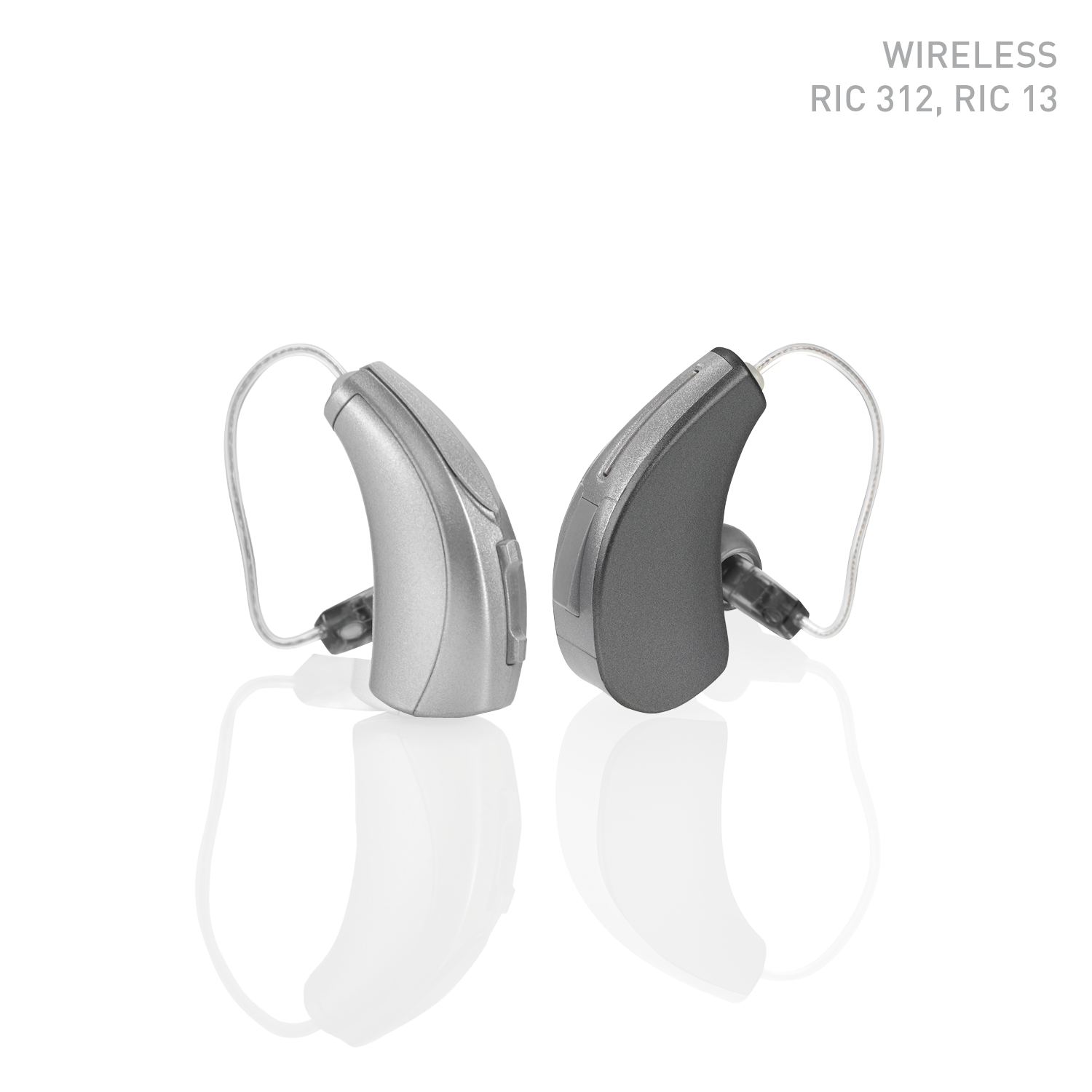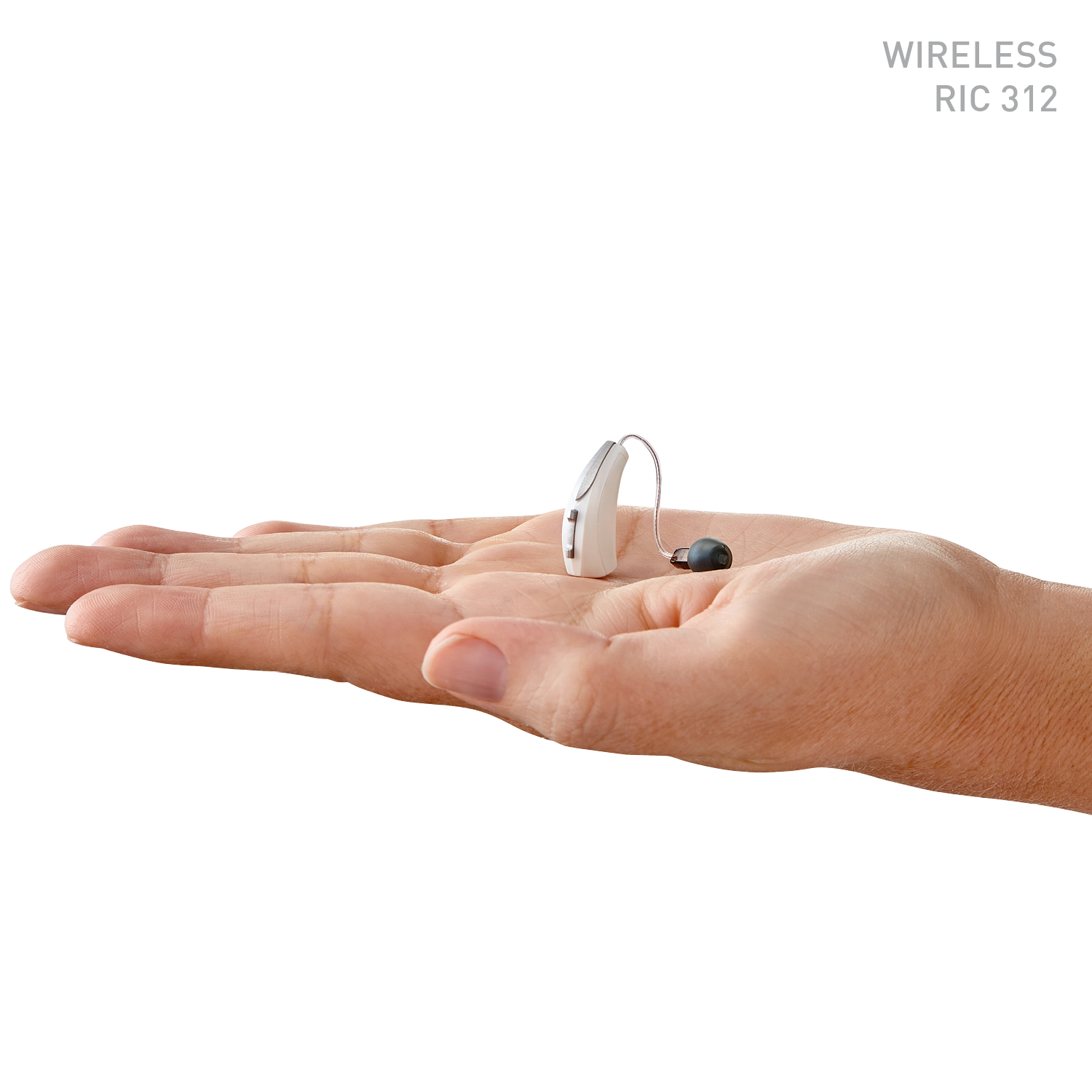 ---
Phonak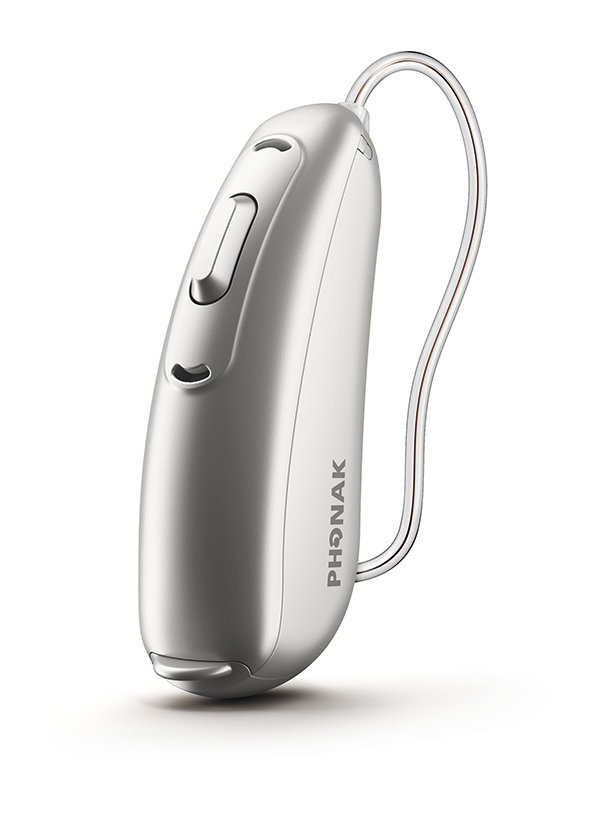 Creating a world where everyone enjoys the delight of hearing means Phonak continuously challenges the limits of technology. That means overcoming even the most difficult hearing situations and providing you with the tools to fit your ears and lifestyle efficiently and accurately. From rechargeable technology, to hearing instruments that connect directly to your phone or TV, to instruments customized to fit discretely within your ear canal, Phonak offers hearing solutions for virtually everyone, no matter their age or degree of hearing loss.
Phonak has introduced Audéo B-Direct, a new extension of the successful RIC hearing aid family for mild to severe hearing loss. Powered by Phonak Belong™ technology, Phonak Audéo B-Direct broadens the scope of the Phonak portfolio with a targeted solution for people seeking direct connectivity. Aimed at simplifying the lives of even more consumers, Audéo B-Direct is the first entry into the direct connectivity segment with universal compatibility. The new hearing aids easily connect to any cell phone as well as TV.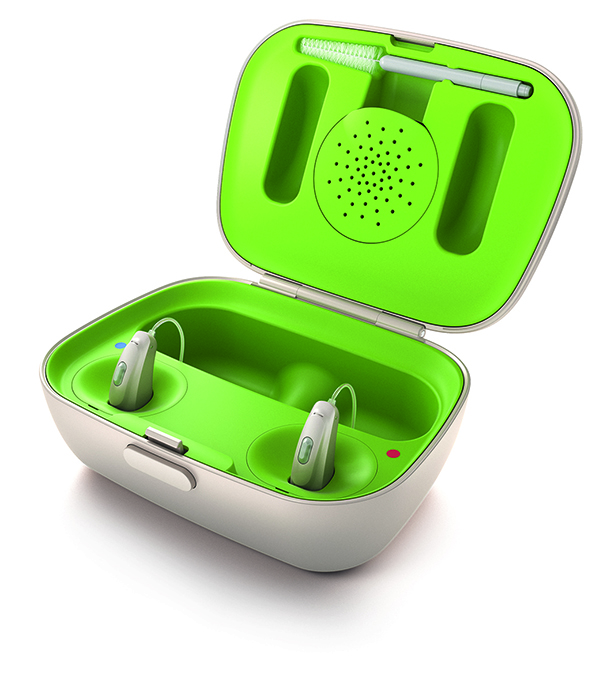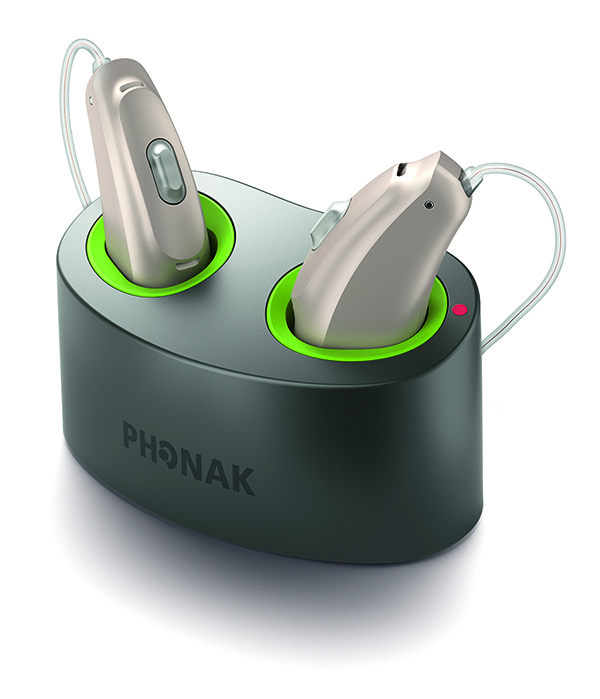 Phonak Audéo™ B-R is the first ever hearing aid to feature a specifically designed built-in lithium-ion rechargeable battery that provides 24 hours of hearing with one charge. Lithium-ion batteries are quicker to charge, last longer and won't deteriorate even after years of repeated charging. Available with easy-to-use smart charging options, you can charge their hearing aids wherever you go, without having to worry about running out of power.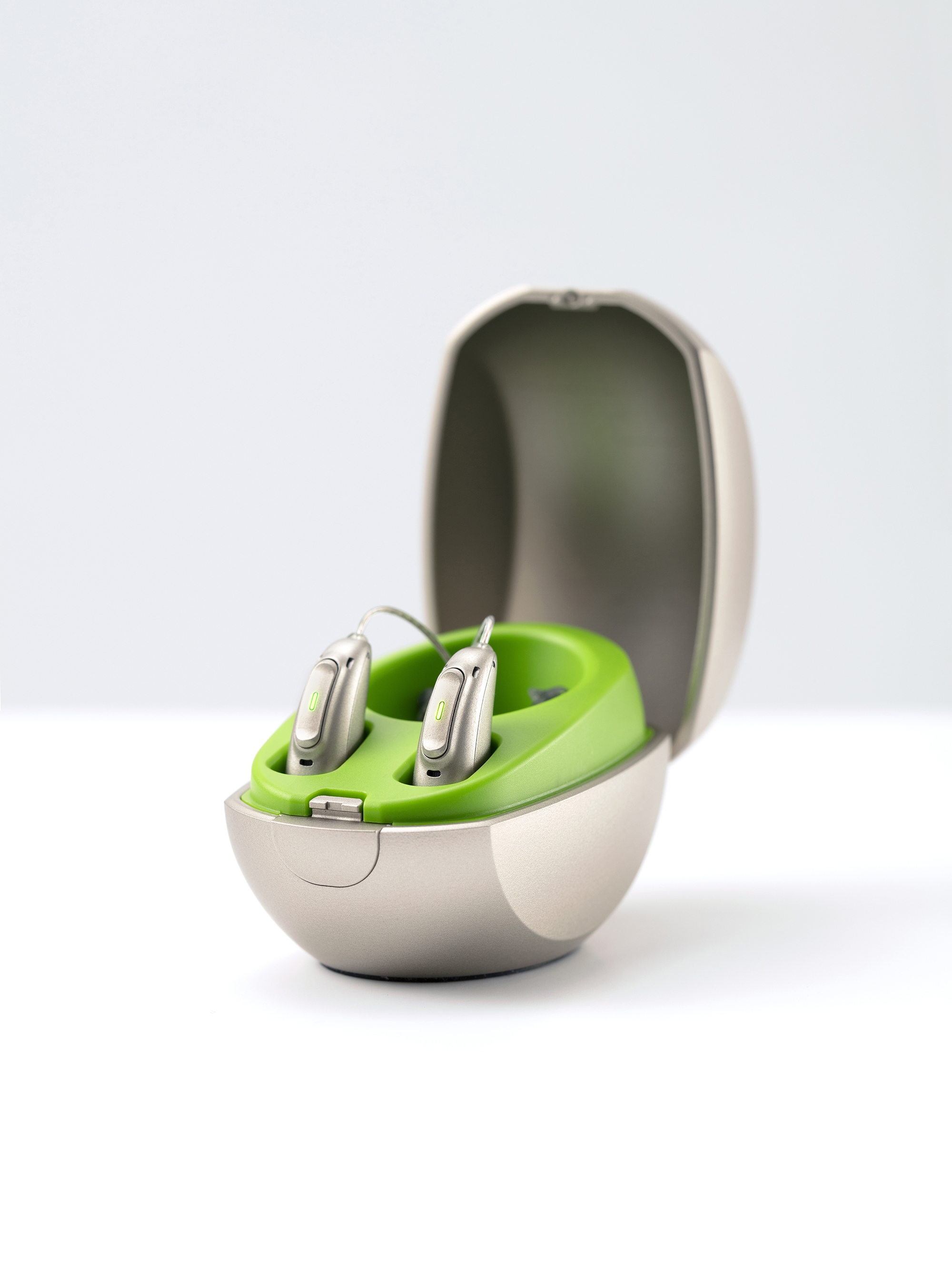 Phonak Audéo Marvel offers clearer, richer sound than ever before, with updated directional microphones and AutoSense OSTM 3.0. It has connectivity to any Bluetooth-enabled device, including iOS and Android phones. AirStream technology allows you to stream directly from any TV and stereo system. Use your hearing aids like headphones to enjoy your favorite TV programs, music, and movies. It has rechargeable batteries, removing the hassle of changing batteries. The myPhonak app, which allows you to keep track of your hearing experience and gives you the confidence and peace of mind that your personal hearing needs are addressed.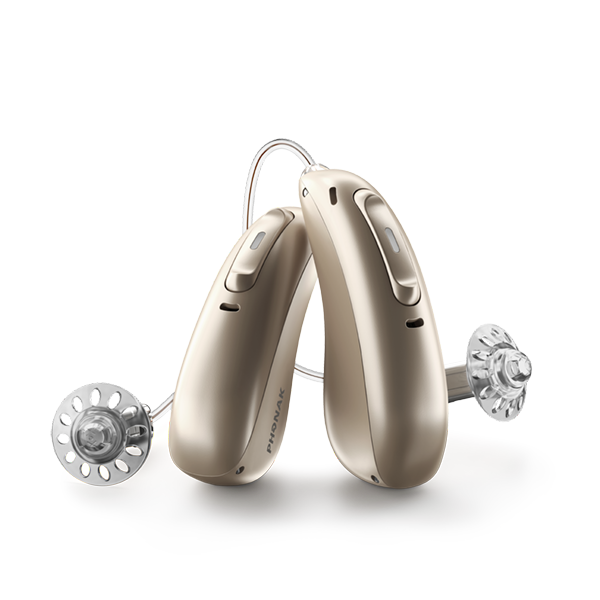 Phonak Audéo Paradise is the world's first hearing instrument with motion sensor, speech enhancement, tap control and universal Bluetooth™ connectivity. It offers crisp, natural sound, unrivaled sound quality, and personalized noise canceling. It connect to smartphones, TV, and more, and has a powerful rechargeable battery, too – all in one device. These added features allow you to enjoy the wonders of sound as they should be heard.
---
Does health insurance cover hearing aids?
Typically, standard health insurance does not cover them. There are infrequent occasions, however, when special hearing aid benefits are included in health care coverage. Check with your insurance agent or human resources department to learn if your insurance includes hearing aid benefits. If they are covered, pre-authorization may be required. Our support team will contact your insurance company for specific information about the extent of the benefits.
Unfortunately, Medicare and Medicare Supplemental Insurance do not pay for hearing aids. They are not considered "necessary or reasonable" according to Medicare guidelines and are generally an out-of-pocket expense.

---
choosing the right hearing aid
Premium: for frequent background noise (parties, social events, airport travel, sporting events, noisy restaurants, public places)
Advanced: for occasional background noise (small meetings, quiet work environment, spending time outdoors, small restaurants, radio or home music, watching tv)
Basic: for limited background noise (quiet restaurants, attending a movie or theater, home activities, one-on-one meetings, telephone use)
Economy: for rare background noise (one-on-one conversations, home activities, watching television, small places of worship, limited telephone use)
---
What level of hearing improvement is reasonable?
This varies from person to person based upon the extent and nature of the hearing loss. Individuals with mild to moderate nerve hearing loss can expect to have good hearing sensitivity and improved word understanding.
Despite advances in hearing aid technology, hearing in the presence of background noise continues to be a problem. However, directional microphone technology and connective accessories can significantly improve word understanding in some noisy situations. We will be happy to discuss this option during the hearing aid evaluation.
---
I know people that have hearing aids and do not wear them. Will this happen to me?

Properly selected and fit hearing aids are very successful. We recognize, however, that it is important that every hearing aid patient have a thirty-day trial opportunity. This provides ample time for you to learn about amplification. It also allows time for adjustment to improved hearing and affords the audiologist time to fine-tune your instruments. At the end of thirty days, you will have a realistic appreciation of hearing aid performance. If they do not suit you, they can be returned for a full refund minus a small trial fee.
---
What warranty is provided?
The standard industry hearing aid warranty from the manufacturer is for one year and covers repairs, remakes and a one-time replacement for loss and/or accidental damage. CEENTA provides one to three years of repair warranty on all new hearing aid purchases. Most repairs can be made through our offices. Specifics are discussed in detail at the time of hearing aid order.