A septoplasty is a surgical procedure to straighten a deviated septum. The septum is supposed to run straight down the center of the nose. When it deviates, it can block one side of the nose and reduce airflow. The septum can be deviated at birth, or it can become deviated from an injury. Most people have at least a slightly deviated septum. However, a significantly deviated septum can cause difficulty breathing, recurrent rhinitis, or sinusitis.
Request an Appointment for a Septoplasty Consultation
The septoplasty procedure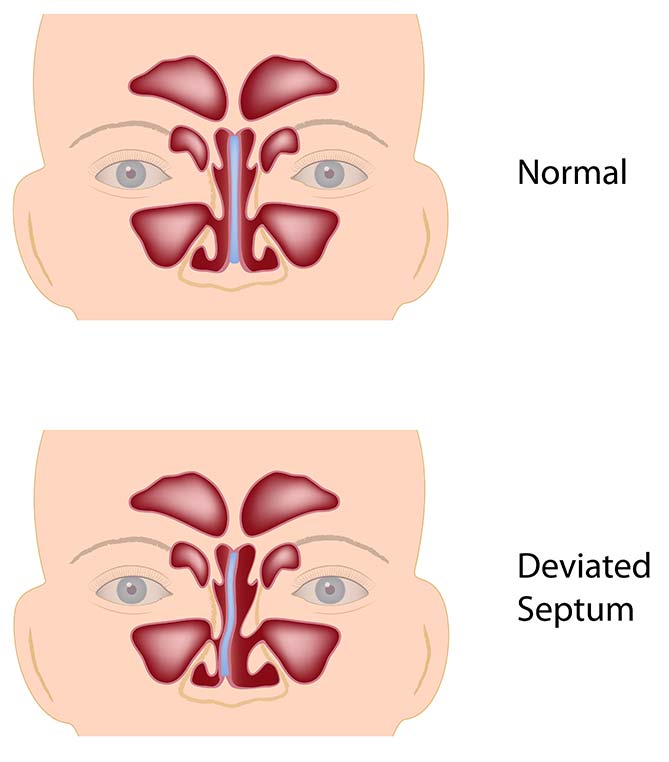 During a septoplasty, the surgeon goes through the nostril to make an incision in the lining of the septum. They would then trim or straighten the cartilage. It may also be necessary to make cuts in the nasal bones to reposition them. After the septum is straightened, small splints may be inserted. Local or general anesthesia is used. In some cases, septoplasties are performed along with other sinus or nasal procedures.

The procedure should take about 60 minutes, with a recovery of up to several weeks. Post-op swelling or discoloration is rare unless there are unusual complications. The nasal tissues should stabilize 3-6 months after surgery, although it can take up to a year.

---
recovery and restrictions from deviated septum surgery
After deviated septum surgery, patients should avoid strenuous activities, such as aerobics or other activities that could cause a blood pressure elevation. They may experience some congestion, but they should not blow their noses. They should instead use nasal spray to manage any congestion. They should also elevate their heads when sleeping, and they should wear clothes that fasten in the front instead of those that are pulled over the head.

CEENTA's ENT physicians see patients for deviated septums in locations across North and South Carolina. They are trained in the most up-to-date surgical techniques and patient care.