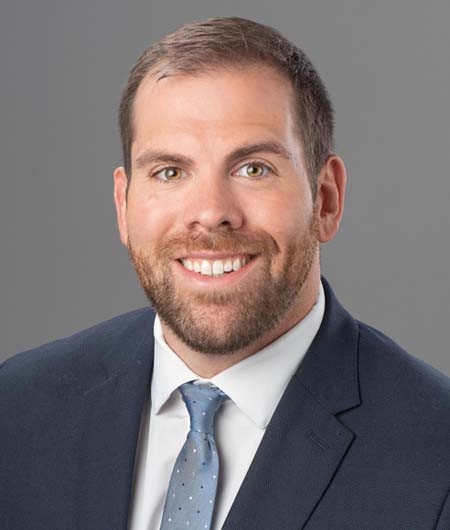 Schedule an Appointment
Refer a Friend
Enter an email address below to share the provider's page with someone you know.
Biography
Dr. Zachary Cappello is an ear, nose, and throat physician who specializes in rhinology and endoscopic skull base surgery. He graduated from the University of Virginia with a biochemistry degree. He earned his doctorate from the University of Louisville School of Medicine. Dr. Cappello's otolaryngology residency was in the University of Louisville School of Medicine's Department of Otolaryngology – Head and Neck Surgery. His fellowship in advanced rhinology and endoscopic skull base surgery was at the Cleveland Clinic Foundation.
Dr. Cappello has been involved in a number of research projects related to head and neck cancer surgery. He has also contributed to more than 20 peer-reviewed publications and poster presentations.
Dr. Cappello is a member of the American Medical Association, the American Academy of Otolaryngology-Head and Neck Surgery, and the American Rhinologic Society.
Dr. Cappello practices in our SouthPark (6035 Fairview Road, Charlotte, NC) office. To make an appointment with him, call 704-295-3000. You can also request an appointment online or through myCEENTAchart.
---
Education & Fellowship
Undergraduate
Bachelor of Science, University of Virginia, 2009
Doctorate
Doctor of Medicine, University of Louisville School of Medicine, 2013
Residency
Otolaryngology-Head and Neck Surgery, University of Louisville School of Medicine, 2018
Fellowship
Advanced Rhinology and Endoscopic Skull Base Surgery, The Cleveland Clinic Foundation, 2019

---
Associations & Memberships
American Academy of Otolaryngology – Head and Neck Surgery
American Rhinologic Society
North American Skull Base Society

---
Featured Procedures
Dr. Cappello specializes in:
Primary Endoscopic Sinus Surgery
Revision Endoscopic Sinus Surgery
Endoscopic Nasal Polypectomy
Septal Perforation Repair
Inferior Turbinate Reduction
Endoscopic Nasal Biopsy
Endoscopic Pituitary Surgery
Endoscopic Repair of Cerebrospinal Fluid (CSF) Leak/Encephaloceles
Endoscopic Dacryocystorhinostomy (DCR)
Endoscopic Orbital Decompression
Endoscopic Orbital Nerve Decompression
Endoscopic Orbital Biopsy
Endoscopic Resection of Orbital Tumors
Endoscpoic Vidian Neurectomy
Hereditary Hemorrhagic Telangiectasia (HHT) Sclerotherapy
---
Research
Cappello ZJ, Sindwani R, Roxbury C. Spine surgery through the nose: Endoscopic endonasal surgery for the craniovertebral junction pathology. Advances in Otolaryngology and Dentistry. 2019
Cappello ZJ, Ocal B, Gallia GL, Reh DD, Sindwani R, Higgins TS. Locoregional Control Rates Of Endoscopic Endonasal Cerebrospinal Fluid Leak Repairs: A Systematic Pooled-data Survival Analysis
Higgins TS, Cappello ZJ, Wu AW, Ting JY, Sindwani R. Predictors Of Eustachian Tube Dysfunction Normalization After Functional Endoscopic Sinus Surgery
Dooley LM, Potts KL, Wilson LD, Cappello ZJ, Bumpous JM. Treatment outcome in the residually positive neck after definitive chemotherapy and irradiation. Laryngoscope. 121(8):1656-61, 2011
Cappello ZJ, Eid M, Cash, E, Wilson L, Tennant PA, Bumpous JM, Potts KL. Prognostic indications of p16 and smoking status in predicting the need for posttreatment neck dissection after chemoradiation therapy in head and neck squamous cell carcinoma. International journal of radiation oncology, biology, physics 94(4):908-909
Cappello ZJ, Bumpous JM. Is bilateral exploration still the standard of care for primary hyperparathyroidism?: outcomes of focused radio-guided parathyroidectomy and bilateral explorations. Laryngoscope 123(11):2587-8, 2013.
Cappello ZJ, Augenstein AC, Potts KL, McMasters KM, Bumpous JM. Sentinel lymph node status is the most important prognostic factor in patients with melanoma of the scalp. Laryngoscope. 123(6):1411-5, 2013.
Augenstein AC, Cappello ZJ, Little JA, McMasters KM, Bumpous JM. The importance of ulceration of cutaneous melanoma of the head and neck: a comparison of the ear (pinna) and nonear sites. Laryngoscope. 122(11):2468-72, 2012.
---