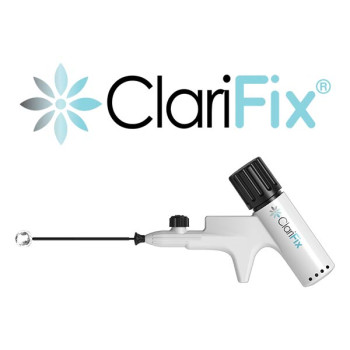 If you have chronic rhinitis, CEENTA has a new cryotherapy treatment that may be right for you.

The treatment, called ClariFix, is a new system where freezing cold temperatures are delivered to the nerves in the back of the nose. This interrupts the nerve signals and stops the source of the stuffy nose symptoms.
ClariFix is the first and only FDA-approved device to treat patients with chronic rhinitis.
Chronic rhinitis can be caused by nasal nerves sending too many signals to the brain, telling it to drip, run, and swell more than necessary, according to Arrinex, Inc., who produce Clarifix. Nerves may be stimulated by allergens or irritants in the air, changes in the weather, medications, some foods, and chronic health conditions. More than 24 million Americans have chronic rhinitis. Symptoms include a frequent runny nose, nasal congestion, and post-nasal drip.
While medical treatments like nasal sprays, drops, and pills can help manage the symptoms of chronic rhinitis, they often don't address the underlying problem. Some patients may experience adverse side effects to those medicines.
CEENTA ENT doctors Isaac Dingle, MD; Brett Heavner, MD; Christopher Jones, MD; Chad Kessler, MD; FP Johns Langford, MD; Joshua Levine, MD; Roy Lewis, MD; Jonathan Moss, MD; Robert Silver, MD; Nicholas Stowell, MD; Ross Udoff, MD; and Mark Weigel, MD; currently offer ClariFix to their patients.
"I was very excited when I read the research article on Clarifix because we have not traditionally had any great treatment options for this large patient population," Dr. Lewis said. "This is a wonderful option for those patients who always have a Kleenex with them everywhere they go."
This blog is for informational purposes only. For specific medical questions, please consult your physician. To make an appointment to see if ClariFix is right for you, call 704-295-3000. You can also request an appointment online or through myCEENTAchart.
---
You may also be interested in
---
Comments
Leave a Comment
---
Back to News