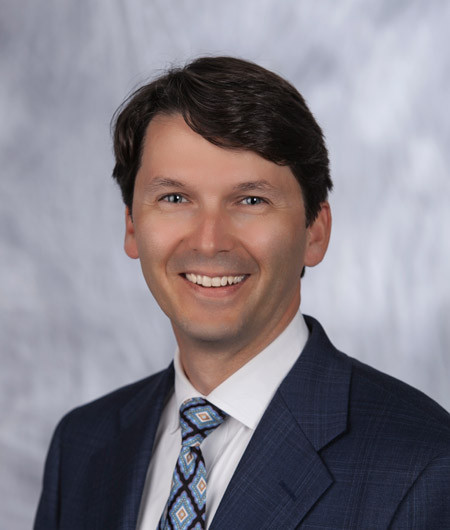 Request an Appointment
Refer a Friend
Enter an email address below to share the provider's page with someone you know.
Biography
Dr. Darrell Klotz is an otolaryngologist who practices general/comprehensive adult and pediatric otolaryngology and has subspecialty fellowship training in laryngology (adult voice and swallowing disorders) in the Charlotte, NC area. He also has additional interests in the use of office ultrasound in head and neck disorders as well as minimally-invasive endoscopic treatment of salivary gland disorders (sialendoscopy). He has been with CEENTA since 2006 and practices at Southpark. In his spare time, Dr. Klotz enjoys spending time with his family, trying to keep up with his two children, Mase and Meredith, as well as fly-fishing and mountain biking.
Dr. Klotz practices in our SouthPark (6035 Fairview Road, Charlotte, NC) office. To make an appointment with him, call 704-295-3000. You can also request an appointment online or through myCEENTAchart.

Virtual visits can now be requested by calling 704.295.3003. Most ENT conditions qualify for virtual visits.

---
Education & Fellowship
Undergraduate
Bucknell University, 1991
Medical
University of Rochester School of Medicine and Dentistry, 1995
Internship
Surgery, University of Rochester School of Medicine and Dentistry, 1996
Residency
Otolaryngology, University of Rochester School of Medicine and Dentistry, 2001
Fellowship
Laryngology/Voice Disorders, University of Washington School of Medicine, 2002
---
Associations & Memberships
Board Certified by:
- American Board of Otolaryngology

Member of:
- American Academy of Otolaryngology, Fellow
- American College of Surgeons, Fellow
- North Carolina Society of Otolaryngology – Head and Neck Surgery
- Charlotte Otolaryngology Society

Affiliations:
Clinical Adjunct Professor, Department of Otolaryngology, University of North Carolina School of Medicine

---
Featured Procedures
Salivary endoscopy (sialendoscopy): Minimally-invasive endoscopic evaluation and treatment through endoscopic techniques rather than traditional open procedures. By accessing the very small openings to the salivary glands located in the mouth via tiny endoscopes, we are able to treat recurrent swelling of the parotid and submandibular glands due to medical conditions, stones, etc, without external incisions or gland removal in many instances.
Laryngeal Reinnervation: Rehabilitation of the voice due to a paralyzed vocal fold has been performed through techniques that reposition the paralyzed vocal fold closer to the good, functioning vocal fold and add bulk to the paralyzed vocal fold. This has traditionally been accomplished through injection laryngoplasty where a material is injected into the vocal fold or by medialization laryngoplasty (thyroplasty) where a silicone implant is placed that pushes the vocal fold over. These techniques can cause the vocal fold to lose some of its elasticity and vibratory characteristic if pushed too much and can limit optimal vocal improvement. Laryngeal reinnervation repositions the vocal fold and adds bulk to the vocal fold through re-establishment of better neural input to the vocal fold. This is done by re-routing an accessory nerve in the neck to the paralyzed vocal fold. These new electrical signals to the vocal fold add increased muscular tone and bulk to the vocal fold more naturally than through physically pushing the vocal fold with an synthetic implant material.
---
Awards
Consumers Research Council of America, America's Top Physicians, 2006, 2009
Best Doctors, 2013-2014
Business North Carolina Best Doctors, 2012-2014, 2017-2019
Best Doctors in America 2017-2018
---
Testimonials
---
Research
- Findings of Multiple Muscle Involvement in a Study of 214 Patients with Laryngeal Dystonia using Fine Wire Electromyography (FWEMG)
- Treatment of the Interarytenoid Muscle with Botulinum Toxin for Laryngeal Dystonia, 2004
- Surgical Management of Posterior Epistaxis: A New Paradigm, 2002

---