If sleep apnea is causing you difficulty sleeping, Inspire may be right for you.
Request an Appointment with a Sleep Specialist
What is Inspire sleep apnea treatment?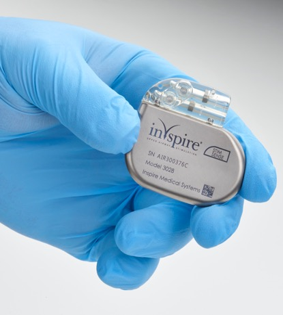 Inspire is a well-tested, FDA-approved device that helps patients with obstructive sleep apnea and is an alternative to CPAP (Continuous Positive Airway Pressure). The device is implanted into your body and opens your upper airway, allowing for easier breathing while you sleep.
How does Inspire work?
When you are ready to sleep, simply click a button on a remote control to activate the device. While you sleep, the Inspire senses your breathing and sends a gentle pulse that moves your tongue and upper airway to keep you breathing freely. Inspire is implanted in a quick outpatient procedure. You and your doctor will then work to fine-tune your device to ensure the best outcomes.
The only external piece of Inspire is the small remote control. It does not require wearing a mask or bulky hoses, like a CPAP machine. The device is always with you, whether you are traveling in a plane, camping, or napping on the couch.

While most insurances cover Inspire, please check with your insurance company to ensure they would pay for your treatment.

How do I know if I am a candidate?
The doctors at CEENTA can determine whether you are a candidate based on three typical criteria: 1) Moderate to severe obstructive sleep apnea. 2) Weight below a certain Body Mass Index (BMI) and 3) A short, outpatient twilight procedure that shows the pattern of airway collapse during sleep.When these criteria are met, Inspire may be right for you. If not, other surgeries may be helpful for your sleep apnea as well.
We look forward to helping patients who are struggling with CPAP with this implantable technology.