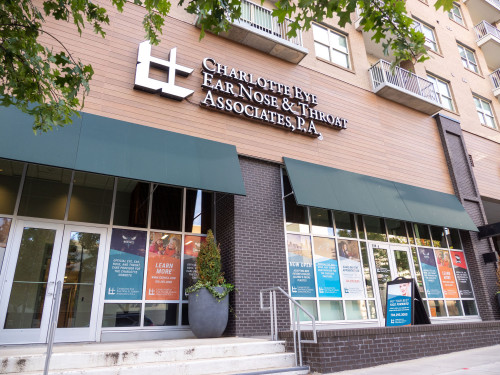 Print
Contact
704.295.3110
Hours
Thursday 7 a.m. - 7 p.m.
Friday 7 a.m. - 3 p.m.
Our Uptown office is on East Stonewall Street, next door to the Whole Foods and a minute walk from the Stonewall Street light rail station.
From July 2 to July 27, Stonewall Street will be closed to vehicles between College Street and Brevard Street. Please access our parking garage via Brevard Street.

If you are driving, enter the garage at the Novel Stonewall Station entrance at the Brevard St/Stonewall St intersection. Proceed up the ramp to Level 2, then turn at the Level 2/Retail Parking sign.
Parking is validated for the first 90 minutes for those parked on the second floor of the garage ONLY. We cannot validate parking for cars parked on the first floor.
Schedule an Appointment
Services
---
In-office and virtual visits are available. Most ENT conditions and select eye conditions qualify for virtual visits.

Starting June 15, 2020, you will be charged a $50 no-show fee if either of the following applies:
You fail to show up for a visit.
You cancel or reschedule a visit less than one business day prior to your appointment.
If you are classified as a "no-show" three times in one 12-month period, you will no longer be able to schedule appointments at CEENTA.
Thank you very much for your cooperation.
---
Providers
Ear, Nose & Throat Care Doctors
Physician Assistants & Nurse Practitioners
Audiologists
Facial Plastics