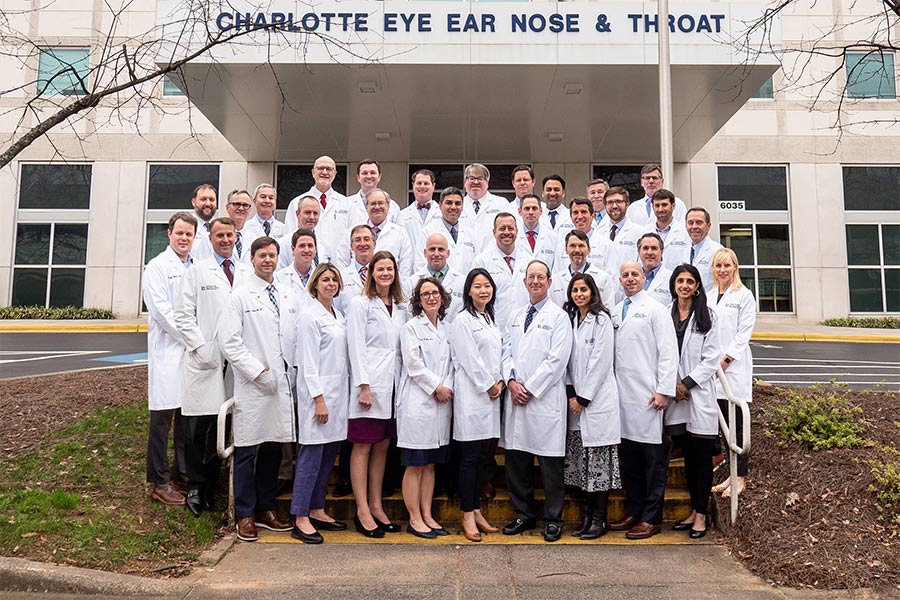 ---
WHY IS IT GREAT TO PRACTICE MEDICINE AT CEENTA?
Charlotte Eye Ear Nose & Throat Associates, PA (CEENTA), established in 1923, is a physician-owned and -operated multi-specialty private practice of Ophthalmology and Otolaryngology with over 100 providers and nearly 20 offices spread over a geographic area of approximately 50 miles centered on Charlotte, NC.
The group has all sub-specialties represented, an established referral base, and an in-house contract research organization.

Charlotte is two hours east of the Appalachian Mountains and 3 1/2 hours west of the Atlantic Ocean. It is home to the University of North Carolina-Charlotte, the NFL Panthers, the NBA Hornets, and a variety of cultural venues. Charlotte and its metropolitan area have one of the fastest growing populations of mid-sized metropolitan areas in the United States.

Physician positions include an excellent salary with partnership anticipated, potential commercial real estate and ASC ownership, an attractive 401(k) match and profit sharing, professional liability insurance, health, dental, and life insurance, and short- and long-term disability insurance.

Due to continued expansion, CEENTA has the following physician positions available:

EYE
Neuro-Ophthalmologist
Pediatric Ophthalmologist
Comprehensive Ophthalmologist
ENT
WHAT DO OUR DOCTORS THINK ABOUT WORKING AT CEENTA?

---
"I feel very fortunate to work for an organization such as CEENTA that has a long history of great people working together to provide excellent patient care."
Bradley Allen, MD; Eye; SouthPark, Blakeney, Statesville, Steele Creek
---
"I enjoy working at CEENTA because of the caring and professional staff, outstanding clinicians with world-class expertise, access to cutting-edge technology, the ability to perform groundbreaking clinical research and, most importantly, I can provide the highest quality of care to our patients in a relaxed atmosphere."
Andrew Antoszyk, MD; Eye; SouthPark, Statesville
---
"I love working at CEENTA because of the people. It feels more like a family than a workplace."
Pedro Cervantes, MD; Eye; SouthPark, Steele Creek
---
"We love working for CEENTA because we feel like we are part of a patient-centered team that is passionate about helping our community sharpen their senses!"
Leighanne Dorton, MD; ENT; Salisbury
---
"What makes working at CEENTA special is the quality of the staff. When you spend a lot of time at work, and are sometimes faced with challenging situations, it helps to have your family away from home to lean on."
Adrian Elfersy, MD; Eye; Concord, Salisbury
---
"CEENTA is a like a fine wine that matures with time. I'm proud to have contributed the fruits of my vines to this exquisite cask."
Kashyap Kansupada, MD, FACS; Eye; Belmont, Huntersville, Pineville
---
"What I love about CEENTA is that I am truly able to focus on my patients and being a surgeon because I have such a great support team."
Timothy Kelly, MD, FACS; ENT; Fort Mill, Rock Hill
---
"I enjoy working at CEENTA because our teamwork is so great. From the front desk, to clinical, to our management team and everyone in between, working together helps us take great care of our community."
Chad Kessler, MD; ENT; Rock Hill
---
"It is a great honor to work with an organization so focused on improving patient care and quality of life."
John Kilde, MD; ENT; Albemarle
---
"I enjoy working at CEENTA because I can improve the lives of my patients, have fun with my coworkers, and learn something new every day."
Elliot McKee, MD; Eye; SouthPark, Belmont, Statesville
---
"In an ever-changing health care landscape, I'm proud to be part of an independent group that allows physician governance with patient care as its primary focus."
Jonathan Moss, MD; ENT; Matthews
---
"I'm proud to be part of the CEENTA family! It's the people who have made us 95 years strong."
Veena Rao, MD; Eye; Mathews, Monroe
---
"It is a pleasure to work every day with such great patients and staff."
Rachel Sabo, MD; Eye; Statesville
---
"It is such a privilege to work at CEENTA, where we strive every day to provide the highest quality care to our patients. We never take for granted the trust they place in us, and it's always a joy helping people see well again."
Vipul Shah, MD; Eye; Blakeney, Monroe
---
"I love working for CEENTA because I feel that everything we do is done for one reason and one reason only – to care for our patients with genuine concern, utmost respect, exceptional quality, and unfailing integrity. I am extremely proud of the character of CEENTA."
J. Robert Silver, MD; ENT; Matthews
---
"I'm proud I have been providing care for patients at CEENTA for 18 years."
Michael Spicola, OD; Eye; Huntersville
---
"I love working for a practice that has put patients first for 95 years!"
Nicholas Stowell, MD; ENT; Concord
---
"It's the dedicated and compassionate staff that are CEENTA's greatest strength, and it's the delightful patients in our community that make working at CEENTA so rewarding."
Christopher Tebbit, MD; ENT; Belmont
---
"Getting to work with this group makes coming to work fun."
Ross Udoff, MD; ENT; Monroe