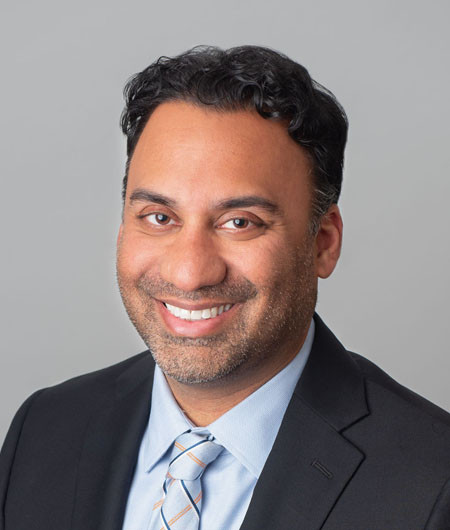 Schedule an Appointment
Refer a Friend
Enter an email address below to share the provider's page with someone you know.
Biography
Dr. Vipul Shah is a fellowship-trained subspecialist with extensive experience in cataract and refractive surgery, cornea and external diseases (including dry eye syndrome), and comprehensive ophthalmology in the Charlotte, NC and Monroe, NC areas. After his undergraduate degree at Duke University, he attended medical school and residency at the University of South Florida in Tampa, then completed a fellowship in Cornea and External Diseases at the University of Colorado's Rocky Mountain Lions Eye Institute. He also routinely lectures at both the American Academy of Ophthalmology and Association of Cataract and Refractive Surgeons national meetings every year. In his spare time, he enjoys playing with his kids, spending time with his family and friends, playing tennis, and cheering on the Duke Blue Devils.
Dr. Shah practices in our Blakeney (5933 Blakeney Park Drive, Suite 200, Charlotte, NC) and Monroe (1632 East Roosevelt Blvd, Monroe, NC) offices. To make an appointment with him, call 704-295-3000. You can also request an appointment online or through myCEENTAchart.

---
Education & Fellowship
Undergraduate
Biology, Duke University, 1998
Medical
University of South Florida College of Medicine, Tampa, FL, 2003
Internship
Internal Medicine, University of South Florida College of Medicine, 2004
Residency
Ophthalmology, University of South Florida College of Medicine, 2007
Fellowship
Cornea, External Diseases and Refractive Surgery, University of Colorado School of Medicine, 2008
---
Associations & Memberships
Board Certified by:
- American Board of Ophthalmology, Diplomat
Member of:
- American Academy of Ophthalmology, Fellow
- American Society of Cataract and Refractive Surgery
- The Cornea Society
---
Featured Procedures
Femto Laser-Assisted Cataract Surgery: Femto Laser-Assisted Cataract Surgery, or FLACS, replaces many of the steps during cataract surgery that require a blade and softens the cataract, allowing for an easier and smoother removal. In addition, the laser corrects mild astigmatism by relaxing the cornea at a precise depth, length, and orientation in a more precise and effective manner compared to manual, hand-made incisions. It can also improve the quality of vision by reducing some visual aberrations, it expands the visual range of astigmatism-correcting lens implants, and it may enhance the quality and range of near vision in extended range lens implants.
---
Community Involvement
Dr. Shah has given continuing education talks including:
"Secondary IOLs: Stick 'em, Stich 'em, Glue 'em, or Burn 'em?"
---
Testimonials
I had
cataracts
in both my eyes. I'm also very light-sensitive, and because of that and the cataracts I had developed really extreme migraines that were brought on by bright, sunny days.
Dr. Shah
did an absolutely fabulous job with my surgery.
- Janet S.
Read More
---
Research
Techniques in Descemet's Stripping Automated Endothelial Keratoplasty (DSAEK), Ultrathin DSAEK, Multifocal lenses
Taravella M, Shah V, Davidson R. Ultrathin DSAEK. International Ophthalmology Clinics: Corneal Transplantation in the 21st Century, 2013, 53(2): 21-30.
Shah, V. Reorientation of inverted endothelial graft during Descemet's stripping automated endothelial keratoplasty. Cornea 2012; 31(9): 1075-1077.
Shah V, Russo C, Cannon R, Davidson R, Taravella M. Incidence of Nd:YAG Capsulotomy After Implantation of AcrySof Multifocal and Monofocal Intraocular Lenses: A Case Controlled Study. J Refractive Surg 2010; 26(8): 565-568.
Groden L, Shah V. Safe LASIK: A Primer. International Ophthalmology Clinics: Refractive Surgery, 2006, 46(3):83-90.
---