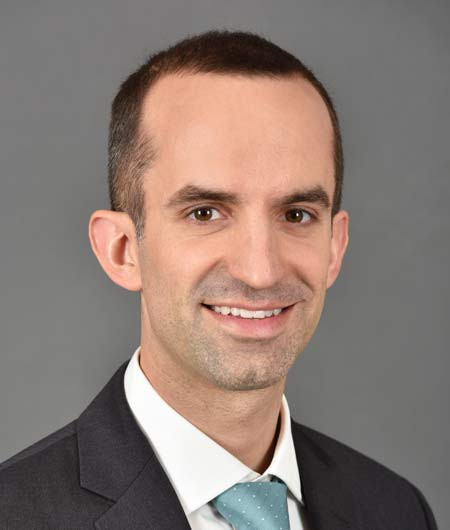 Schedule an Appointment
Refer a Friend
Enter an email address below to share the provider's page with someone you know.
Biography
Dr. Jad Jabbour is a board-certified otolaryngologist who specializes in pediatric ear, nose, and throat care. He graduated summa cum laude from Wheaton College. He earned his medical degree from Northwestern University and Master of Public Health degree from the American University of Beirut. Dr. Jabbour completed his residency at the Medical College of Wisconsin and his fellowship in pediatric otolaryngology at Boston Children's Hospital/Harvard Medical School. He continues to serve as a Lecturer in Otolaryngology at Harvard Medical School.
Dr. Jabbour loves spending time with his wife and two boys, playing sports, and playing music. He has also volunteered on medical trips to Egypt and Lebanon.
Dr. Jabbour practices in our SouthPark (6035 Fairview Road, Charlotte, NC) office. To make an appointment with him, call 704-295-3000. You can also request an appointment online or through myCEENTAchart.

Virtual visits can now be requested by calling 704.295.3003. Most ENT conditions qualify for virtual visits.

---
Education & Fellowship
Undergraduate
Bachelor of Science, Biology, Wheaton College, 2007
Graduate
Master's of Public Health, American University of Beirut, 2011
Medical
Northwestern University Feinberg School of Medicine, 2012
Residency
Department of Otolaryngology and Communication Sciences, Medical College of Wisconsin, 2017
Fellowship
Pediatric Otolaryngology, Boston Children's Hospital/Harvard Medical School, 2018
---
Associations & Memberships
Alpha Omega Alpha Medical Honor Society
American Society of Pediatric Otolaryngology
American Academy of Otolaryngology – Head and Neck Surgery
Triological Society
---
Awards
Charlotte Magazine Top Doctors, 2020
---
Testimonials
---
Research
Jabbour J, Doerfer, KW, Robey T, Cunningham MJ. Trends in pediatric otolaryngology disparities research. Otolaryngology-Head and Neck Surgery, 2018; doi:10.1177/194599818768496. [Epub ahead of print]
Jabbour J, Robey T, Cunningham MJ. Healthcare disparities in pediatric otolaryngology: a systematic review. Laryngoscope, 2017; doi:10.1002/lary.26995. [Epub ahead of print]
Jabbour J, Robey T. Resolution of vocal fold immobility in preterm infants. International Journal of Pediatric Otorhinolaryngology, 2017;103:83-6.
Jabbour J, North LM, Bougie D, Robey T. Vocal fold immobility due to birth trauma: a systematic review and pooled analysis. Otolaryngology-Head and Neck Surgery, 2017; 157(6):948-54.
Jabbour J, Uhing M, Robey T. Vocal fold immobility in preterm infants: prevalence and analysis of risk factors. Journal of Perinatology, 2017;37(5):585-90.
Jabbour J, Bakeman AE, Robey T, Jabbour N. Self-directed learning in otolaryngology residents' preparation for surgical cases. Annals of Otology, Rhinology and Laryngology, 2017;126(4):296-303.
Hamdan AL, Dowli A, Jabbour J, Sabri A, Azar ST. Phonatory symptoms and impact on quality of life in female patients with goiter. Ear Nose Throat Journal, 2016;95(7):E5-E10.
Hamdan AL, Ziade G, Al-Zaghal Z, Tabri D, Sinno S, Saade R, Jabbour J, Nassar J. Formant characteristics of English-speaking Lebanese men. Lebanese Medical Journal, 2015;63(4):209-12.
Hamdan AL, Ziade G, Jabbour J, Khneizer G, Kutkut I. Nasalance scores in Lebanese English-speaking adults using nasometric analysis. Lebanese Medical Journal, 2015;63(4):203-8.
Funk RT, Jabbour J, Robey T. Factors associated with tracheotomy and decannulation in pediatric bilateral vocal fold immobility. International Journal of Pediatric Otorhinolaryngology, 2015;79(6):895-9.
Jabbour J, Martin T, Beste D, Robey T. Pediatric vocal fold immobility: its natural history and the need for long-term follow-up. JAMA Otolaryngology Head and Neck Surgery, 2014;140(5):428-33.
Nichols BG, Jabbour J, Hehir DA, Ghanayem NS, Beste D, Martin T, Woods R, Robey T. Recovery of vocal fold immobility following isolated patent ductus arteriosus ligation. International Journal of Pediatric Otorhinolaryngology, 2014;78(8):1316-9.
Hamdan AL, Dowli A, Barazi R, Jabbour J, Azar S. Laryngeal sensory neuropathy in patients with diabetes mellitus. Journal of Laryngology and Otology, 2014;128(8):725-9.
Hamdan AL, Jabbour J, Barazi R, Korban Z, Azar ST.Prevalence of laryngopharyngeal reflux disease in patients with diabetes mellitus. Journal of Voice, 2013;27(4):495-9.
Hamdan AL, Jabbour J, Al Zaghal Z, Azar ST. Goiter and laryngopharyngeal reflux. ISRN Endocrinology, 2012; 208958. doi: 10.5402/2012/208958.
Hamdan AL, Jabbour J, Nassar J, Dahouk I, Azar ST. Vocal characteristics in patients with type 2 diabetes mellitus. European Archives of Otorhinolaryngology, 2012;269(5):1489-95.
Hamdan AL, Jabbour J, Saadeh R, Kazan I, Nassar J, Bulbul M. Vocal changes in patients with prostate cancer following androgen ablation. Journal of Voice, 2012;26(6): 812.e11-5.
Hamdan AL, Nassar J, El-Dahouk I, Al Zaghal Z, Jabbour J, Azar ST. Vocal characteristics in patients with thyroiditis. American Journal of Otolaryngology, 2012;33(5):600-603.
Jabbour J, Jabbour NM, Villers A, Odom V. 25-gauge vitrectomy. Ophthalmology, 2007;114(4):827.e1-2
---