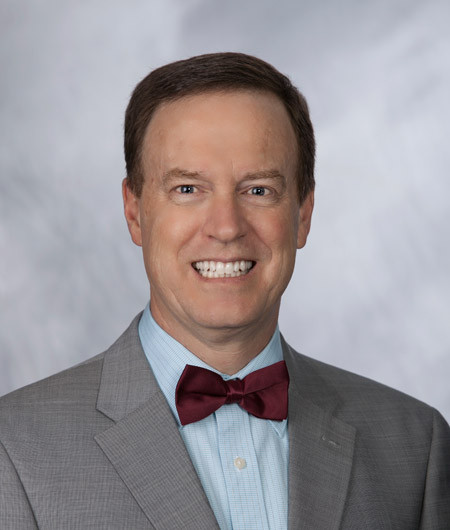 Request an Appointment
Refer a Friend
Enter an email address below to share the provider's page with someone you know.
Biography
Dr. Eric Mair is a board-certified Otolaryngologist with two fellowships in Pediatric Otolaryngology. His practice specializes in minimally-invasive surgery for sinusitis, airways, and sleep-disordered breathing in both children and adults. He is a recipient of multiple Best Doctors awards, both locally and nationally. He is a clinical professor at UNC and is principal investigator of several clinical research protocols at CEENTA. He has over 75 published articles and textbook chapters and serves on the editorial board of a major ENT journal. He loves his wife and 4 children, and you can find him with his family cheering on the Charlotte Hornets during basketball season.
---
Education & Fellowship
Undergraduate
U.S. Air Force Academy (Distinguished Graduate)
Medical
Baylor College of Medicine
Internship / Residency
General Surgery & Otolaryngology, Wilford Hall Medical Center (American Medical Association Resident Leadership Award)
Fellowships
Pediatric Otolaryngology, Children's Hospital, San Diego, California & Pediatric Laryngology and Bronchoesophagology, Royal Alexandra Children's Hospital, Sydney, Australia
---
Associations & Memberships
Board Certified by:
- American Board of Otolaryngology

Member of:
- American Academy of Otolaryngology, Fellow
- American Society of Pediatric Otolaryngology, Fellow
- American Society of Pediatric Otolaryngology, Fellow
- American College of Surgeons, Fellow
- Christian Society of Otolaryngology, charter member
---
Featured Procedures
Minimally-invasive balloon procedures to treat sinus disease, eustachian tube dysfunction or airway stenosis: This is a minimally-invasive technique that can be done in the office or in the operating room (for children) and is intended for patients with recurrent or chronic sinus infections. It is now available to treat those with difficulty equalizing pressure in their ears due to Eustachian tube function. Minimally-invasive balloons are also used to treat tight breathing airways such as subglottic stenosis without an incision or stitch. Tiny balloons are used to dilate the tight diseased opening of sinuses, ears and airways to reduce pain, swelling, and infection.
Salivary endoscopy (sialendoscopy): This is a minimally-invasive outpatient procedure to treat salivary gland disease while keeping the gland intact and functional. By accessing the tiny openings of the salivary glands with miniature cameras and instruments, we can help treat recurrent and chronic swelling and infection of the parotid and submandibular glands without visible incisions. Painful stones blocking the gland ducts are removed using state-of-the-art retrieval techniques minimizing risks such as scarring, bleeding, and facial nerve weakness.
---
Awards
Best Doctors in America, 2006-2016
Best Doctors in North Carolina, 2006-2016
Charlotte Magazine Top Doctors, 2017
American Academy of Otolaryngology – Honor Award & Distinguished Service Award
Served as Food & Drug Administration Panel Chairman for ENT Devices
Selected as Personal Otolaryngologist to a former President of the United States
---
Community Involvement
Director of Pediatric ENT at Levine Children's Hospital
Clinical Professor, University of North Carolina
---
Testimonials
When I was younger I started noticing I had problems with my sinuses. I'd get congested, I didn't have the energy I used to have, and sometimes I would wake up because I couldn't breathe well. My mom knew it wasn't just because I was tired or had a cold. I've seen
Dr. Mair
for years. He has done five sinus surgeries and I'm doing a lot better now.
- William L.
Read More
---
Research
- Renowned researcher and author with over 75 published articles and textbook chapters
- Served as Associate Editor of Otolaryngology-Head and Neck Surgery
- Serves as Editorial Board Member of Annals of Otology, Rhinology, and Laryngology
- Actively sought as a lecturer throughout the USA and an invited international lecturer to England, Australia, Germany, Italy, Romania, Israel, and Turkey

---