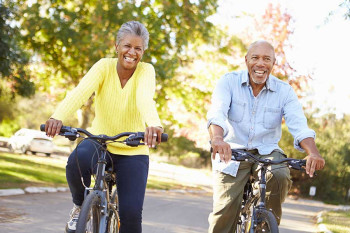 Your vision is getting cloudy. It's harder to see when you're driving at night. You have cataracts, and it's time to have them removed. Even though you trust your doctor completely and always have, you're still a little bit nervous around blades. If so, Femto-Laser Assisted Cataract Surgery may be right for you.

What is Femto-Laser Assisted Cataract Surgery?
Femto Laser-Assisted Cataract Surgery, or FLACS, replaces many of the steps during cataract surgery that require a blade and softens the cataract, allowing for an easier and smoother removal. In addition, the laser corrects mild astigmatism by relaxing the cornea at a precise depth, length, and orientation in a more precise and effective manner compared to manual, hand-made incisions. It can also improve the quality of vision by reducing some visual aberrations, it expands the visual range of astigmatism-correcting lens implants, and it may enhance the quality and range of near vision in extended range lens implants.
What is the cataract replaced with?
CEENTA offers a variety of replacement lens implants to correct astigmatism and farsightedness to provide you with as clear vision as possible. Your doctor will help you determine the best lens implant for your lifestyle needs. Many doctors recommend extended-range lens implants, which provide a continuous range of near, intermediate, and far vision, allowing most patients to reduce their dependence on glasses. Some of them can also treat astigmatism.
Will my cataracts return?
No. Like with traditional cataract surgery, once you have FLACS you will never need cataract surgery again.
What's the recovery time like?
Some patients have said their vision was clear after only a few hours, but don't be concerned if it takes a week or two.
Can my doctor do both eyes at the same time?
Cataract surgery is only done on one eye at a time to allow plenty of recovery time. Fortunately, complications are minimal, and you will be able to get your second eye done a few weeks later.
Who offers FLACS surgery?
CEENTA has 12 cataract surgeons throughout the region who offer this treatment. If you decide laser surgery is right for you, you won't have to travel far for it.
CEENTA's FLACS surgeons
This blog is for informational purposes only. For specific medical questions, please consult your physician. To make an appointment for cataract surgery consultation with a FLACS specialist or any of CEENTA's cataract surgeons, call 704-295-3000. You can also request an appointment online or through myCEENTAchart.
---
You may also be interested in
---
Leave a Comment
---
Back to News