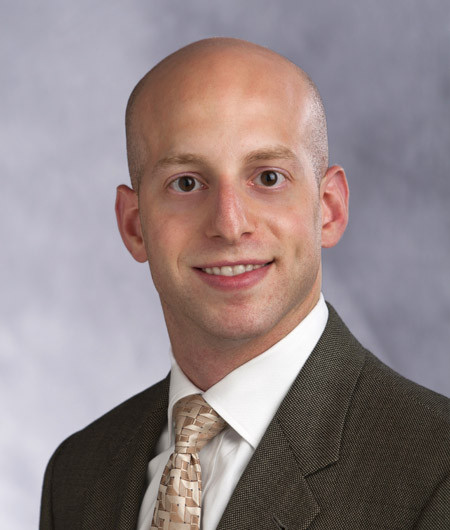 Schedule an Appointment
Refer a Friend
Enter an email address below to share the provider's page with someone you know.
Biography
Dr. Robert Saltzmann is an Ophthalmologist with specialty fellowship training in the medical and surgical management of glaucoma. He also provides comprehensive adult eye care and cataract surgery, including refractive implant technology, such as toric and multifocal lenses, when appropriate. He practices in the Charlotte, NC and Belmont, NC areas, and provides surgical care conveniently in Southpark, uptown, and in Kings Mountain.
Dr. Saltzmann is originally from suburban Philadelphia, but his path to Charlotte has taken him across the country and back. He received his undergraduate degree in neurobiology from Northwestern University in Evanston, IL, graduating Summa Cum Laude in 2001. He remained at Northwestern's downtown Chicago campus for medical school, where he graduated in 2005 with Alpha Omega Alpha distinction. Dr. Saltzmann then spent a year in beautiful Salt Lake City, Utah, to complete a transitional internship in 2006 before then moving to Dallas, Texas to complete his Ophthalmology training. He completed his residency in 2009, during which he had the opportunity to serve as Chief Resident. He then stayed in Dallas to complete a fellowship in glaucoma before moving to Charlotte in 2010. Having spent time in the Northeast, Midwest, South, and Mountain West of the United States, Dr. Saltzmann can confidently say that the Southeast is the best region of the country to live, work, and raise a family. In his spare time, Dr. Saltzmann enjoys traveling the world with his family, hiking in the North Carolina mountains, trying new restaurants, reading, and dabbling on the piano.
Dr. Saltzmann practices in our SouthPark (6035 Fairview Road, Charlotte, NC) and Belmont (400 park Street, Belmont, NC) offices. To make an appointment with him, call 704-295-3000. You can also request an appointment online or through myCEENTAchart.

---
Education & Fellowship
Undergraduate
Northwestern University, 2001, Summa Cum Laude
Medical
Northwestern University Feinberg School of Medicine, Alpha Omega Alpha Distinction, 2005
Internship
Transitional Internship, Latter Day Saints (LDS) Hospital/Intermountain Medical Center, 2006
Residency
Ophthalmology, University of Texas Southwestern Medical Center, 2009 (Where he had the opportunity to serve as Chief Resident)
Fellowship
Glaucoma, University of Texas Southwestern Medical Center, 2010
---
Associations & Memberships
Faculty Appointments
Adjunct instructor, Department of Family Medicine, University of North Carolina School of Medicine
Board Certified by:
- American Board of Ophthalmology
Member of:
- American Academy of Ophthalmology, Fellow
- American College of Surgeons, Fellow
- American Glaucoma Society
- American Society of Cataract and Refractive Surgery
---
Featured Procedures
Glaucoma Filtration procedures: Trabeculectomy, Express shunt, and the new XEN implant. For moderate and advanced stages of glaucoma.
Glaucoma Drainage Implants: for advanced stages of glaucoma, particularly in cases that have failed previous surgeries
Minimally Invasive Glaucoma Surgeries (MIGS): Trabecular microbypass stent utilizing one or two iStent inject (with cataract surgery)
Cataract Surgery with Toric and Multifocal Intraocular Lens Implants: for optimized refractive outcomes after cataract surgery
Femto Laser-Assisted Cataract Surgery, or FLACS: replaces many of the steps during cataract surgery that require a blade and softens the cataract, allowing for an easier and smoother removal.

---
Community Involvement
Dr. Saltzmann has given continuing education talks including:
"Temporal correlation between OCT, anatomic ganglion cell death, and Visual Field:Appreciating the 4th Dimensionality of Visual Field Loss"
---
Research
Dr. Saltzmann has lectured and presented at multiple national meetings on glaucoma care, treatment, and surgery. He has authored several publications in peer-reviewed medical journals on subjects such as pediatric glaucoma, inherited diseases of the eye, and corneal infections. He is also a principal investigator for numerous ongoing clinical trials in glaucoma, including several novel medications and treatment modalities for glaucoma.
Saltzmann RM, Reinecke S, Lin X, Cavanagh HD, Whitson JT. Long-term outcomes of a pseudo-360 degree trabeculotomy ab externo technique for congenital glaucoma at Children's Medical Center. Clin Ophthalmol. 2012;6:689-698.
Saltzmann RM, Weakley DR, Aggarwal NK, Whitson JT. Glaucoma Following Infantile Cataract Surgery. J Pediatr Ophthalmol Strabis. 2011;48(3):142-149. *Article chosen as CME activity for this issue.
Aggarwal NK, Gandham SB, Weinstein R, Saltzmann R, Walton DS. Heterochromia iridis and pertinent clinical findings in patients with glaucoma associated with Sturge-Weber syndrome. J Pediatr Ophthalmol Strabis. 2010; 47(6): 361-365.
Rhodes KM, Weinstein R, Saltzmann RM, Aggarwal N, Kooner KS, Pettroll WM, Whitson JT. Intraocular pressure reduction in the untreated fellow eye after selective laser trabeculoplasty. Curr Med Res Opin. 2009; 25(3): 787-796.
Saltzmann RM, Yep JY, Blomquist PH. Fusarium keratitis associated with ReNu with MoistureLoc sample kits. Eye and Contact Lens. 2008; 34(6): 337-339.
Saltzmann RM, Lissner GS. Familial absence of lacrimal puncta associated with preauricular sinuses. J Pediatr Ophthalmol Strabis. 2006; 43(4): 233-235.
---