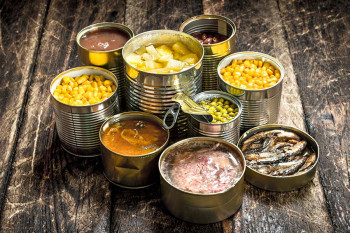 While it's important to remember to eat healthy foods while spending a lot of time at home, it's just as important to note the dietary habits we should avoid. So, today we'd like to discuss foods and eating habits to watch out for while in isolation.

Limit your alcohol and caffeine intake
Alcohol and caffeine can both dehydrate you and disrupt your sleep patterns. Additionally, alcohol can weaken your immune system and can interact badly with any medicine you take. Alcohol can also affect your vision and your throat. Finally, alcohol can increase symptoms of depression, anxiety, and panic, which are already high as people try to cope with the pandemic.
Limit your salt intake
Many people stocked up on frozen or canned foods to make sure they could avoid going to the grocery store for extended periods of time. However, many of those foods contain extra salt. Too much salt– which includes a significant amount of sodium – can contribute to high blood pressure. High blood pressure causes many negative effects on the body, including stroke, heart failure, and even damage to the eye. Prioritize food with low or no sodium. If possible, rinse your frozen or canned foods like vegetables or beans to try to wash off excess sodium. And even though it might add flavor, try not to add any extra salt to your meals.
Limit your sugar intake
Too much sugar has been linked to everything from acne to obesity to increased risks of heart disease and diabetes. Since many foods already include sugar, try to avoid adding any extra. If you need to satisfy your sweet tooth, fresh fruit is the best option. Low-fat foods often have added sugar, too, so be aware of this if you are trying to make your diet more low-fat.
Limit your fat intake
Not all fats are bad for you. In fact, unsaturated fats are a good source of energy. Trans fats, on the other hand, are not good for you, and saturated fats fall somewhere in between. Fortunately, trans fats are banned in the United States, so you won't find them in foods here. Saturated fats have been linked to heart disease, so limiting them would be a good idea. Saturated fats are often found in red meat, dairy products, and commercially baked goods.
Limit your portions
If you're not used to cooking regularly, it could be easy to overeat. There are several strategies you can use to ensure you are eating appropriate amounts. For example, an adult should fill half their plate with vegetables, a quarter with protein, and a quarter with complex carbohydrates. High-fat foods should be no more than half a tablespoon. Remember, though, you can still eat too much even if the proportions are correct. One good strategy is to use smaller plates and bowls. You'll fill them up, and you'll trick your brain into thinking you've eaten more than you have. You can also drink a glass of water before you eat, since that will fill up your stomach a little and help your brain distinguish between hunger and thirst.
Portions are going to be different for people of all ages, so make sure to consult a dietary guide before planning your or your family's meals.
Avoid stress and boredom eating
We know this is a very stressful time. We also know that staying in your house all day can be boring, no matter how much you have on your Netflix queue. But eating to cope with these feeling isn't healthy. Not only are you taking in excess calories at a time when your physical activity is likely a lot lower than it used to be, but you are probably going for the snacks with a lot of sugar or fat in them. Try to avoid stress or boredom eating, but if you can't, substitute a glass of water or a piece of fruit for another cookie.
At a time when we're all concerned with our health, let's make sure to remember that our diets are an important factor.
This blog is for informational purposes only. For specific medical questions, please consult your doctor. If you need an appointment with a CEENTA Eye or ENT physician, please call 704-295-3000. You can also schedule an appointment online or through myCEENTAchart.
---
You may also be interested in
---
Leave a Comment
---
Back to News