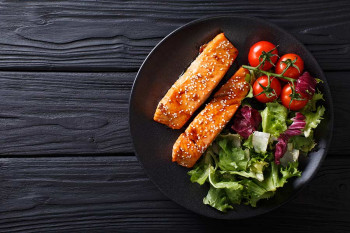 Many people have seen their lifestyles change significantly now that they have to spend all their time indoors. As a result, their old diet might not be suitable for their current routine. Today, we'd like to discuss how you can eat healthy while you are self-isolating.

Eat fresh produce first
You'll want to eat your fresh fruits and vegetables before eating anything frozen, as fresh food will spoiler sooner. Fortunately, fresh fruits and vegetables have many health benefits, especially for your eye and ENT health. Fruits and vegetables like oranges, lemons, and limes are high in vitamin C, which boosts your immune system. This can help reduce inflammation associated with allergic reactions and can reduce the duration of an illness if you're sick.
Fruits and vegetables high in vitamin A, like carrots, are good because this vitamin helps maintain the health of mucosal surfaces, which include the nose and gastrointestinal tract. Mucus helps prevent infections from entering the body. Vitamin A also helps protect the cornea, which is the visual surface of the eye. A healthy, clear cornea is necessary for good vision. Beta-carotene, a compound found in plants and fruits, is also known to promote eye health and vision. When consumed, the body converts it into vitamin A.
Frozen fruits and vegetables can provide the same nutritive value but will last longer than fresh.
Beans
Beans are a great way to get protein and are also a good source of potassium, which is great for your hearing. Beans can be stored for a long time, and can be mixed into many different meals, offering you versatility and nutrition.
Grains
Grains are another long-lasting food staple that can help maintain both your visual and hearing health.
Frozen seafood
Seafood can last a while in the freezer, and when thawed out can make delicious meals. Fish contains omega-3 fatty acids, which reduce inflammation and help bolster the immune system. Eating shellfish can be beneficial for your eye health, too.
Stay hydrated
The best thing to drink under normal circumstances is water, and this should be no different now. Drinking a lot of water is necessary when you are sick, because it helps replenish any fluids lost from sweating or other dehydration. Not only will water keep you hydrated, but by drinking it as opposed to juice or flavored beverages, you are ensuring your sugar intake is limited.
We all want to stay healthy during this pandemic, and maintaining a good diet is a great thing you can do for yourself.
This blog is for informational purposes only. For specific medical questions, please consult your doctor. If you need an appointment with a CEENTA eye or ENT physician, call 704-295-3003 to request a virtual visit.
---
You may also be interested in
---
Leave a Comment
---
Back to News