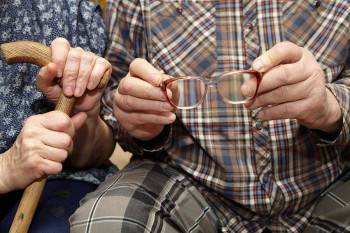 You finally have a new pair of glasses with an up-to-date prescription, and you don't need your old glasses anymore. They're still in great shape, and you don't want to throw them away, so why not donate them to those less fortunate?

Why should I give my old glasses to charity?
Donating your old eyeglasses is an easy way to help people both locally and around the world to see. Without proper vision, even the most basic tasks, from driving to reading to cooking, can be difficult if not impossible.
"There are always those less fortunate who need eyewear," CEENTA Eye Optical Services Manager Jay Russell said. "Donations to groups who provide this service is a fantastic way to help those in need."
Once your old glasses have been received, they are cleaned up, repaired if necessary, and distributed to those who need them. If the glasses can't be used in their entirety, their individual parts can sometimes be recycled and used to make new sets of low-cost glasses.
Who would take my old glasses?
CEENTA partners with the Lions Club to collect used glasses that can be distributed to low-income families throughout the region. CEENTA has collections spots at each one of its 12 optical locations in North Carolina.
Your glasses could also help people in Ghana. CEENTA Ophthalmic Technician Kwame Amanfoh spends several months every year providing vision screenings and glasses to villagers who can't get proper eye care on a regular basis. In just one village he visited in 2018, he gave out 120 sets of glasses. Mr. Amanfoh gets his donations from the Lions Club, churches, a non-profit called Eyes on Africa, and, of course, CEENTA.
Donating your glasses is an easy way to help those in need. Next time you're getting prescription filled at CEENTA, leave your old glasses behind. Someone, somewhere, will be very thankful.
CEENTA provides glasses in 12 locations across North Carolina. To find one near you, please visit our Locations page.
---
You may also be interested in
---
Leave a Comment
---
Back to News