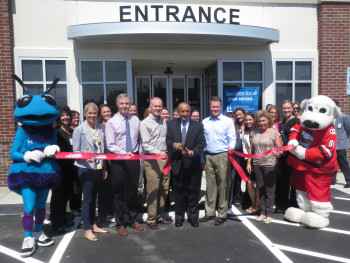 Charlotte Eye Ear Nose & Throat Associates, P.A. is proud to announce its new Steele Creek office opened for business Sept. 12 at 13532 Steelecroft Parkway, Charlotte.

"We've loved serving the Steele Creek community since the doors of our first office opened in 2009," CEENTA CEO Jag Gill said.
"This new building, at 9,000 square feet, is triple the size of our old one. But no matter how much we grow, we never want to give up that personal touch or the familiarity of having a local, family doctor, Dr. Gill said. "We never want anyone to think people aren't what we value most. That's why offices like this Steele Creek one are so important. So don't worry. We're not going anywhere."
Eye care providers Kelly Doty, OD, F. Scott Sutherland, MD, and Pedro Cervantes, MD, will offer comprehensive eye exams & routine eye care and treatment for cataracts, cornea issues, dry eye, diabetic eye care, eye infections, and glaucoma.
ENT provider S. Brett Heavner, MD will offer comprehensive adult & pediatric ENT care, treatment of tonsils & adenoids, ear tube surgery, balloon sinuplasty, thyroid surgery, and allergy treatment.
Audiologist Karen Padgett, AuD, FAAA, will provide hearing exams and sell hearing aids. The full-service optical shop sells glasses and contact lenses.
To make an appointment with any of the providers in our Steele Creek office, please call 704-295-3000.
---
---
Leave a Comment
---
Back to News