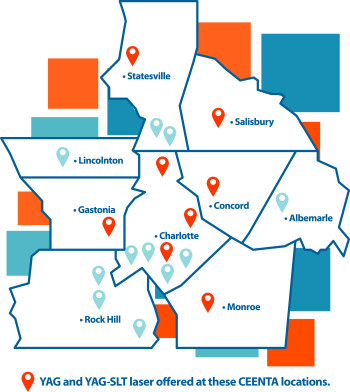 Patients in the Belmont and University areas will be able to get more progressive eye care with the installation of two new lasers in CEENTA's offices there.
The laser in the University office is a YAG laser. YAG lasers are commonly used to treat post-cataract, surgery-related blurred vision due to a clouding of the thin membrane behind the lens implant, also known as posterior capsule opacification (PCO), Ophthalmologist Sumit Gupta, MD said.
PCO can cause symptoms like progressive blurred vision, glare, double vision, and trouble driving at night due to oncoming headlights. PCO is diagnosed with a dilated eye exam. Patients quickly have improvement in symptoms after treatment.
The YAG laser is also used for patients with, or at risk for, angle closure glaucoma. If not treated, angle closure glaucoma can cause vision loss and blindness, Dr. Gupta said.
Both procedures are performed under two minutes. They are very safe, and patients have minimal discomfort, Ophthalmologist Robert Saltzmann, MD said.
Another type of laser, the YAG-SLT, is now in the Belmont office. SLT – which stands for selective laser trabeculoplasty – is performed on glaucoma patients to lower intraocular eye pressure, Laser Safety Officer Angie Madigan, COT LSO said.
The new lasers will be a benefit for patients who live in those areas and need YAG or YAG-SLT laser treatment but might have difficulty getting to one of the other offices, Ophthalmologist Kashyap B. Kansupada, MD, said.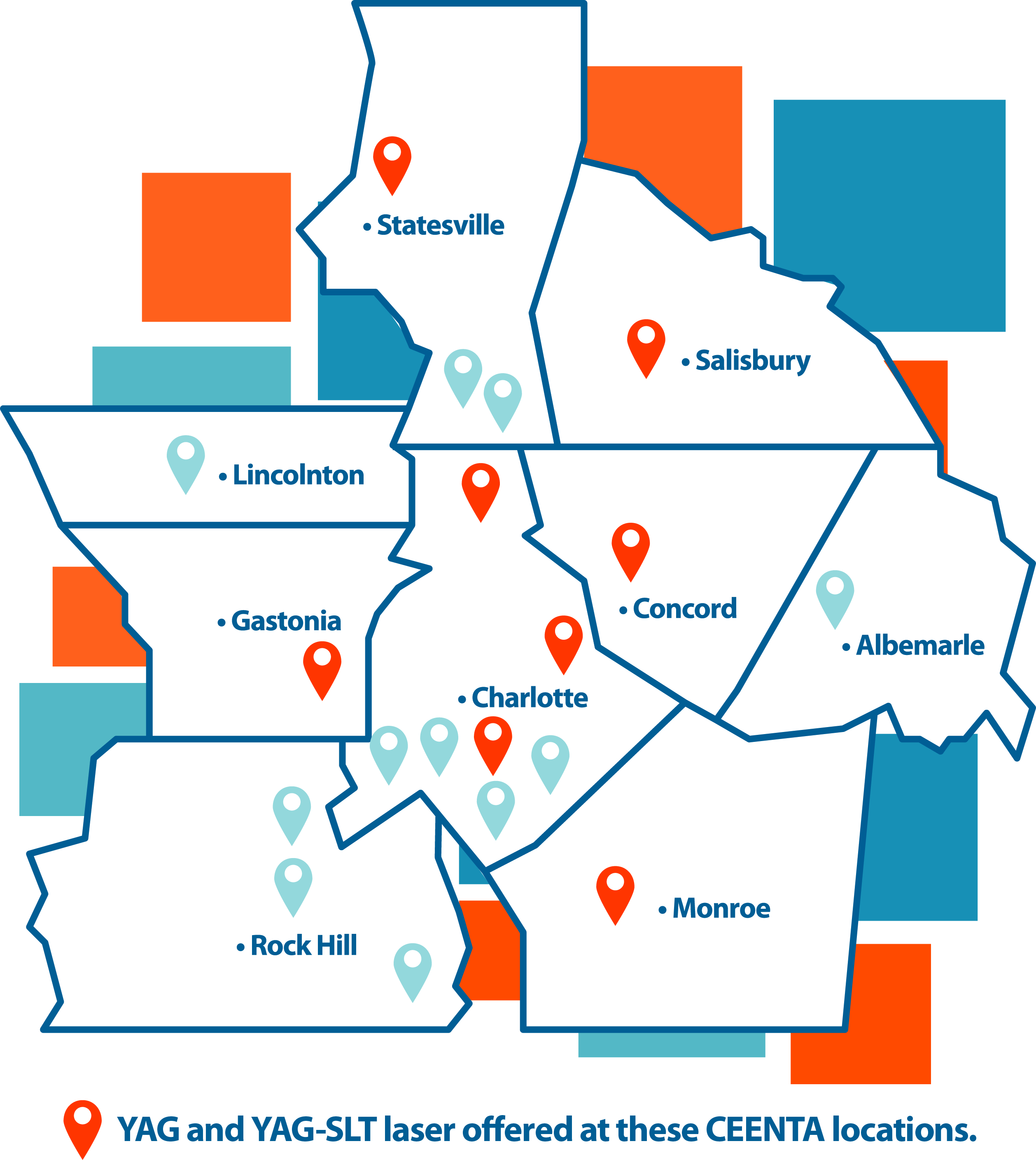 CEENTA also has YAG lasers in SouthPark, Concord, Huntersville, Monroe, Salisbury, and Statesville.
The ophthalmologists will also be able to perform laser work on both eyes at the same time, Dr. Kansupada added. That will save patients additional visits, since they will not have to arrange for transportation twice for the surgery and twice for the post-operative exam.
If scheduled properly, they can also offer same-day lasers for patients referred by other eye providers for the laser, Dr. Kansupada said.
Patients who have had YAG laser treatment have spoken highly of the process. "One of the patients I did the YAG laser on told me that after having the laser, it felt like everything they looked at suddenly became high-definition again," Ophthalmologist Wei Huang, MD said.
To schedule an appointment with an ophthalmologist and learn more about laser treatment, please call 704-295-3000.
This blog is for informational purposes only. For specific medical questions, please consult your physician.

---
You may also be interested in
---
Leave a Comment
---
Back to News