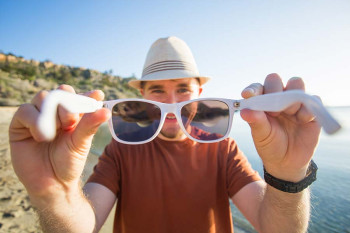 The best thing about wearing contact lenses means no longer having to wear glasses. But just because you don't want to wear your prescription glasses doesn't mean you shouldn't still wear sunglasses.

Protect your eyes from UV rays
Sunglasses protect our eyes from harmful ultraviolet rays emitted by the sun. UV rays can contribute to the development of cataracts, macular degeneration, and growths on the skin surrounding the eyes.
Someone wearing contact lenses is more exposed to the sun's UV light than someone wearing glasses. While some contact lenses are designed to protect eyes from UV rays, they still only block about 90 percent of harmful UV rays. Regular, unfiltered contact lenses only block about 10 percent of UVA rays and 30 percent of UVB rays from penetrating the eye. And, of course, contact lenses do nothing to protect the skin around the eyes.
"Because exposure to UV rays can lead to diseases such as cataracts or macular degeneration, proper sunglass protection is a must," CEENTA Eye Ancillary Services Manager Jay Russell said.
Protect your eyes from other rays
High-energy visible light, or blue light, can also cause eye damage over a lifetime. UV-blocking contact lenses don't protect your eyes from these rays, making sunglasses necessary.
Keep your eyes from drying
Many people who wear contact lenses experience dry eye. Sunglasses can protect your eyes from wind – especially if you're running, biking or playing sports – which can exacerbate dry eye. This allows you to wear your contact lenses comfortably for a longer period of time.
Reduce glare
Even on cloudy or overcast days, sunlight can cause contact lens wearers glare and difficulty seeing. Sunglasses, particularly polarized ones, can help reduce glare and make it easier to see.
Sunglasses can protect you from injury
Sunglasses, particularly those with polycarbonate lenses, can protect your eyes from injury. Not only do they afford protection from larger objects, like balls, but they can protect you from sand or other particles kicked up by the wind. Something as small as a grain of sand could get caught in your eye, and if it got under your contact lens, it could scratch your cornea.
Getting sunglasses at CEENTA
If you get your contact lenses at CEENTA, you know we have locations across North Carolina with premier optical services. Don't hesitate to visit one of them for sunglasses, too.
This blog is for informational purposes only. For specific medical questions, please consult your physician. To make an appointment with a CEENTA eye doctor, call 704-295-3000. You can also schedule an appointment online or through myCEENTAchart.
---
You may also be interested in
---
Leave a Comment
---
Back to News