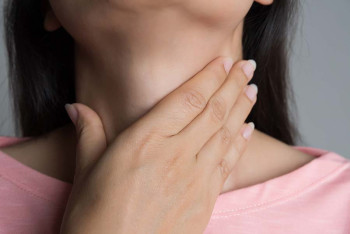 You discovered a tender, painful spot on the front of your neck, where the thyroid is located. You didn't know the thyroid could feel painful. What might be the cause, and what can you do about it?

What is the thyroid?
The thyroid is one of the endocrine glands that helps regulate bodily functions like metabolism. It is in the middle of the lower neck, below the larynx, and wraps around the front half of the trachea.
What might cause thyroid pain?
Subacute thyroiditis can cause pain or tenderness in the thyroid. Acute thyroiditis is rare, affecting primarily middle-aged women. It is thought to be related to viral and bacterial infections, such as the flu, colds, or sinus infections. Chronic thyroiditis is an autoimmune condition where white blood cells attack thyroid cells. In addition to thyroid pain, symptoms may include tenderness, difficulty swallowing, fatigue, and fever.
In some cases, thyroid pain is caused by cancer. Symptoms can also include a lump or swelling in the neck, trouble swallowing, trouble breathing, and hoarseness. Fortunately, most thyroid lumps, or nodules, are not cancerous. In fact, they are benign in 85-90 percent of cases. Still, it's important to get a doctor's examination right away, especially if these lumps are painful or causing difficulty swallowing or breathing.
How is thyroid pain treated?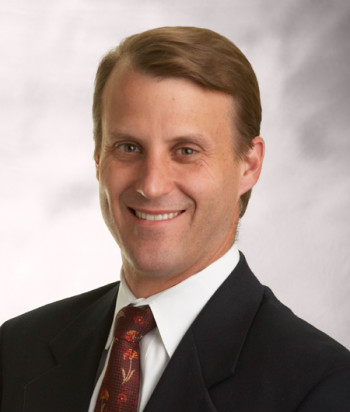 To treat thyroid pain, you'll need to treat the thyroid condition. Thyroid cancers are usually very treatable and can usually be taken care of with surgery alone. In fact, this surgery is regularly done on an outpatient basis.
If you have acute thyroiditis, it can be treated with antibiotics and/or anti-inflammatory medicine, CEENTA ENT doctor Michael Sicard, MD, said. Surgery is sometimes required to remove the infected part of the thyroid, too. Chronic thyroiditis will need lifelong thyroid treatments.
If you have thyroid pain, don't hesitate to see a doctor. They'll work to ensure your thyroid is healthy and help ease your discomfort.
This blog is for informational purposes only. For specific medical questions, please consult your physician. Dr. Sicard practices in our Matthews office. Do you need to make an appointment with an ear, nose, and throat doctor? Call 704-295-3000. You can also schedule an appointment online or through myCEENTAchart.
---
You may also be interested in
---
Comments
Leave a Comment
---
Back to News