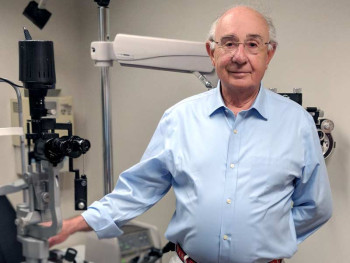 Over the last 95 years, men, women, and children of all walks of life have come through CEENTA's doors. Thousands of employees have provided medical care and support to even more patients. This is the latest in a series of interviews with these people, offering brief glimpses into our storied history.

Since 1923, CEENTA has had a front-row seat to the growth and development of Charlotte and the surrounding region. Our doctors, like retired Ophthalmologist John Young, MD, have been there to see both our practice and the city grow.
While Dr. Young spent much of his life in the Charlotte area, his training and early career took him to other parts of the country. He earned his undergraduate degree from Davidson College, and then completed his medical degree and training at the UNC School of Medicine in Chapel Hill in 1964. After that, he enlisted in the United States Air Force and was stationed in southern California for two years.
"I was one of only two ophthalmologists in the Air Force covering the entire state of California," he said.
Back to North Carolina
After being discharged in 1966, Dr. Young returned to North Carolina, when he began practicing at CEENTA.
"They had a fine reputation and I liked the idea of a group practice," he said.
Dr. Young was one of just six ophthalmologists practicing at CEENTA then. They and the practice's six ENT doctors cared for patients at CEENTA's Third Street location.
Over the years, Dr. Young watched the Charlotte region go through tremendous growth.
"When I came back in 1966 the city was very small," he said. "It's been a dramatic change since then."
For example, Lake Norman was very rural, the area where the SouthPark Mall is now was a cow pasture, and where skyscrapers mark the Uptown skyline now was once just department stores.
"Driving to Charlotte Country Day School was a day trip," he joked.
That said, CEENTA did a good job matching the growth of the city with its growth of services, Dr. Young said.
"It was a very interesting time," he said. "Lots of things were changing and coming along, like lasers and new lenses."
Watching CEENTA grow
While care has of course improved in the decades since, many of the basic treatments started then are still in use today.
While he spent most of his career at Third Street, Dr. Young was part of CEENTA when they purchased SouthPark, and helped talk the group into purchasing the building. Although he was in the process of beginning his retirement in 2000, he still practiced part-time at SouthPark for another five or six years.
He was also present for CEENTA's expansions into Pineville and University, and even cared for some patients in Pineville.
A man with a very good sense of humor, Dr. Young got along well with his patients. And while he doesn't mind retired life, he does miss seeing his patients every day. Generations of families came through Dr. Young's door. In fact, some of his patients in later years were the children of his first patients.
"It was a tremendous cross-section of people from all walks of life," he said. "It didn't matter who they were. We had a great time."
As the Charlotte region continues to grow, CEENTA will also grow in the best way to serve our patients. We're glad we had Dr. Young to set the standard.
---
You may also be interested in
---
Leave a Comment
---
Back to News