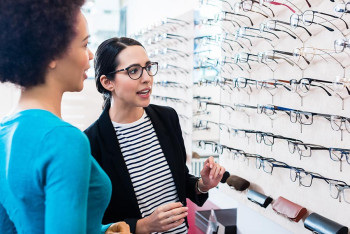 It's time for a new pair of glasses, but you're so busy you decide you'll save yourself some time by buying your glasses online instead of going to an optical shop. Is that a good idea, though? Today, CEENTA's Manager of Eye Ancillary Services Jay Russell sits down with us to discuss the pros and cons of buying glasses in an optical shop vs. buying them online.

Shopping for glasses in a store
Optical shops are the most common place to purchase glasses, with a long history of serving customers with visual impairment. There are many advantages to purchasing glasses from one:
Pros:
You can try the glasses on first to make sure they fit.
An optician is available to help you find the best lens options to match your prescription and lifestyle.
The optician will make any adjustments to your glasses to ensure they fit comfortably.
The chance you will accidentally get the incorrect prescription is almost nonexistent, as each set of glasses is inspected before being delivered.
Typically, you are purchasing a higher quality product, particularly the lenses.
Warranties are normally better at an optical shop.
Cons:
All visits must be during the optical stores hours.
Shopping for glasses online
Many optical shops now have online stores where you can purchase glasses. The advantages and disadvantages are very different from your traditional brick-and-mortar store:
Pros:
You can shop online from the convenience of your home or work.
Cons:
You can't try the glasses on first.
The chances are higher that your prescription won't be accurate.
An optician isn't available to help you with adjustments or to make recommendations.
Quite often you are not sure of the lens brands you are purchasing.
CEENTA has 12 locations across North Carolina where you can buy glasses. We also have our own online portal, if that's the way you prefer to purchase glasses. No matter how you buy glasses, CEENTA is here to help you.
To find an optical shop near you, check out our Locations page.
---
You may also be interested in
---
Leave a Comment
---
Back to News