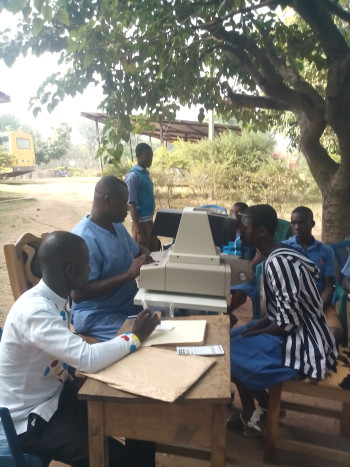 Kwame Amanfoh, an ophthalmic technician with Charlotte Eye Ear Nose & Throat Associates, P.A., helped hundreds of people in villages throughout Ghana get important eye treatment last year. Kwame, the president and founder of the non-governmental organization Victory Vision Care, was recently in Ghana in conjunction with the Concord-based NGO Glimpse of Hope.
He visited five villages this year, seeing more than 700 patients. In one village alone, he treated 139 patients. Kwame splits his time between the United States and Ghana. He will be in Charlotte until Feb. 5.
Every year Kwame spends one month visiting villages and screening eyes. Since founding Victory Vision Care in 2003, he has given glasses to more than 2,000 patients. He sees patients of all ages, ranging from 2 to more than 100 years old. The hospitals are all in cities, and the patients have difficulty getting there, so Kwame decided to go to them. "They have no option for vision without this," he said of the villagers.
In addition to testing eyes, Kwame brings used eyeglasses with him so he can give them to anyone who needs them. If he doesn't have any that work for them, he writes them a prescription and sends them to the city. Since most people don't have much money, he only charges $1 for his services. If they can't afford that, treatment is free.
Kwame graduated with a degree in ophthalmic medical technology from Georgetown University in 1999. He's worked for CEENTA since then
Dr. Scott L. Jaben, MD, a CEENTA ophthalmologist who has worked extensively with Kwame, spoke very highly of him.
"I have worked with Kwame for over 15 years and I have never worked with a technician that is more dependable, reliable, and accurate than Kwame. He always has a smile on his face and a great connection with our patients. I totally respect his commitment to his homeland Ghana and his desire to provide high-quality eye care to his needy countrymen. But I do miss working with Kwame and the teamwork he brings to my practice. He will always have a place on my eye care team!"
Kwame thanks CEENTA for their donations to his program, not only giving him the time to go to Ghana, but also donating equipment he uses.
To reach Victory Vision Care, please call 704-307-2970.
---
You may also be interested in
---
Leave a Comment
---
Back to News