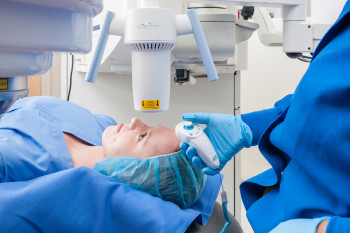 Cornea distortion can take away a person's vision, but CEENTA has acquired a new system called Avedro, which stabilizes the progression of one cornea condition called keratoconus without the need for surgery.
The Avedro system is used for corneal cross-linking, a non-invasive treatment that straightens and strengthens the corneal wall of keratoconus patients, essentially "freezing time" so the cornea doesn't become more irregular. It is the only FDA-approved corneal cross-linking method.
Keratoconus is a progressive thinning and distortion of the cornea, leading to blurry vision. Most experts believe that keratoconus always affects both eyes, but it may be so mild that it is virtually undetectable in one. Keratoconus affects about one in 2,000 people, and few people go blind from it alone.
Keratoconus typically first appears in individuals who are in their late teens or early twenties. Corneal cross-linking is ideal for these young patients.
With corneal cross-linking, the cornea is saturated with riboflavin and then bathed with UV light, which strengthens the cornea.
Corneal cross-linking stabilizes keratoconus. It is not intended to reverse or cure the condition. However, it could potentially prevent the need for a cornea transplant, which is one of the typical ways to treat the condition. Keratoconus is also treated with specialty contact lenses. There is no similar treatment to corneal cross-linking.
Corneal cross-linking can also be used to treat corneal ectasia, which can occur when a patient with keratoconus undergoes refractive surgery like LASIK. Patients with keratoconus are usually disqualified from refractive surgery, though some do occasionally get it.
The Avedro system will be housed in CEENTA's SouthPark office. Fellowship-trained, board-certified CEENTA Ophthalmologists William Hammonds, MD, Vipul Shah, MD, and David Ugland, MD, will perform the treatment. Dr. Hammonds will offer consultations in SouthPark, Dr. Shah in CEENTA's Blakeney and Monroe offices, and Dr. Ugland in the Pineville and Steele Creek offices.
To make an appointment with a CEENTA ophthalmologist, call 704-295-3000.
Back to News