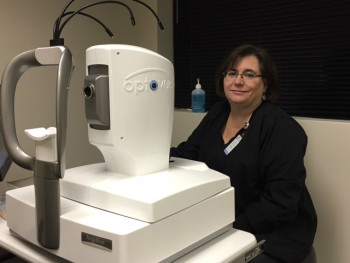 Having a lifelong career at CEENTA doesn't mean you have to be a doctor. Visual Imaging Technicians are a vital part of eye care, and you, like Visual Imaging Technician Loraine Clark, could find a worthwhile and long-lasting career in the field here.

Loraine has worked at CEENTA since 1995 and, with the exception of two years off to be with her young son, has worked here steadily since then. In 2004 she became a Visual Imaging Technician, and is now the Imaging Team Lead.
A Visual Imaging Technician is someone who does a wide variety of testing for the doctor when the doctor suspects a patient might have a particular eye condition.
Loraine performs a wide variety of imaging work, including dye tests, OCTs, and A-scans. And when other technicians need help, Loraine is happy to pitch in.
"We have a real team atmosphere," she said.
Although Loraine took two years off, she was happy to get back to CEENTA when her son got older.
"I wanted to get back in the field," she said. "I love what I do."
Loraine loves being a Visual Imaging Technician at CEENTA because of how she gets to help people while experiencing something new every day.
"Patient care is the best thing," she said. "Every day is a different day. Doing imaging there's always something new to see and new challenges. You're taking care of someone who needs care, and they appreciate you because they need you."
Loraine usually works at SouthPark but, when needed, will travel to one of CEENTA's other offices that offers eye care.
While Loraine is originally from Pennsylvania, she loves living here now.
"There's a lot of stability and it's a good place to raise a family," she said.
While Loraine started her career in banking, she heard about a part-time job working in eye care while she took time off after her son was first born. She took the job as an ophthalmic assistant, loved it, got her certification, and never looked back.
"It's a great career," she said.
Visit our Careers page for a complete list of our open positions or to join CEENTA's Talent Community.

---
You may also be interested in
---
Leave a Comment
---
Back to News