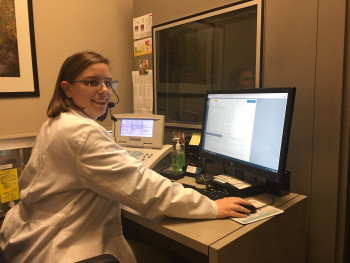 Being an audiologist at CEENTA means more than caring for the hearing needs of just your patients. It means working with a network of doctors throughout the Carolinas who help each other and share their expertise. That is one of the things Audiologist Heather Morrison, AuD, enjoys about practicing at CEENTA.

Dr. Morrison has worked for CEENTA since 2011. She first joined Mecklenburg ENT in 2010, after graduating from East Tennessee State University with her Doctor of Audiology degree in 2010. A year later, that practice merged with CEENTA, and she has been here ever since.
While Dr. Morrison originally planned to become a speech-language pathologist, she was taking classes in hearing health and realized how much value the improvement of hearing has in speech care. It was then that she made the switch to audiology.
A typical day for Dr. Morrison is roughly 70 percent hearing tests and diagnosing, while the other 30 percent is hearing aid evaluation, fitting, and care. She loves troubleshooting patients' hearing aid problems and helping restore their hearing that same day. Those issues can range from technical problems to counseling for an incorrect fit.
"Knowledge is power, and a lot of issues can be solved by making sure a patient has the knowledge they need," she said.
Dr. Morrison really likes how CEENTA structured its audiology department. She works in Belmont every day, providing care to local patients in an office close to their home.
"They know they can count on me to be there for their hearing journey," she said.
CEENTA has offices all over North and South Carolina, too. This means patients who live throughout the region have access to the same local care as hers do in Belmont. It also means if one of her patients moves, they can get the same premier hearing care at a different CEENTA office.
Also, if a patient needs some sort of specialty care, Dr. Morrison can refer them to another office for testing. She can also discuss new medical developments with other doctors here.
"I like being able to talk with colleagues, and I like that I don't have to send patients outside CEENTA if they need additional testing," she said.
She also enjoys passing along her knowledge to audiology externs who come to CEENTA every year. She will be starting her third year as a supervisor and will have a student with her four days a week.
"I love helping them fine-tune their skills, and I love watching them grow confident," she said.
Many externs end up working at CEENTA once their rotation is complete and they earn their doctorate. There are many benefits to this, such as knowing how CEENTA operates on a day-to-day basis and having colleagues who were once their supervisors.
If you love caring for hearing issues with a great team of supportive, knowledgeable doctors at all stages of their career, consider an audiology job at CEENTA today.
Visit our Careers page for a complete list of our open positions or to join CEENTA's Talent Community.
---
You may also be interested in
---
Leave a Comment
---
Back to News