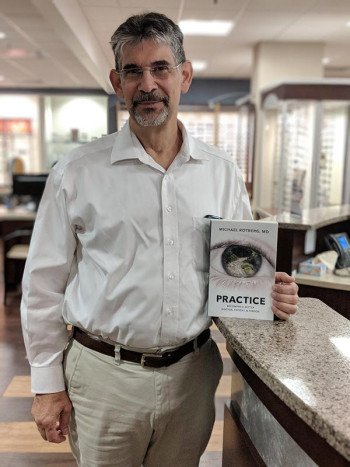 For thirty years, former CEENTA Ophthalmologist Michael Rotberg, MD, was a skilled doctor who knew a great deal about medical care. However, when he was diagnosed with cancer in 2013, he realized there was one thing he didn't know: how to be a patient. So, he decided to reflect on his decades of experience treating patients and write a book called Practice: Becoming a Better Doctor, Patient, & Person.

"I wrote this for anyone who is a patient, knows a patient, or might someday be a patient, to help them be ready for an emotionally difficult time and be resilient in the face of a stressful situation," Dr. Rotberg said.
Dr. Rotberg, who is 63 years old, has a rare cancer called thymic carcinoma. This is a cancer of the gland that sits behind the sternum, in front of the lungs.
While Dr. Rotberg has always enjoyed writing, he didn't write much more than patient reports or chapters in textbooks once he started practicing medicine. But after he got sick, he had a lot of free time. So, he started writing a collection of family stories. He then self-published about 20 copies of them for his family. It was after he finished that book that he started Practice.
Practice is arranged chronologically, starting with Dr. Rotberg's early days as a student and going through his retirement from CEENTA. The book is interspersed with updates from his CaringBridge web page, where he and his wife updated their loved ones about his condition and treatment.
Some of the stories are funny, some are sad, and some are straightforward, but in the end they all have a lesson about either being a patient or working with patients. While Dr. Rotberg likes the stories to speak for themselves, the book does include explanatory essays, too.
While Dr. Rotberg was worried about confidentiality issues relating to his patients' care, in nearly every case he was able to make them anonymous. There were three cases where he couldn't, though, so he reached out to the patients. He was able to speak to one of them; the other two had died so he explained his book to their children.
"I was nervous, but they were flattered and touched I remembered them," Dr. Rotberg said.
Dr. Rotberg has kind words about the doctors and staff at CEENTA, too.
"Everyone here was upset and shocked, but I got tremendous support," he said. "I didn't know how long my treatment would be, so I had to cancel 3,600 appointments. That's a lot to dump on other doctors, but they did it. I'm glad to know no patient was neglected."
While he intended to return to practice after his initial treatment, he was unable to do so because of his health.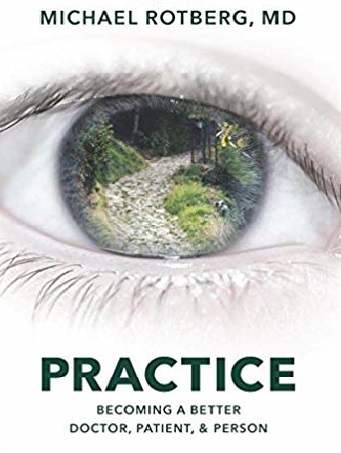 While word about the book is still getting out, Dr. Rotberg said initial responses have been positive.

"I sent it to two friends who teach medical school, and they said it should be used as a seminar on how to put yourself in your patient's shoes," Dr. Rotberg said. "It's easy as a doctor, in a busy office where your waiting room's full and you're running behind, to just check boxes. I tried to remember it's a one-on-one experience. It's not always easy to do, but it's what people deserve."
On behalf of everyone at CEENTA, thank you for teaching us how to be better patients, Dr. Rotberg. We wish you the best in your recovery.
If you would like to buy a copy of Practice, you can find it on Amazon.com or at Park Road Books in Charlotte.
---
You may also be interested in
---
Comments
Leave a Comment
---
Back to News