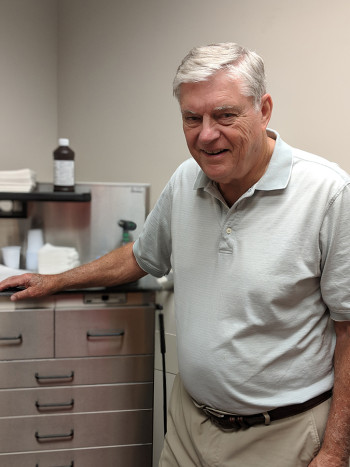 Over the last 95 years, men, women, and children of all walks of life have come through CEENTA's doors. Thousands of employees have provided medical care and support to even more patients. This is the latest in a series of interviews with these people, offering brief glimpses into our storied history.

When a field of medicine goes through a period of incredible growth and development, it can inspire a doctor to dedicate his career to it. That's what happened with Richard Felkner, MD, who was so inspired by the renaissance in ENT care in the 1960s that he became a specialist and spent decades caring for patients at CEENTA.
His early years
Dr. Felkner graduated from Washington University's medical school in 1960. After his internship, he spent two years in the military, and then returned to St. Louis for his ear, nose, and throat residency. In 1967, he came to Charlotte after falling in love with the city while on a trip through the southeast, and has lived here ever since.
Changing ENT care
ENT care was not a popular specialty in the 1950s. In fact, Dr. Felkner was the only ENT specialist out of 90 graduates in his medical school class. This was because, around this time, antibiotics started replacing many of the treatments ENT doctors had used. For example, when infections gathered in the ears or nasal cavities, ENT doctors had to drain them surgically so the patient wouldn't get sicker or even die. However, when antibiotics were prescribed instead, this treatment was needed less often.
Around the same time, though, new surgical procedures were developed that energized the ENT field. For example, a doctor had developed a partial laryngectomy for throat cancer patients, which saved their voices. New ear surgeries were developed to reconstruct a patient's hearing after it was damaged from ear infections.
"The new procedures were fascinating to me," Dr. Felkner said.
Some of those developments were even happening at CEENTA. Beverly Armstrong, MD, who joined CEENTA in 1948 and was a peer of Dr. Felkner's, was a pioneer of many ENT treatments, some of which are still in use today. While he did not invent the stapedectomy – a surgical procedure of the middle ear used to improve hearing – he was a major proponent of the treatment, often performing the surgery four or five times a day.
Dr. Armstrong was also the doctor who first thought to use plastic tubes for treatment of children with recurrent ear infections and fluid, inventing a procedure now used on thousands of children a year.
"Dr. Armstrong was a very smart man and a very good surgeon," Dr. Felkner said. "He was able to help an awful lot of people."
ENT care didn't stop developing in the 1960s. For example, in the 1980s endoscopic sinus surgery was developed, and Dr. Felkner started using it on his own patients.
"That was a big step in the treatment of sinus disease," he said.
Dr. Felkner retired from full-time practice in 2000, after using the many treatments he saw developed over the years on his own patients. Now, instead of focusing on caring for patients, he spends his time playing golf and tennis. On behalf of all the patients you treated, Dr. Felkner, thank you. We hope you're enjoying your retirement.
---
You may also be interested in
---
Comments
Leave a Comment
---
Back to News