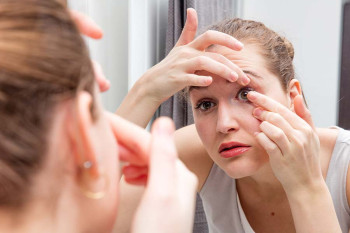 It's the end of a long day and it's time to take your contact lenses out. The first one comes out no problem, but the second one is proving tricky. Is your contact stuck? How do you get it out?

First, the good news. While your contact lens might be stuck in your eye, it can't actually get lost in the back of the eye. The front of your eyes and your eyelids are connected, so nothing can slide under the eyelid and behind.
If you wear soft contact lenses, and the lens didn't fall out, it probably folded in half and got stuck under your eyelid. This happens if your eye is bumped, or if you rub your eye and dislodge the lens from the cornea. If this happens, you may feel like you have a foreign body in your eye.
Fortunately, it's easy to recover the lens. Simply adding rewetting drops and gently massaging your eye is usually enough to move the lens back to a position where it can be removed.
If you are having a problem removing a hard contact lens, it is probably dehydrated, CEENTA Certified Contact Lens Technician Lois Mucci, NCLE, said. Apply a rewetting drop or a lubricant that is safe for contact lens use, like Systane Ultra. Wait 10 minutes, then try to remove it.
If you are unable to remove the lens yourself, a visit to CEENTA may be warranted. Call any of our 12 optical locations and any contact lens technician will remove it at no charge, Ms. Mucci said.
A stuck contact lens can be a nuisance, but it's a nuisance you can take care of with a little bit of patience.
This blog is for informational purposes only. For specific medical questions, please consult your physician. Are you looking for a good place for glasses or contact lenses near you? You can find one on our Locations page.
---
You may also be interested in
---
Leave a Comment
---
Back to News