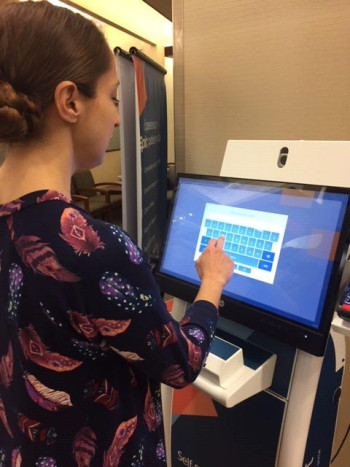 If you've been to one of our offices, you may have seen the myCEENTAchart kiosks in the front lobby. While new technology can sometimes be intimidating, our kiosks are very easy to use. So easy, you can bypass the front desk and take care of everything in just four steps.

Start the kiosk
When you arrive for your appointment, press the kiosk's start button. It will ask for your first name, last name, and date of birth. If you have set up a myCEENTAchart account, you will be prompted to answer a security question.
Sign up for myCEENTAchart
If you don't have a myCEENTAchart account, you will be offered the opportunity to do so. You will then send yourself an email with activation information. Finally, you will set up a security question for both the kiosk and your account.
Verify your information
The kiosk will then ask you to verify your demographic information, add your emergency contacts and primary care physician, and verify your insurance information. If this is your first time using a kiosk, you'll have to enter your insurance information. However, you won't need to do it again unless you switch insurance plans.
Once you've completed these steps, you can check in for your appointment. You can also check in on someone else's behalf, such as a child you brought for an appointment.
Make payments
In addition to checking in for appointment, you can also make a payment if you owe a balance for a previous visit. Just follow the prompts and use your credit card and you'll be all set.
Kiosks are available at the following practices:
Save time. Skip the line. Sign up for myCEENTAchart today and experience all the convenience of our kiosks.
---
You may also be interested in
---
Leave a Comment
---
Back to News