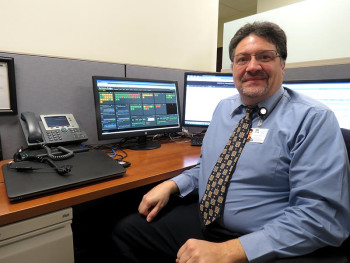 While CEENTA's healthcare providers spend their days delivering premier medicalcare to their patients, other people like Senior Systems Administrator Andy Morganti and his team work tirelessly behind the scenes to make sure the company's technology runs smoothly.

As a senior systems administrator, Andy is responsible for infrastructure, leading a team of five other people. Not only does he make sure assigned tasks are completed, but he also does a lot of hands-on work, just like everyone else on the team.
"Everyone has their own niche," he said. "Whatever comes in we work as a team to get it done."
Andy's team deals with a variety of tasks, from server maintenance to spotting and fixing security vulnerabilities to making sure all software is up to date.
"I liken it to being a train engineer," he said. "We keep everything on track and the trains running on time."
For the last 18 months the team has focused a lot on CEENTA's Epic rollout. Epic is the software behind myCEENTAchart, the new patient portal. The portal allows patients to request appointments online, provides appointment reminders on a person's computer or phone, and allows patients to check in online prior to their appointment. Patients can also access test results online, email their care team with questions, and pay bills online.
"Epic is always evolving," Andy said. "They're always coming out with new stuff so there a chance to do something new, different, and better. There are lots of moving parts and facets to make it interesting. You won't be bored."
"There's always something new with how fast tech moves," he added.
While most work is done remotely, the team does go to other offices when necessary. The team plans carefully to ensure updates do not interrupt patient care.
Working in CEENTA's IT department means there's room to grow and develop professionally. For example, two junior systems administrators started on the help desk, and could move to senior systems administrator positions for security or the network.
Andy has been with CEENTA a little less than two years, having come from a law firm background, where he was doing similar work. He was drawn to CEENTA because it was a great chance to get on the ground floor of a new project – Epic.
"It was exciting and challenging," he said. "We put a lot of hours in to make sure it went off without a hitch."
Visit our Careers page for a complete list of our open positions or to join CEENTA's Talent Community.
---
You may also be interested in
---
Leave a Comment
---
Back to News