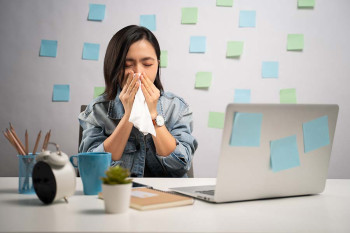 Your nose is stuffy and runny, and you've been sneezing a lot. It sounds like you have allergies. The only problem is, you don't think you are allergic to anything. While you can sometimes develop new allergies, there's a good chance that something is mimicking those symptoms.
Irritants
Pollution, fumes, and other irritants can cause your nose to run. This is common in people who find their noses running when they're exercising, for example. This is called nonallergic rhinitis.
Food and beverage
Some foods, such as those with a lot of spices, can trigger nerves and cause your nose to run when you're eating. Similarly, alcoholic beverages can cause membranes in your nose to swell, which can lead to congestion.
Colds
Cold symptoms and allergy symptoms can sometimes be difficult to differentiate. However, there are key differences. Colds should only last 7-10 days before improving, while allergy symptoms are constant. Cold symptoms also include a fever, sore throat, and cough, and nasal discharge is usually colored.
Weather
As temperature or humidity levels fluctuate, the inside of your nose can swell, causing stuffiness or a runny nose. This is why so many of us get runny noses in the winter.
Medicine
Some medicines, from blood pressure medication to aspirin, can cause nonallergic rhinitis.
Could I actually be getting allergies?
People can develop new allergies throughout their life. For example, they might experience new allergies if they move to an area that contains allergens they weren't previously exposed to.
Can CEENTA tell me if I have allergies?
CEENTA's ENT doctors can test you and determine not only if your symptoms are caused by allergies, but what you're allergic to and what your best treatment option is. Don't live a life of mystery. Schedule an allergy appointment at CEENTA today.
This blog is for informational purposes only. For specific medical questions, please consult your doctor. If you would like an appointment with a CEENTA ENT doctor, call 704-295-3000. You can also schedule an appointment online or through myCEENTAchart.
---
You may also be interested in
---
Leave a Comment
---
Back to News