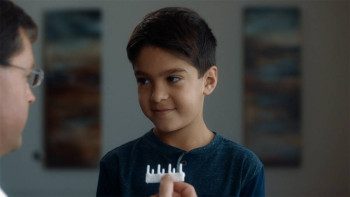 You sniffle and sneeze every time pollen appears, and so does your child. You're pretty sure you both have allergies, so you make an appointment for some testing. But, you wonder, would your child get the same allergy tests you do?

What is an allergy test like?
Allergy tests are performed one of two ways: a skin test or a blood test. During a skin test, your skin will be pricked or scratched with a series of suspected allergens. Redness and swelling will appear around the test spot if you are allergic to one of the tests. If any test has a negative result, a small amount of the suspected allergen will be injected under your skin – an intradermal test – to ensure you aren't allergic to that substance.
During a blood test, a small amount of blood will be drawn from your body and exposed to different allergens. It will then be monitored for any antibodies that develop in response to those allergens.
Is testing different for my child?
In most cases, allergy testing is very similar for children and adults. However, there are a few differences for testing children. At CEENTA, our doctors typically do a skin prick test for screening our pediatric patients, which is similar to pushing your fingernails into your forearm, CEENTA ENT doctor Jonathan Moss, MD, said.
"It's not painful like a needle shot," Dr. Moss said. "Most families are surprised by how easy the process is and don't fear further testing if it's recommended."
If a child does get a skin test, they are usually tested for fewer allergens. Also, some doctors administer the test on the child's back instead of their arm.
On top of that, children usually don't tolerate the intradermal testing, so some doctors just give them the skin test.
Younger children are more likely to get blood tests than adults are, since skin tests can irritate a young child's sensitive skin. Also, they only require a single prick, whereas a skin test or intradermal test requires more.
Once testing is done, your child's doctor will help them come up with a treatment plan that best suits their needs.
It's time to help your children breathe easy again. Make an appointment for allergy testing at CEENTA.
This blog is for informational purposes only. For specific medical questions, please consult your physician. Dr. Moss practices in our Matthews office. To make an appointment with him or any of CEENTA's ENT doctors, call 704-295-3000. You can also schedule an appointment online or through myCEENTAchart.
---
You may also be interested in
---
Leave a Comment
---
Back to News