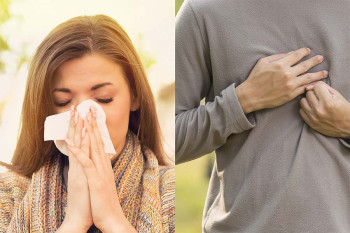 Maybe you have post-nasal drip that doesn't respond to allergy medicine. Maybe you have heartburn that isn't getting better with treatment. Sometimes allergies and acid reflux display symptoms of the other condition. While this can be confusing, we're going to try and help sort it all out for you.

When acid reflux looks like allergies
Sometimes, acid reflux causes a scratchy throat and a feeling of post-nasal drip. This is known as silent reflux. Like regular acid reflux, silent reflux – also known as laryngopharyngeal reflux or LPR – is caused when stomach acid flows up the esophagus and irritates your throat. Other symptoms include the feeling of a lump in your throat and a need to constantly clear your throat. LPR will not cause other allergy symptoms such as a runny nose or sneezing.
When allergies look like acid reflux
Meanwhile, if you start experiencing heartburn whenever the pollen count goes up, you may have an allergic reaction called eosinophilic esophagitis, or EoE, which irritates the lining of your esophagus. Other symptoms include a cough or throat irritation, nausea, vomiting, or cramps, CEENTA ENT doctor Roy Lewis, MD, said. While it is not known what causes it, some doctors believe genetics may be a factor.
How do I treat acid reflux and allergies?
An ideal way to treat your symptoms is to take steps to reduce acid reflux. Avoid drinking alcohol and caffeine. Cut out mints, chocolate, and fried or fatty foods. Try to avoid lying down for two to three hours after eating. Sleeping with your head elevated about six inches can also help prevent acid from coming up the esophagus.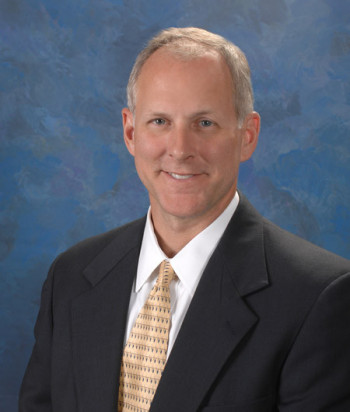 If you do have acid reflux and your avoidance techniques aren't working, medicines may help. Many over-the-counter medicines are available, and if they aren't working your doctor could prescribe something stronger.
An allergy test will diagnose if you have allergies to pollen or other substances. Your personal medical history can help determine if you might have EoE, although further tests by a gastrointestinal doctor would be needed to confirm that diagnosis, Dr. Lewis said.
If you do have a pollen allergy, your doctor can help you come up with a treatment plan, which can include anything from avoidance to over-the-counter medicines to immunotherapy.
Remember, you may have both allergies and acid reflux, so just because you've been diagnosed with one doesn't mean you might not still need care for the other. Fortunately, CEENTA's ENT doctors can determine if you have either condition and help you get the care you need.
This blog is for informational purposes only. For specific medical questions, please consult your physician. Dr. Lewis practices in CEENTA's Mooresville office. To make an appointment with him or a CEENTA ENT doctor near you, call 704-295-3000. You can also schedule an appointment online or through myCEENTAchart.
---
You may also be interested in
---
Comments
Leave a Comment
---
Back to News