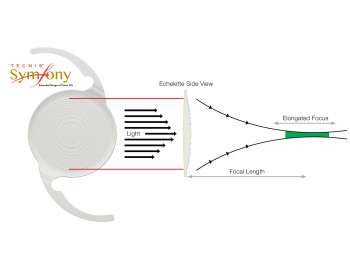 CEENTA is offering a new premium lens for cataract surgery patients that provides near, intermediate, and far vision.
The Symfony Intraocular Lens – recently approved by the FDA – takes advantage of a new design using different curvatures of the implant to provide seamless distance-to-intermediate vision, called Extended Depth of Focus.
The Symfony lens has been documented to have significantly fewer halos, rings and glare than other extended-range-of-vision implants. It may therefore allow for more patients who are career night drivers, artists and photographers to have access to the advantages of this technology. Like other extended-range-of-vision implants, most patients may not need any glasses or contacts throughout their day, although some will, especially for fine print.
For the first time, patients with astigmatism can now have access to the Symfony Toric lens that allows an extended range of vision without the need for additional treatments to correct for significant amounts of astigmatism.
CEENTA is one of the first groups in the region that will be implanting the Symfony lens in September. All interested patients should discuss this technology and their options for this and other implants with their eye surgeon during the cataract surgery evaluation.
This blog is for informational purposes only. For specific medical questions, please consult your physician. To schedule an appointment with a CEENTA ophthalmologist, please call 704-295-3000.
---
You may also be interested in
---
Leave a Comment
---
Back to News