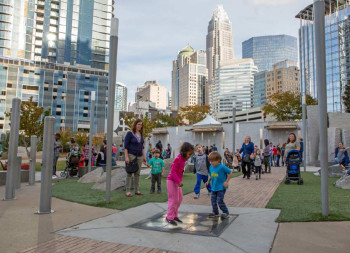 Since 1923, CEENTA has cared for the eyes, ears, noses, and throats of the residents of Charlotte and beyond. As an active member of the community, we want our patients to be able to use their senses to enjoy the city we call home.

If you want to use your ears, Charlotte has plenty of opportunities to listen to music. Opera Carolina has shows around the city, and the Charlotte Symphony Orchestra will have a number of performances for people of all ages starting in September.
If the symphony and the opera aren't your thing, there are plenty of opportunities for concerts all over the city. The PNC Music Pavilion, the Spectrum Center, the Charlotte Metro Credit Union Amphitheatre, and the Bechtler Museum of Modern Art are just some of the venues offering music shows ranging from jazz to punk to country to classic teen pop throughout the summer.
The museums in Charlotte are a great place to use your eyes to see exhibits both old and new. The Bechtler Museum, the Museum of Fine Arts, and the Mint Museum are all places for art aficionados. The Discovery Place and the ImaginOn are the perfect locations for people of all ages to learn about science, nature, and more. Meanwhile, the Levine Museum of the New South, the Billy Graham Library, and the NASCAR Hall of Fame are good venues to see exhibits about different aspects of local history.
If the smells of delicious food are your thing, Charlotte can accommodate you. The city is full of restaurants serving food of every variety. And while it's over for 2017, the annual Taste of Charlotte is a great way to try samples from over 100 different area restaurants, all in one convenient location Uptown.
These are just a few of the things you can use your senses for in Charlotte. If you want to make sure your eyes, ears, nose, and throat are in excellent working condition so you can enjoy all the sensory entertainment in Charlotte, make an appointment at CEENTA. We have more than 130 healthcare providers offering premier care in offices across North and South Carolina. From routine exams to specialty treatment, our providers are specially trained in their areas of expertise and will personalize your care for your specific needs.
To make an appointment, call 704-295-3000 today.
---
You may also be interested in
---
Leave a Comment
---
Back to News