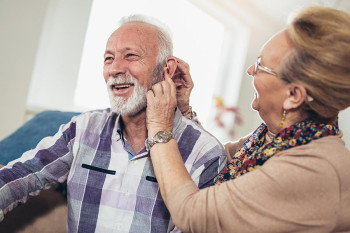 As people age, it is not uncommon for them to lose their hearing. Cognitive decline can also happen as people get older. Did you know there is a link between hearing loss and cognitive decline?

For people older than 60, more than one third of the risk of dementia is associated with hearing loss.
However, it is important to note that just because someone has untreated hearing loss, it does not mean they will develop Alzheimer's or dementia. Many people with hearing loss still have no sign of cognitive decline.
It is not known why untreated hearing loss leads to cognitive decline.There are a number of theories regarding the possible cause:
Hearing loss is known to contribute to personal isolation.People with hearing loss are more likely to withdraw from conversations and other social engagements. Social isolation is a known risk factor for cognitive decline.
Hearing loss results in additional strain on the brain. When speech is not clear due to hearing loss, the brain has to work harder to try to understand.The brain has to re-assign its attention and resources to communication at the expense of other brain functions.
An as-yet-unidentified pathology may affect both hearing and cognitive function.
While studies have not yet shown whether hearing aids can delay or prevent cognitive decline, getting fitted with them is still beneficial.
CEENTA has audiologists in offices across North and South Carolina. They can test you or your loved ones for hearing loss and fit you with hearing aids best suited for your lifestyle and keeping your brain stimulated.

This blog is for informational purposes only. For specific medical questions, please consult your physician. To make an appointment with a CEENTA audiologist, call 704-295-3300. You can also schedule an appointment online or through myCEENTAchart.
---
You may also be interested in
---
Leave a Comment
---
Back to News