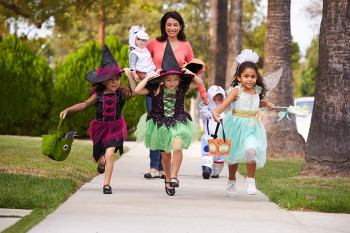 Halloween is almost here! It's time to see the scary sights, hear the creepy noises, and taste the delicious candy. As a CEENTA patient, we know you've kept your senses in great shape for the holiday. That's why we assembled this list of five enjoyable, local things you and your families can do during this frighteningly fun season.

SCarowinds
Each year Carowinds – the amusement park in Charlotte that straddles the North and South Carolina borders – is transformed into a haunted theme park at night. Haunted houses will be opened up all over the park, where you can see plenty of scares. You'll also see plenty of actors dressed in costumes walking through the park to frighten you, hear the screams of excitement as people ride the thrill rides open at night, and taste the delicious theme park food sold by vendors all over. It might be a little scary for small children, though. Fortunately, you can bring them to…
The Great Pumpkin Fest
If you have youngsters who might be frightened by SCarowinds, you can bring them to Carowinds' Great Pumpkin Fest during the day. They can see people in the costume parade and can use their voices to shout in delight as they ride the rides.
Schiele Trail-o-Treats
The Schiele Museum of Natural History in Gastonia will have its Trail-o-Treats from 4-8 p.m. on Saturday, October 28. The whole family can use their senses to interact with a number of outdoor attractions and hands-on activities. Space is limited, so make sure to book tickets in advance. For more details, visit www.schielemuseum.org.
Carolina Renaissance Festival Halloween Daze & Spooky Nights
While many people already dress up when they visit the renaissance festival in Huntersville, on October 28 and October 29 children and adults alike will have a great chance to show off their Halloween costumes. Not only can you see the costumes and enter the costume contest, but you can also see and hear the Knights of the Living Dead jousting challenge, and taste the delicious foods from both the days of yore and modern times.
Trick-or-treating
And, of course, no matter where you live, there's always trick-or-treating. On Halloween night, as you and your family go around the neighborhood, you can see the costumes and decorations, hear the shouts of "trick or treat" and the plunk of candy into the kids' bags, and smell and taste the sweet treats. Just remember to follow these safety tips to help make it safe for everyone.
If you want to make sure your eyes, ears, noses, and throats are healthy before you head out for some Halloween fun, make an appointment at any of our offices in North and South Carolina by calling 704-295-3000.
---
You may also be interested in
---
Leave a Comment
---
Back to News