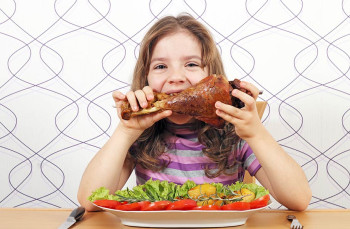 You and your family have wrapped up your Thanksgiving dinner, and none of you have the energy to do much more than sit on the couch and watch football. It's the tryptophan in the turkey that made you sleepy, right? That's what everyone says. As it turns out, that's not entirely true.

What is tryptophan?
Tryptophan is an amino acid that the body uses to make niacin. Niacin is a B vitamin that is key for serotonin production. Serotonin, in turn, is used to make melatonin, which is a hormone that aids in sleep.

While turkey does have a fair amount of tryptophan, it doesn't have more than other poultry or fish. You're not getting any more tryptophan than any number of amino acids, either. What your Thanksgiving meal does have, though, is a lot of heavy foods rich in carbohydrates.
What are carbohydrates?
Carbohydrates are the body's main source of energy. They also help your body release insulin, which removes most amino acids from the bloodstream. What it doesn't remove, however, is tryptophan. This means the tryptophan doesn't have as much competition from other amino acids to enter your system, so it moves faster through your body. So now the tryptophan, combined with the carbohydrates, helps generate melatonin.
What else are you eating and drinking?
Also, let's be honest: you probably ate a very large meal. The more you eat, the more energy your body uses to digest your food. The more energy you use, the more tired you'll get.
You may also have drunk a glass of wine or a beer or two, and alcohol can also make you feel groggy. Couple all that with the fact that you probably have a long weekend ahead of you and are feeling relaxed, and it's no wonder you're feeling sleepy.
So go ahead and take that post-Thanksgiving nap. Just don't blame it all on the turkey.
This blog is for informational purposes only. For specific medical questions, please consult your physician. To make an appointment with a CEENTA doctor, call 704-295-3000. You can also request an appointment online or through myCEENTAchart.
---
You may also be interested in
---
Leave a Comment
---
Back to News