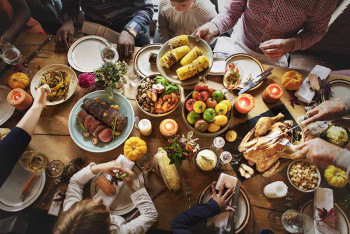 Guest blog by Autumn Finch, CEENTA's Manager of Health Information Applications and type 1 diabetic

Living with diabetes can be challenging, especially when it comes to deciding what to eat. This month I am celebrating my twentieth year of living with type 1 diabetes and I'd like to share some tips I've learned to help manage my blood sugar during the holiday season.
If you have diabetes (type 1 or type 2) or know someone with diabetes, you are probably familiar with "carb counting." For diabetics, it is important to count carbohydrates to calculate how much medication is needed. Accuracy in counting carbs helps to keep my blood sugars stable. However, the holidays can make it extra tricky to try and maintain proper control.
Here are a few things I do to stay in control while enjoying what I eat!
Have a game plan. Practicing counting carbs all throughout the year makes it less stressful. The more you practice, the more it will become second nature to you! I also plan for the types of food I want to eat. For example, I try to avoid having too many dishes that are loaded with carbs. If I'm looking forward to my aunt's mac and cheese, I will avoid the stuffing!
Skip the sugary drinks. To keep the carb count down, I avoid beverages that contain carbohydrates. Serving sizes for beverages can be difficult to measure so I stay away from them altogether. It's easier to avoid them and not accidentally miscount the carbs.
Pick foods that have additional nutritional benefits. This is great advice for everyone! Foods high in fiber help keep my blood sugars stable and dark green vegetables are typically low in carbs.
Know your body. I have come to learn that my blood sugar tends to rise when I am stressed. Holidays can be a stressful time, so I know I need to take more precautions to keep my levels stable.
Ask questions. When I prepare food myself, I know the ingredients and I can count carbs easily. However, holiday meals and desserts are usually prepared by others and it becomes trickier to calculate the right dosage. Don't be afraid to ask what ingredients went into a dish! If someone says they used a sugar substitute, I know I need to give myself less medication than if it was made with real sugar.
I hope you find these tips useful as you celebrate the holidays. Navigating this disease may not always be a piece of cake, but it doesn't have to stop you from enjoying one!
Diabetes can lead to permanent eye damage. Patients can develop diabetic eye diseases like diabetic retinopathy, and are also at higher risk for developing cataracts, glaucoma, eye muscle problems causing double vision, and retinal detachments. Annual eye exams are strongly recommended for all diabetic patients.
This blog is for informational purposes only. For specific medical questions, please consult your doctor. Would you like to make a diabetic eye exam with a CEENTA doctor? Call 704-295-3000. You can also request an appointment online or through myCEENTAchart.
---
You may also be interested in
---
Leave a Comment
---
Back to News