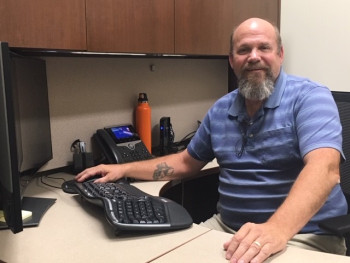 Healthcare and technology are very closely tied together, and keeping technology running properly is vital to ensuring patients have the best experience possible. That's why service desk technicians, under the direction of Senior Service Desk Lead Jay Haggerty, are so important.

What does a service desk technician do?
CEENTA's service desk technicians have three main overarching responsibilities, Mr. Haggerty said. The first priority is to take care of any issues that affect patient care.
The second is to deal with non-critical administrative issues, including software issues, planned maintenance, deployment of new systems, transferring systems when someone gets a new job or moves to a new office, and planned expansions like the new offices in Uptown and Fort Mill.
The final responsibility is to take care of daily tasks. People email or call with issues they are having, and the service desk technicians take care of those problems.
"Typically, you can expect a non-typical day," Mr. Haggerty said. "This is a great job for someone who likes variety."
Although people in this role are called "service desk technicians," they don't stay at one desk all day. Mr. Haggerty said as much as 70 percent of their work is off-site.
Most of the time, people work from home and have somewhat flexible schedules. This is far more efficient because it cuts down on commuting time, he says, so the techs can respond quicker as issues arise.
When they're not at home or their main office, the service desk technicians go to one of CEENTA's practices throughout the region for scheduled walkthroughs and maintenance to ensure everything is working properly at every location.
Mr. Haggerty has been in healthcare IT for about 15 years. He came to CEENTA two years ago when he and his family relocated to North Carolina. He wanted to stay in healthcare because of how rewarding the work is, and CEENTA was one of the first places he applied.
The most gratifying part of working in healthcare IT is helping to provide a high-level quality of service that greatly improves the patient experience, Mr. Haggerty said. For example, if all the systems in the exam rooms are working properly, it takes a lot of stress off the healthcare providers, who then in turn can focus entirely on patient care. That makes the visit much more relaxing and much more rewarding for the patient.
Another benefit of working in IT is job security. It is a field that will be necessary no matter how good or bad the economy is doing.
"If you do your job well, you're always going to have a job," Mr. Haggerty said.
Mr. Haggerty recommends anyone who wants to succeed as a service desk technician take a six-month introduction to computers class, have an associate's degree in computer science, or an A+ certification.
And if someone wants to further their career at CEENTA, there are a number of opportunities for advancement. They can work in networking and infrastructure, electronic health records, and more.
"There are infinite opportunities for those who apply themselves," Mr. Haggerty said.
If keeping the computer systems running at a respected healthcare organization seems like the career for you, consider applying for a service desk technician job today.
Visit our Careers page for a complete list of our open positions or to join CEENTA's Talent Community.
---
You may also be interested in
---
Leave a Comment
---
Back to News