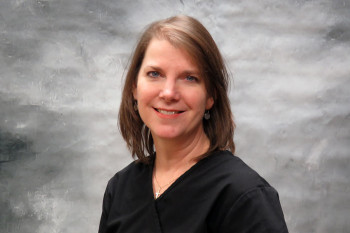 Angie Madigan was a CEENTA employee who worked in our eye department for 27 years. Earlier this year, she sadly passed away from cancer. However, her time helping the eye patients of the Charlotte region is not over, as her corneas were donated for needed transplants.
After Angie passed, LifeShare Carolinas – an organization that coordinates the recovery and distribution of lifesaving organs, eyes, and tissue for transplantation and research – spoke to Angie's husband about using her corneas. He agreed, making a special request that the donation be made in recognition of CEENTA.
"Angie was a selfless, compassionate, and genuine person who always put others before herself," Angie's husband, Matt, told LifeShare Carolinas. "Her passion for helping others became a career. When she lost her battle with cancer, it was an easy decision to donate her corneas to give others the gift of sight."
"It was very evident that her work and the staff meant a lot to her," LifeShare Carolinas Community Services Manager Kate McCullough said.
Corneal transplants are needed if a patient's vision cannot be corrected satisfactorily with eyeglasses or contact lenses, or if pain cannot be relieved by medications or special contact lenses. There are many conditions that can affect the clarity of the cornea, such as trauma or infection, Fuchs' dystrophy, and Keratoconus. Sometimes, cataract surgery and other conditions can cause corneal failure as well.
Corneas are thoroughly analyzed and tested before they are transplanted into a patient, and only those that meet the highest standards are used for transplants.
Organs and tissue donated through LifeShare Carolinas are used locally, so there is a chance that CEENTA patients will have their sight restored thanks to Angie's donation.
On behalf of those patients, and on behalf of everyone who knew you and worked with you, Angie, thank you for showing us that we never have to stop being compassionate and selfless.
---
You may also be interested in
---
Comments
Leave a Comment
---
Back to News