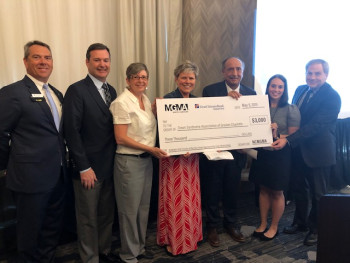 Everyone at CEENTA is pleased to announce that we were presented with the North Carolina Medical Group Management Association 2019 Practice of the Year Award for the work we do for the Charlotte community.

CEENTA was granted the award for contributions made to the community, patients, and staff through volunteer work, fundraisers, wellness programs, community screenings, and education. Specifically, CEENTA was honored for its participation in the Care Ring Physician Reach Out Program. Care Ring empowers individuals with limited resources to establish and maintain good health by providing free primary and specialty healthcare to patients without insurance.
CEENTA was also honored for CEENTAcares, our charitable arm. Each year CEENTAcares partners with a local charity and raises thousands of dollars through numerous fundraising efforts. This year, CEENTAcares has partnered with the Down Syndrome Association of Greater Charlotte (DSAGC).
The DSAGC serves 10 North Carolina counties and two South Carolina counties. It is a non-profit, family support organization whose goal is to enable individuals with Down syndrome to reach their full potential and improve their quality of life through education, social programs, and community partnerships.
As part of its award, $3,000 will be donated to the DSAGC on CEENTA's behalf.
"CEENTA truly embodies all that our Practice of the Year Award stands for," NCMGMA Governance Chair Melissa White said. "Their pledge to their community and patients through their extensive outreach initiatives and CEENTAcares shows just how dedicated CEENTA is in bettering the lives of others."
"The physicians and staff here at CEENTA are very giving with both their time and community outreach," CEENTA CEO Jag Gill, ScD, said. "This award belongs to everyone at CEENTA. Our physicians and staff embody a positive environment, not only in how we treat our patients, but also in making a real difference in our community."
The NCMGMA also presented Dr. Gill with the 2019 Administrator of the Year Award. You can read more about it in this blog.
---
You may also be interested in
---
Leave a Comment
---
Back to News