Providers

Botox, Dysport, and Xeomin in Charlotte, NC
BOTOX, Dysport, and Xeomin are prescription medicines injected into facial muscles to reduce the effect of facial movements on the skin.
Schedule a Consultation Appointment with a Facial Plastic Surgery Specialist

What is BOTOX?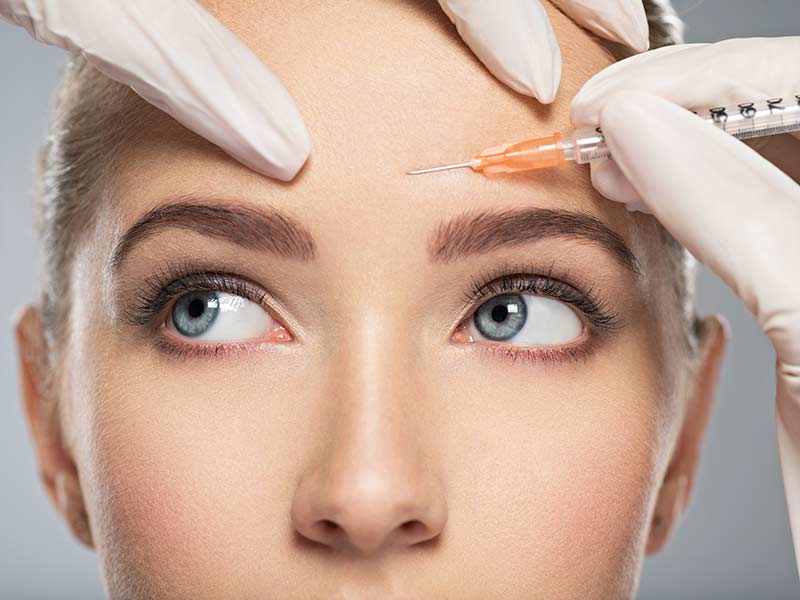 BOTOX is a prescription medicine made from botulinum toxin injected into facial muscles to cosmetically remove wrinkles – specifically frown lines and crow's feet – by temporarily paralyzing a person's facial muscles. It blocks the nerve impulses that control facial muscles. This reduces the effects that frowning, squinting, etc., have on the surface of your skin, improving the look of moderate to severe frown lines between the eyebrows as well as crow's feet lines in adults, giving the face a more youthful look.
BOTOX is designed specifically for frown lines and crow's feet. Dermal fillers are needed for addressing facial volume.
While it is mostly known for wrinkle removal, BOTOX is also used to treat blepharospasm, strabismus, severe neck and shoulder muscle spasms, and similar conditions.
What is Dysport?
Dysport is a prescription injection designed to help smooth the appearance of moderate to severe frown lines between the eyebrows by reducing specific muscle activity. Like BOTOX, it is made from botulinum toxin. Dysport is injected into one of five points above the eyebrows, temporarily preventing muscle contractions that cause frown lines. It won't freeze your face or change the look or movement of the rest of your face.
What is Xeomin?
Xeomin is a prescription medication used in facial aesthetics to temporarily improve the appearance of moderate to severe frown lines between the eyes (crow's feet). Botulinum toxin type A is an active ingredient in Xeomin.
What is the injection process like?
While some doctors require a consultation before any injection appointments, some doctors will do a consultation and injections on the same day.
Injection sessions normally only take about 10-20 minutes and take about three days to take effect. Once they take effect, wrinkles are softened and, in some cases, eliminated, giving your face a more youthful look. Injections are not painful and have no addictive properties. While there are no strict guidelines for how much is required at each session, you don't want so much that your face looks frozen or fixed.
At CEENTA, BOTOX, Dysport, and Xeomin are administered by an experienced physician. You don't need to see the same doctor every time you get the treatment.
How long do the injections last?
Visible results have been shown to last up to four months. As the effects are wearing off, you can get another treatment.
Are these injections dangerous?
While all three are derived from botulinum toxin, only small amounts are injected, and they stay at the injection site. In rare cases side effects occur.
Do BOTOX, Dysport, or Xeomin have any side effects?
The most common side effects are bruising, redness, swelling, and slight asymmetries (one side of the face looking a little different from the other). The worst risks are eyebrow or eyelid droop, but because of the temporary nature, the side effects are also temporary.
Are there any other concerns?
You should not get these injections if you are allergic to any of the ingredients or have a skin infection at the injection site. They also may not be right for you if you have had facial surgery, have a nerve or muscle condition, or the injection site is inflamed.
Speak to your doctor about your medical history to determine if BOTOX, Dysport, or Xeomin is right for you.
Injections in the Charlotte area with CEENTA
While they are safe and natural, BOTOX, Dysport, and Xeomin injections are a medical procedure, and it is strongly advised that you get them from a healthcare provider. CEENTA has eye and ENT doctors who specialize in cosmetic fillers in North and South Carolina.
Schedule a Consultation Appointment with a Facial Plastic Surgery Specialist

Before & Afters