What is CPAP therapy?
CPAP masks and machines help those with sleep apnea to breathe easier while they sleep, helping them to get a full night's sleep.
Request an Appointment with a Sleep Specialist

In addition to the sleep medicine and sleep therapy services we offer through our two sleep centers, Charlotte Eye Ear Nose & Throat Associates, P.A. can also provide patients with a full line of CPAP masks, machines and other sleep products (aka sleep DME or "durable medical equipment").
Our sleep centers offer walk-in clinics every week for established patients. During these clinics, our sleep technicians will help you adjust to the machine by fitting your mask and walking you through desensitization steps. We also have a compliance program in place to follow patients at regular intervals and we can wirelessly monitor machines in our coverage area. To schedule an appointment with a sleep specialist, please call 704-295-3000.
---
CPAP Machines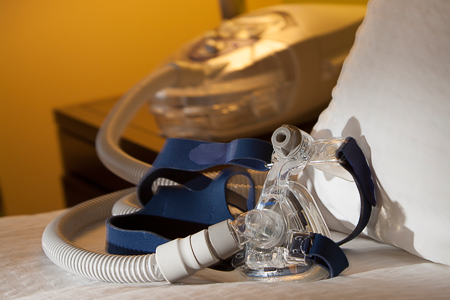 The Resmed S9 Elite with Climate Line is the CPAP machine we recommend to our patients. All of the patients in a recent study who used Resmed S9 machines slept through a four-hour threshold compliance — even those that had the most trouble sleeping for that long (please note that Blue Cross Blue Shield requires 4.5 hours of sleep for compliance). Patients who typically slept for less than four hours experienced an additional two hours worth of sleep as a result of using a Resmed S9 machine.
The Climate Line is a climate control feature that maintains ideal humidification. With less rainout and dryness, sleepers find the mask temperature to be much more comfortable. This machine also boasts an Easy-Breathe motor, which is the quietest on the market. The Resmed S9 even has an an AutoSet algorithm that can differentiate between obstructive sleep apnea and central sleep apnea, and then adjust air pressure accordingly.
---
CPAP Masks
This machine may work for most of our patients, but we all know there is no universal mask for everyone. Wearing a mask can take some getting used to, and proper fitting is key. By using desensitization techniques, our sleep specialists and sleep technicians help patients adjust to using a CPAP machine. Our sleep centers also provide a mask loaner service for patients who are having difficulty with their own masks.
Some Masks provided by CEENTA include:
Zest
Opus
Mirage SoftGel
Mirage Activa Lt
Quattro Full Face Mask
Swift LT & Swift LT for Her
Swift FX & Swift FX for Her
Mirage FX & Mirage FX for Her
---
Other Sleep Products
Gecko Nasal Pad
It's not uncommon for patients to experience sores, cuts or bleeding on their noses due to their mask. The ResMed Gecko Nasal Pad provides an extra level of padding between your mask and nasal bridge. This not only reduces nose soreness and skin irritation, but it also helps to prevent mask leaks. This mask pad works with both nasal and full face masks.


Contour Pillows
If you're a sidesleeper who uses a CPAP machine, chances are you've spent some nights tossing and turning, only to wake up with with red lines and imprints from where your pillow had pushed the mask all night. Contoured pillows are made to accommodate the hose so that you may sleep on your side. This allows for more comfort for the sleeper, and also less likelihood that the mask will leak air.


Wipes
During regular use, dirt, grease, oil and bacteria can accumulate on your mask. Mask wipes allow you to clean your masks, as well as oxygen masks and other medical accessories. Given that you wear your mask for hours at a time every night, it only makes sense to use a designated mask wipe to clean it.


Hozer Levitation System
It's not uncommon for the tubing of CPAP and BiPAP machines to become entangled overnight, or to pull the mask away as you move in your sleep. This leads to less sleep or diminished sleep quality. The HoZer tubing lift from Levitation Systems raises the hose away from your face, allowing you to turn in bed without the hose getting in your way. The HoZer lift actually raises the tubing so high, that you can sit up in bed with the mask on. The system folds up easily, so you can keep it up at all times or store it in the travel bag that comes with it.
Our sleep medicine specialists can determine if CPAP is right for you.