What are ocular tumors?
Ocular tumors are tumors inside the eye. They are collections of cells that grow and multiply abnormally and form masses. They can be benign or malignant. In adults the most common type is metastatic, from another part of the body (lung, breast, prostate, etc). Another common type of ocular tumor is malignant melanoma. They can start as a small "mole" or "birthmark" in the eye called choroidal nevus. These are usually found during routine eye exams and should be closely monitored for growth by your retina specialist.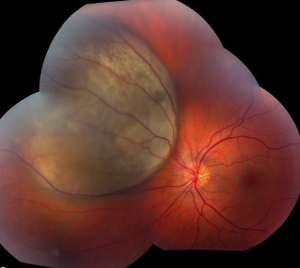 Choroidal melanoma is a primary cancer of the eye and is the most common ocular malignancy. It's started from the pigmented cells of the choroid of the eye. Eye cancer specialists can diagnose an intraolcular choroidal melanoma in over 96% of cases. Biopsies are usually avoided because it involves opening the eye and risk hemorrhage and infection. Most patients have no symptoms and the melanoma is found during eye exams.

Ocular tumor symptoms
Symptoms if the patient has them are: "flashes of light," distortion" or loss of vision, and floating objects (floaters) in the vision. More unusual presentations of anterior choroidal and iridociliary melanoma are discoloration of the iris, a brown spot on the outside of the eye, an irregularly shaped pupil and glaucoma.
Ocular tumor treatment
Radiation and chemotherapy are two common types of treatment for ocular tumors. Radiation can be in the form of proton beam radiation or placement of radiation plaque on the eye. Both can be very effective in eliminating a malignant ocular tumor.

Back to Patient Resources