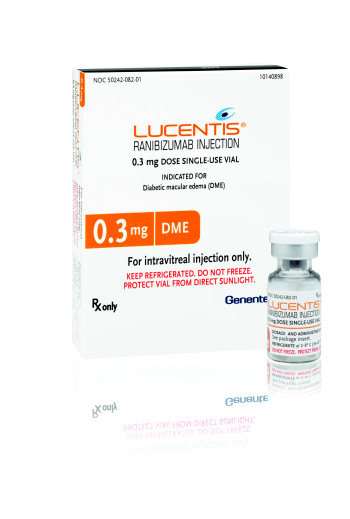 Two doctors from Charlotte Eye Ear Nose and Throat Associates, PA, have been involved in a study that is reporting success in tests of the first new treatment of a diabetes-related vision-loss issue in nearly 40 years.
Doctors across the country are in the middle of a five-year study into whether injections of the drug Lucentis are not worse than laser treatment for Proliferative Diabetic Retinopathy. Laser therapy, the current treatment, can cause a loss of side and night vision.
CEENTA doctors Andrew N. Antoszyk, MD, and David J. Browning, MD, took part in the study, performing the tests in our Southpark, Statesville and Concord offices. Of the 305 people enrolled in the study, 20 are CEENTA patients.

Proliferative Diabetic Retinopathy, or PDR, is a complication of diabetes where new, abnormal blood vessels grown on the retina. They can cause severe vision loss from bleeding into the middle cavity of the eye or in conjunction with scar tissue that detaches the retina from the back of the eye. A surgical procedure called a vitrectomy is needed to clear the blood.
About 7.7 million U.S. residents have diabetic retinopathy, a leading cause of blindness among working-age Americans. Of those, about 1.5 percent have PDR.
Two years into the study, doctors have determined that Lucentis injections are not worse, and in some cases are better, than the laser. Vision improved in the Lucentis group, while vision of those in the laser group remained unchanged. While there were slight losses in side vision in the Lucentis group, the loss of side vision with the laser was much greater.
Lucentis also reduces the need for vitrectomies. Patients also have a decreased risk of developing Diabetic Macular Edema – the accumulation of fluid due to leaking blood vessels.
"The significance of these results cannot be overstated since this is the first new treatment for proliferative diabetic retinopathy in over 40 years" Antoszyk, who is medical director for Southeast Clinical Research Associates, said.
The study includes 305 people with PDR in one or both eyes. Participants are at least 18 years old and have either type 1 or type 2 diabetes. They were randomly assigned to either the Lucentis test group or the laser group. Those in the Lucentis group were given monthly injections for three months, then monthly until the PDR was resolved or stabilized, then as needed.
Laser treatment was given to the Lucentis group when PDR was worsening despite injections, and patients in either group could receive Lucentis injection to treat swelling of the center of the retina.
The Diabetic Retinopathy Clinical Research Network conducted the trial, which was funded by the National Institute of Health's National Eye Institute.
---
Leave a Comment
---
Back to News